Tender, healthier oven fried shrimp tops ramen noodles with a deeply flavorful Thai coconut sauce.
A certain sit-down seafood restaurant chain that shall remain nameless ruined fried foods for me in my youth. Not having had a lot of experience with seafood, I ordered a sampler (consisting of, I'm sure, fried shrimp several ways, hush puppies, maybe some kind of white fish). It all tasted the same — rancid, oily batter (yum!). What little I could choke down sent me home with an upset stomach, and a new food aversion was added to my already lengthy list.
Fried food was not part of my family's Austro-Hungarian culinary tradition, and my mom never fried anything at home, so, this aversion wasn't any particular loss (and has given me a great excuse as an adult to veto that particular restaurant when deciding where to dine). But the experience did keep me from preparing deep fried foods, even later as a seasoned home cook (mostly I'm put-off by the concept of buying, storing, reusing, and discarding such vast amounts of vegetable oil. Yuck. Shallow frying, good. Deep frying, not so much).
That doesn't mean, though, that I don't enjoy breading on things. Once I learned how to oven bake "fried" buttermilk chicken, there was no stopping me. Oven baked doughnuts. Oven fried sweet potato fries. Oven fried onion rings. And oven fried shrimp.
I won't tell a salesman's white lie to all you deep-fry lovers out there and claim that baking is just as good as crispy, battered somethings fried in oil, but I honest-to-goodness love the crunchy texture of a spiced crumb coating on oven fried food. And the no-mess clean-up can't be beat.
Oven fried shrimp is crunchy on the outside, tender on the inside, and tastes like shrimp all around — the perfect topping to a Thai-inspired bowl of ramen noodles.
One of the things I really love about ramen noodles is how easily they absorb sauces. They're like long, twisty sponges that slurp up whatever seasonings you throw at them and hand it all right back in a delightful noodle package. I'm a huge fan of Thai cuisine, so, saucy Thai flavored ramen noodles with a little hit of fresh vegetable goodness tossed in for healthy measure is a total win-win.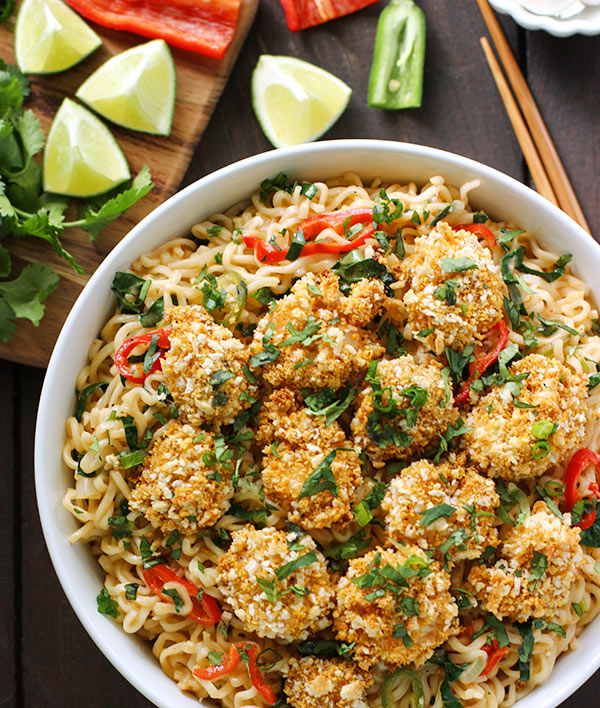 Spicy, crispy oven fried shrimp over Thai ramen noodles in my favorite format — the bowl (food in bowls, yay!) — was one of the most enjoyable meals I've had in a while. If you have yet to jump on the oven fried bandwagon, I hope you'll start with this oven fried shrimp. So easy, so tasty. I think you'll love it!
Karen xo
Print Recipe
Oven Fried Shrimp and Thai Coconut Ramen Noodle Bowl
Ingredients
for the Thai coconut milk sauce
1

can coconut milk

about 14 ounces, well-shaken

juice from 1/2 of a lime

1

large clove garlic

minced

1

tablespoon

fish sauce

1

tablespoon

brown sugar

2

teaspoons

red Thai curry paste

2

teaspoons

finely minced lemongrass stalks

tough outer leaves removed (or paste)

1

teaspoon

minced fresh ginger

1/2

teaspoon

kosher salt

1/8

teaspoon

freshly ground black pepper
for the shrimp
6

ounces

raw shrimp

peeled, deveined, tails off (small or medium)

salt and pepper

1/4

cup

Thai coconut milk sauce

recipe above

1/2

cup

panko bread crumbs

1/2

cup

cornflake crumbs or regular bread crumbs

1/4

teaspoon

coriander

1/4

teaspoon

chili powder

1/4

teaspoon

salt

1/8

teaspoon

freshly ground black pepper
assemble
1

tablespoon

olive or peanut oil

1

shallot

chopped

1

clove

garlic

minced

1

serrano pepper

sliced (remove the seeds and ribs to reduce heat)

1

pasilla pepper

sliced (or use 1/2 of a small red bell pepper)

1

green onion

thinly sliced

2

large leaves kale

chiffonade

Thai coconut milk sauce

above

2

packages

3 oz each ramen noodles

1

cup

vegetable or chicken stock

6-7

basil leaves

chopped (sweet, Thai, or lemon all work well)

1

tablespoon

minced cilantro

plus a few sprinkles for garnish
Instructions
prepare the Thai coconut milk sauce
Add all of the ingredients to a medium mixing bowl and whisk well to combine. Keep refrigerated.
prepare the shrimp
Rinse the shrimp and pat dry. Place in a bowl and eason with salt and pepper. Add 1/4 cup of the Thai coconut milk sauce and turn to coat thoroughly. Let marinate in the fridge for one hour, if possible.

Preheat oven to 425° and place a foil-lined baking pan inside for 5 minutes. Remove the pan from the oven, and spray the foil with a baking spray (or olive oil spray).

Combine the bread crumbs, coriander, chili powder, and salt and pepper in a wide bowl. Working in small batches, add some of the shrimp to the bread crumbs and turn to coat each piece. Place the shrimp on the hot pan. Continue with remaining shrimp. Bake the shrimp for 10 minutes (no need to turn, since the pan is already hot).
assemble
In a large skillet or cassoulet, heat the oil until shimmering. Add the shallots and garlic and cook until the shallots become translucent (just 2 or 3 minutes). Add the peppers, green onions, and kale, and sweat them for a minute or two. Add the remaining Thai coconut milk sauce and let heat.

In a small sauce pan, bring the stock to a boil and add the ramen noodles. Cook until the noodles just begin to separate. Use a spider or tongs to transfer the noodles to the skillet (don't worry about any liquid you transfer with the noodles). Gently mix the noodles into the sauce and vegetables (they'll finish cooking here and they'll absorb much of the sauce). Add the cilantro and basil and stir.
to serve
Divide the ramen noodle mixture into two individual bowls. Top with the oven fried shrimp, and a garnish with pinch of chopped cilantro.
Nutritional information, if shown, is provided as a courtesy only, and is not to be taken as medical information or advice. The nutritional values of your preparation of this recipe are impacted by several factors, including, but not limited to, the ingredient brands you use, any substitutions or measurement changes you make, and measuring accuracy.