The comfort food from our college years gets an all-grown-up treatment with a fresh vegetable ramen noodle stir fry and a quick homemade sauce. It's one of my all-time favorite ramen noodle recipes!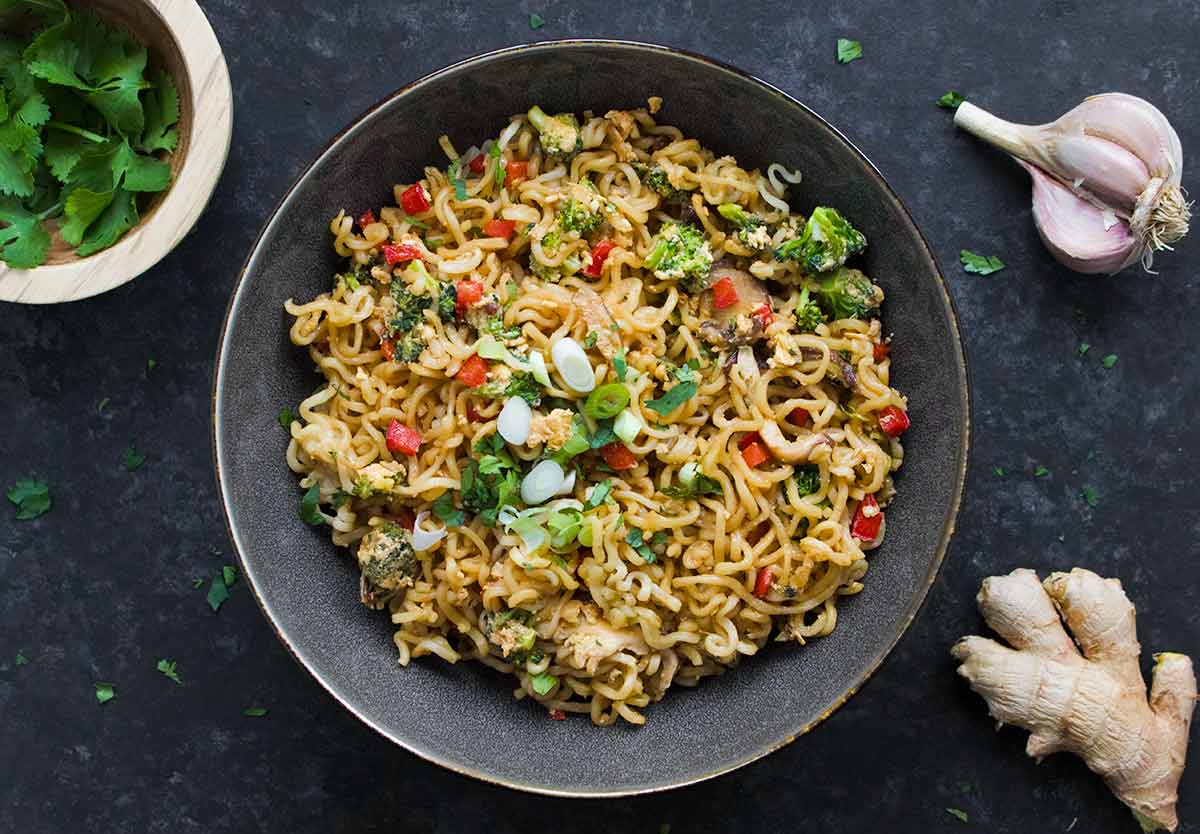 I've recently re-fallen in love with ramen noodles. By the time I left that college staple behind — although to be honest about it, it lasted well into those lean early-career years — I thought I could never look at the stuff again.
I rarely wander down the canned soup aisle at the grocery anyway, so ramen fell out of mind, and remained suppressed for many years.
But, as I'm sure you've noticed, ramen noodles have been bubbling up on the food scene, slowly but surely.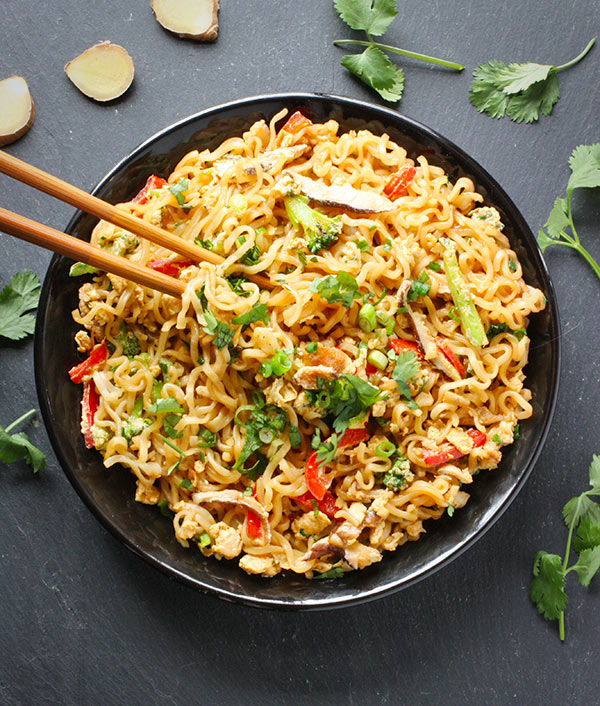 I didn't take much of it to heart, feeling that, as a vegetable gardener and four-season cook, I should use more responsible-sounding ingredients.
Until I finally realized that if you discard the suspicious flavor packet, what you have is an inexpensive, pre-measured single serving of super-fast cooking noodles that can wear many hats.
Fast cooking but sturdy noodles that are thin and curly and somehow fun to eat even though I should be much too mature to be tickled by twirly pasta.
I know it's easy to look down the nose at those crazy square packages of noodles. But, I've thought about it, and I just can't find anything particularly egregious about them. If you have access to a different quality of ramen noodles, by all means, go for it! It's all good.
Ugh. I hate when my inner ingredient skeptic keeps me from jumping on a trend's bandwagon. I now feel horribly behind the times, and spend my days dreaming up the recipes I could've been enjoying all along if I hadn't avoided the ramen display for years on end.
My loss. And now my happy gain.
Funny, when I picked up that first pack of ramen noodles, it was never in my mind to revisit the soup of my youth. No, I had heard here and there about the semi-crunchy goodness of the noodles when fried, and I wanted to make a ramen noodle stir fry.
Something simple, with fresh ingredients that I always have on hand. Weekday quick, but weekend delicious.
I love how the noodles slipped so seamlessly in place of brown rice, my usual stir fry foundation. No more panic/disappointment when I schlep in the door after work, tired and hungry, only to find my store of freezer rice depleted.
Ramen noodle stir fry to the rescue!
High heat in a skillet makes quick work of the vegetables while you cook the noodles. Stir in the optional egg for creamy goodness and added texture. Fold in the noodles, drizzle with sauce, and dinner is ready!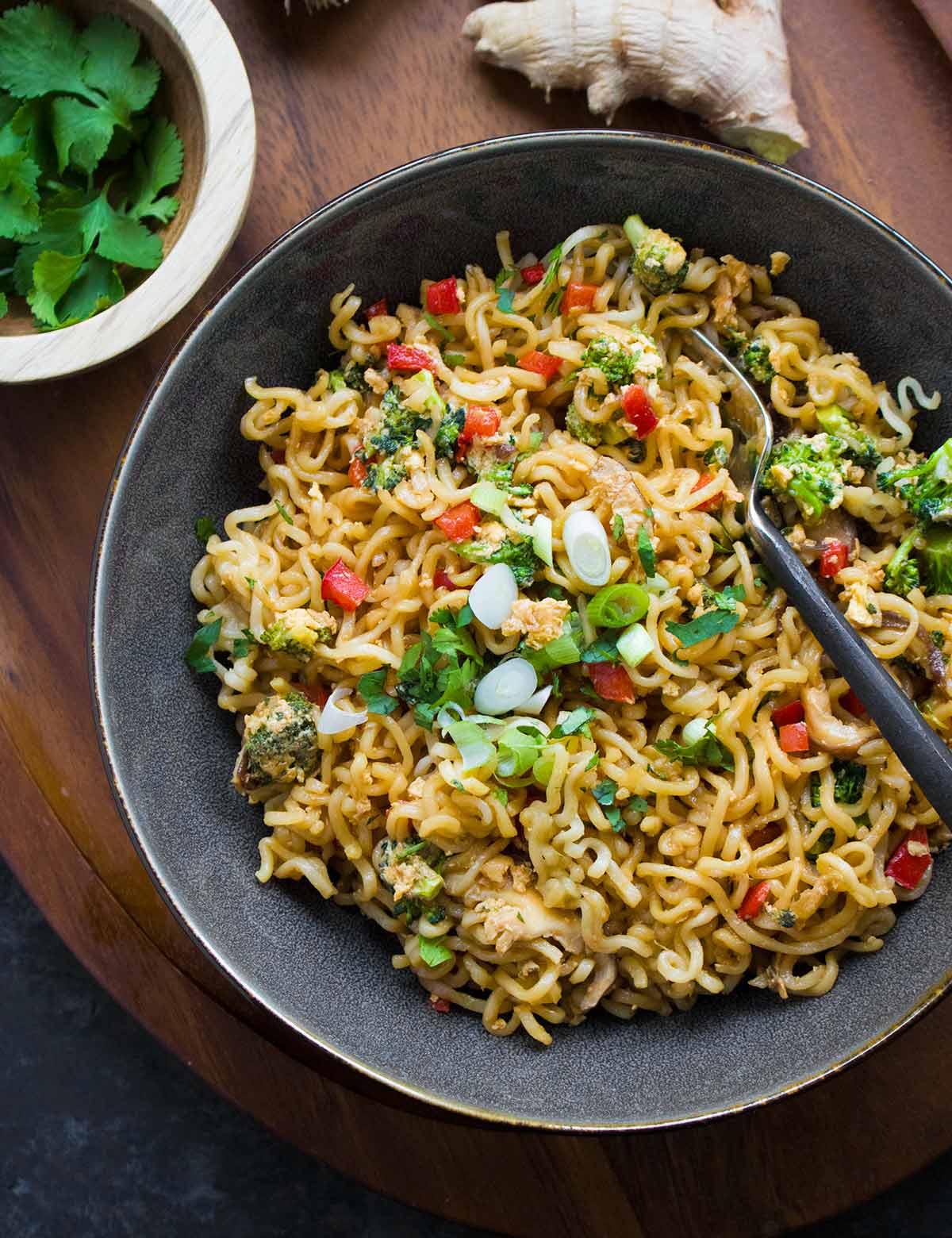 If you have a little extra time, do whip up my homemade ramen noodle stir fry sauce. It's so fresh, and you control the ingredients, so if you feel like a little extra ginger one day, mince away!
But if you have a sauce that you already love, feel free to sub that instead. It's totally cool to hack this dinner a little bit, because the veggie-strong stir fry is already doing your body good!
Karen xo
More ramen noodle recipes: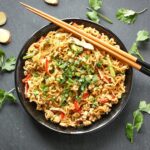 Print Recipe
Ramen Noodle Stir Fry
The comfort food from our college years gets an all-grown-up treatment with a fresh vegetable ramen noodle stir fry and a quick homemade sauce. Don't hesitate to customize with your favorite veggies - it's all good! One of my favorite ramen noodle recipes.

Ingredients
for the sauce:
1

tablespoon

rice vinegar

1

tablespoon

toasted sesame oil

2

tablespoons

soy sauce

2

teaspoons

hoisin sauce

1

teaspoon

brown sugar

1

teaspoon

minced garlic

1

teaspoon

minced ginger
for the ramen noodle stir fry:
9

ounces

ramen noodles

, about 3 packs (discard the flavor packet)

1

tablespoon

peanut oil

(or other high-heat oil)

1

teaspoon

minced garlic

1

teaspoon

minced ginger

4

ounces

shiitake mushrooms

, stems removed, sliced

1

small head of broccoli

, cut into florets and sliced julienne

1/2

red bell pepper

, sliced julienne

1

egg

, lightly scrambled (optional)

2

scallions

, sliced

1

heaping tablespoon minced cilantro
Instructions
Whisk the sauce ingredients together in a bowl and set aside.

Bring a medium pot of water to boil over high heat, and cook the noodles according to package directions.

Meanwhile, heat the oil in a large skillet or wok over medium-high heat until shimmering. Add the garlic, ginger, mushrooms, broccoli, and peppers, and saute for about a minute.

Add the scrambled egg, if using, and stir until it's mostly set up. Mix in with the vegetables.

Add the noodles, and, if desired, use scissors to snip the long strands into more fork-manageable lengths. Drizzle the sauce over the stir fry, plus a big pinch of cilantro, and mix well.

Garnish with scallions and more cilantro before serving.
Nutrition
Nutritional information, if shown, is provided as a courtesy only, and is not to be taken as medical information or advice. The nutritional values of your preparation of this recipe are impacted by several factors, including, but not limited to, the ingredient brands you use, any substitutions or measurement changes you make, and measuring accuracy.