Creamy with loads of flavor — and no cheese! — this bright-as-sunshine broccoli cauliflower soup is healthy, delicious, and irresistible, and glows from within thanks to a generous dose of the colorful super spice, turmeric. Dairy-free and vegan. (Updated August 2021)
The first few months of the year are always a fickle time for cooks. January means recovering from December's gluttony with super-healthy eating, clean food, lots of fruits and vegetables. Then February arrives, and our resolve crumbles in the face of Valentine's Day sweets. Hello, sugar rush.
Then March rolls in and we straighten ourselves up again and start looking forward to asparagus and rhubarb and fresh salad greens. And broccoli and cauliflower and early, cool-weather herbs, like cilantro.
In the spring, I crave broccoli cauliflower soup. But I don't want to ruin March's good-eating momentum by dousing it with tons of goopy cheese. Oh, I get how wonderful goopy-cheese broccoli soup can be. Especially in the winter, when your house and car and vegetable gardens are buried under a thick blanket of snow.
But when I want a soup that's creamy, full-bodied, with tons of flavor and bright energy — not load-your-tummy-down-comfort-food heavy — I turn to some of my favorite ingredients: coconut milk and lots and lots of herbs.
Coconut Milk in Broccoli Cauliflower Soup
I'm a huge fan of coconut milk in cooking. I rarely notice the coconut flavor, and I just love how thick and velvety it makes anything it's added to — soups, sauces, dressings — without making it overly rich.
It's so lovely. I prefer it outright over dairy, and I like that it doesn't have soy milk's GMO problems. Almond milk is awesome, but it's a little too sweet for most soups, in my opinion.
It also doesn't have dairy's curdling-in-heat problems, so it's a natural option for soup-making.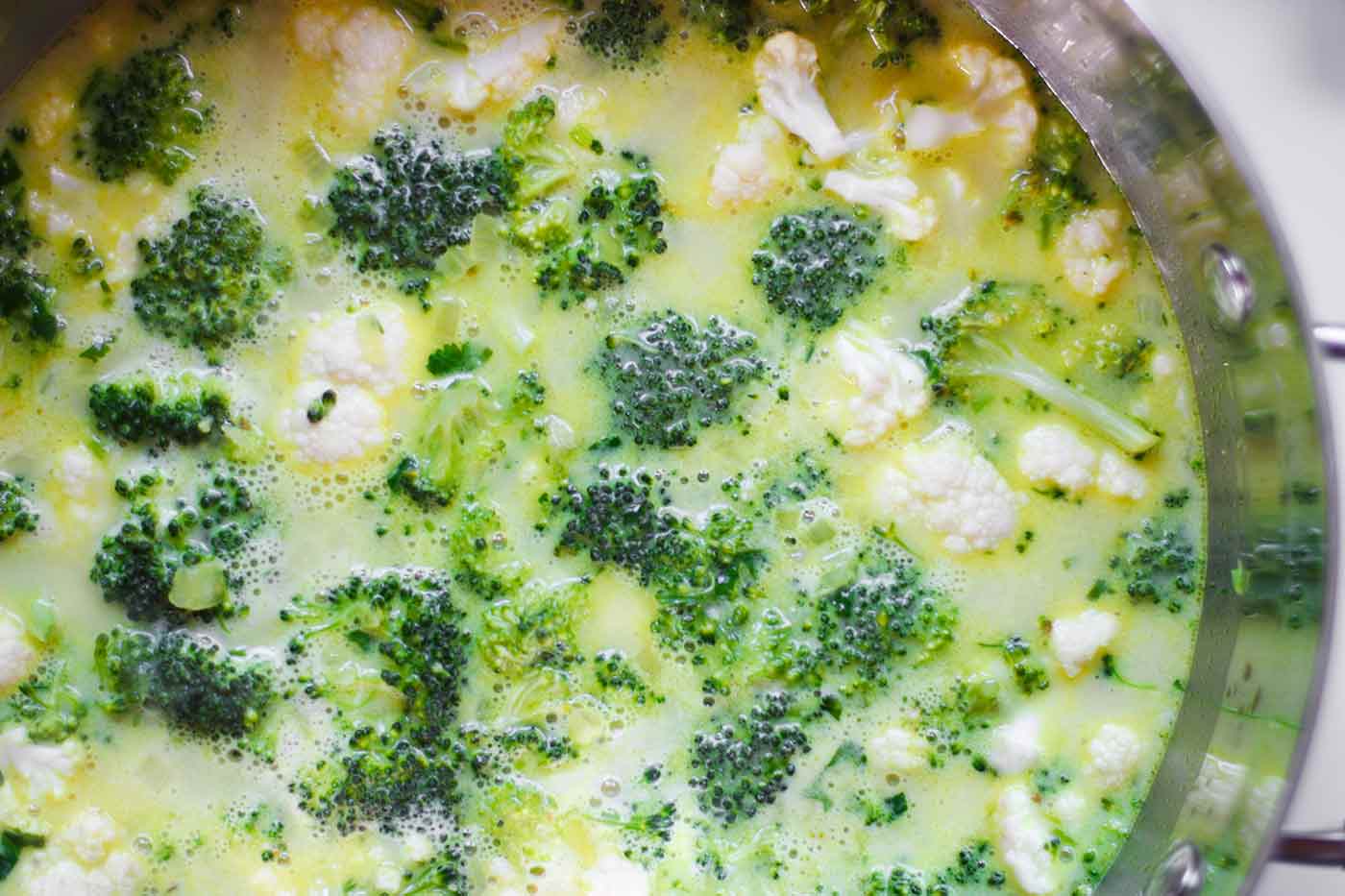 See that above? Perfectly cooked vegetables — no limp, droopy, olive-drab, overcooked broccoli anywhere to be found — in the glowy turmeric broth.
Don't forget the herbs!
And herbs. Last year's Vegetable Literacy (by Deborah Madison) taught me the amazing results when you heap fresh herbs on a dish. Not just sprinkling, but positively freckling a dish with parsley, cilantro, dill, basil, mint. It was a transformational lesson.
Herbifying, I call it.
And five tablespoons of fresh herbs, is what goes in this broccoli cauliflower soup. Five. And if I had had lovage on hand, it would've been six. Overkill? No way. Perfectly herbified? Check!
Note that you won't want to use five tablespoons of dried herbs! Dried herbs have a much more concentrated flavor than fresh. Try one teaspoon each.
So this — this — is my favorite way to prepare broccoli cauliflower soup, ever. And you know what? There's not a lick of cheese in it. Not one little shred. Not even vegan cheese or nooch (aka, nutritional yeast), which I love, and if you wanted to add some anyway, I would be there for it.
Broccoli cauliflower soup, seasoned with healthy herbs and spices, made creamy with coconut milk, and fresh and bright with full-bodied mustard and a hearty squeeze of lemon. Soooo delicious. And March healthy.
Trust SoupAddict: broccoli and cauliflower prepared right are nutty, savory, and fabulous, and don't need to be drowned in goopy cheese. Word.
And this is one of the prettiest soups I make, too. A big helping of the spice turmeric — a powerful anti-inflammatory and antioxidant superfood root crop with a neon orange interior (used commonly to give ballpark mustard its bright yellow color) — makes the broccoli cauliflower soup glow with health and good cheer.
Did you know that broccoli and cauliflower are spring and fall vegetables? They're cool-weather vegetables, so in many areas of the United States, you can grow them in the both the spring and fall.
I grow broccoli every year, and, now that we're well into March, I'm getting antsy for the ground to thoroughly thaw and get my spring crops seeded.
Speaking of the garden, I just have to share this with you today! The Ohio Valley has been pretty much snow (or ice, yikes) covered since December, which is really unusual.
I normally make a pass through my vegetable gardens at least once a week during the winter (carrots, leeks, flat-leaf parsley, and thyme stay preserved in the garden all winter, ready for soups and such), but this year, snow kept piling up and piling up, and I couldn't even see my gardens much less get to them.
But this week, the snow melted (and the temps hit 70°!) and I was able to get out to the garlic garden to check things out. And look what I found!
Garlic plants! Despite the insane winter temps and all the snowsnowsnow, my garlic said, whatevs, bish, and sent up green sprouts. They're about 6″ tall at this point. Hello, my garlic darlings, I love you!
I can't wait to harvest and use my own homegrown broccoli. Com'on Spring! This super yummy and healthy version of broccoli cauliflower soup is a weekday-worthy meal — about 30 minutes, mostly hands-off, once prep is done.
If you're in an extra bit of hurry, just grab a couple of bags of pre-cut broccoli and cauliflower mix in the produce department. So easy! Serve with a fresh green salad and a loaf of garlic bread, and you've got dinner covered.
Karen xo
More vegan soups to try: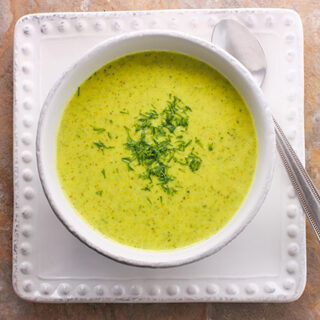 Print Recipe
Broccoli Cauliflower Glow Soup
Already vegetarian and gluten-free, substitute the butter with more oil and it's vegan, dairy-free, and paleo.
Share via Text
Ingredients
1

tablespoon

olive oil

1/2

cup

chopped onions

1

teaspoon

minced garlic,

1 large or 2 small cloves

1

tablespoon

chopped fresh cilantro stems

1/2

teaspoon

ground turmeric

1

teaspoon

mild curry powder

1 13 to 14

ounce

can coconut milk,

well-shaken (about 2 cups; use light if you prefer)

4

cups

vegetable or chicken stock,

homemade or low sodium

16-20

ounces

mix of broccoli and cauliflower florets,

plus diced stems (about 1 small head each)

3

tablespoons

whole grain or coarse country style mustard

2

tablespoons

chopped fresh cilantro leaves

1

tablespoon

chopped fresh dill

1

lemon,

sliced in half

Kosher salt and freshly ground pepper
Instructions
Heat oil in a 4 to 5 quart Dutch oven or stockpot over medium until the oil shimmers. Add the onions and cook until softened, about 5 minutes. Add the garlic and cilantro stems and stir until fragrant. Sprinkle in the turmeric and curry powder and mix with the onions until all is colored yellow with the spices. Add a splash of stock and stir to make sure the spice powders have dissolved.

Pour in the rest of the stock, the coconut milk, and the broccoli and cauliflower, plus 1 teaspoon of salt. Increase heat to high and bring just to a boil, then reduce heat to medium-low to maintain a gentle simmer. Cover partially with a lid or a piece of foil, and cook 15 to 20 minutes, until the vegetables are tender enough to be pierced with the tip of a knife. The broccoli should still be bright green (not the olive drab it turns when over cooked). Turn heat to low.

Transfer soup to blender, and add the mustard, herbs, a big pinch of salt, and a grind of pepper. Purée until completely smooth* - the herbs and broccoli should be reduced to flecks. (If necessary, process the soup in batches, adding the mustard and herbs to the first batch. Return all of the soup to the pot and taste. Add a squeeze of lemon juice, a pinch of salt, and taste again. Repeat, adding more lemon juice and salt until seasoned properly (I find it takes about 2 tablespoons of lemon juice and 1/2 teaspoon salt to reach my liking). Before serving, add a grind of black pepper.
Notes
Serving suggestions:
- For a hearty meal, add cooked brown rice or farro to bowls and ladle soup over the top.
- Top with small garlicky croutons and shaved Gruyere.
*If you like texture in your soup, pull out a cup or so of the broccoli and cauliflower pieces before blending the soup, then add them back in after.
Nutrition
Nutritional information, if shown, is provided as a courtesy only, and is not to be taken as medical information or advice. The nutritional values of your preparation of this recipe are impacted by several factors, including, but not limited to, the ingredient brands you use, any substitutions or measurement changes you make, and measuring accuracy.
Pin Broccoli Cauliflower Soup recipe for later: