Special celebrations require special, homemade dishes. And these, my friends, are celebration mashed potatoes. Smooth, creamy, buttery, and extra flavorful with roasted garlic, these mashed potatoes will be the star of the sides on your holiday table. Perfect for Thanksgiving and Christmas.
One of my favorite full-tilt-guilt meals is an all-carb carbtastic carbopalooza carb-o-rama-tic feast: super-cheesy mac 'n cheese, savory stuffing, and mashed potatoes. All homemade, of course. With a big glass of fizzy wine, like Moscato d'Asti. Or a frosty margarita.
The origins of my carb-fever are for another post, but I'm here today to spread the news about mashed potatoes. I've made 'em every way you can make 'em. Smashed, whipped, blended, forked, twice-baked. With cheese. With onions, leeks, chives, scallions. Herbs. Spices. Sour cream. Cream cheese. Bacon. Chicken broth. Vegetable broth. Mushroom broth. And an unfortunate encounter with grated ginger. (We're not go there [shudder].)
Experimentation in the kitchen is ever so fun but, no, you really don't need any of that. In fact (now, lean in close so I can whisper this) you don't even need the roasted garlic. But SoupAddict loves the garlic in this recipe, so, SoupAddict is keeping the garlic.
Make the Best Mashed Potatoes Ever
One of the food discoveries of a lifetime for me was buttermilk mashed potatoes. I use buttermilk in my bread recipes all the time, so the fact that I didn't think about it for my roasted garlic mashed potatoes is maddening.
Leave it to the pros to think of these things. Once I heard how Zuni prepares their mashed potatoes a decade ago or so, I was done experimenting. Perfect mashed potatoes, every time. And so simple:
Start with boiled potatoes (golden-fleshed, like Yukons, are delicious, as are plain ole russets, and a generous helping of freshly roasted garlic.
Send them through a ricer. Or get your elbow grease on and mash mash mash.
Add equal parts of buttermilk, cream and melted butter (hold back a little bit of the butter).
Stir until creamy.
Season with sea salt and freshly ground pepper to taste.
Drizzle with that little bit of a reserved butter for extra decadence.
Serve. And feel the gratitude emanating from your peeps in waves of love.
How to Roast Garlic
A bulb of freshly roasted garlic is one of those culinary inventions that you have to try for yourself to understand its brilliance.
In the same way that onions are completely transformed when caramelized, garlic becomes something sweet and almost other-worldly when roasted. Under normal circumstances, you might never consider eating an entire bulb of raw garlic in one sitting — even if you're a major garlic lover, like me — but roasted is something else entirely.
Sweet and mild, roasted garlic is a lovely addition to a great many things, including salad dressings, dips, spreads, soups, pan sauces … and yes, mashed potatoes.
Preheat the oven to 400°F.
Do not peel the garlic bulb, but you can pluck off any loose or smudgy skins.
Slice off about 1/2″ of the top of the bulb to expose the tops of the cloves within. (The top of the bulb is the pointy end of the papery head.)
Place the bulb on a square of foil and a bit of drizzle olive oil on the exposed cloves.
Season with a pinch each of salt and black pepper.
Fold up the ends of the foil around the bulb, like a Hershey's Kiss.
Place the bulb or bulbs on a small rimmed baking sheet and roasted for 30 to 35 minutes.
Remove from oven, and carefully open the garlic bulb packs. The cloves should be toasty brown. Let cool a bit.
When the bulb can be handled, pick up and gently squeeze the entire bulb. The cloves will slide right out of their skins.
Use immediately, or freeze for later
The roasted cloves can be easily mashed into the potatoes, or sent through the ricer with the potatoes (my preference).
Oh, and about that ricer. I'm usually not a fan of more-or-less single-use gadgets. But, my potato ricer is an exception. It makes such quick work of mashed foods, whether potato, sweet potato, cauliflower, or even carrot.
I have a model with a fairly large hopper (see collage photos). It's a bit heavy, but handles a lot of potatoes at once. The resulting rice-sized bits break down into smoothness with the swipe of a spoon.
If you love really smooth mashed potatoes, a potato ricer is a worthy investment.
And these delectable, creamy roasted garlic mashed potatoes are a worthy investment of time — about an hour, most of it hands-off — to create a beautiful dinner for your holidays and special occasions.
Karen xo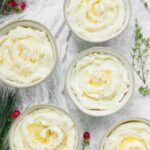 Print Recipe
Roasted Garlic Mashed Potatoes
Creamy smooth celebration mashed potatoes are so easy to make at home. Roasted garlic adds an extra level of flavor your guests will love.
Share via Text
Ingredients
for the garlic:
2

heads garlic

olive oil

salt & pepper
for the mashed potatoes
2

pounds

potatoes

, peeled, and cut in 1" cubes

1/4

cup

buttermilk

, room temperature

1/4

cup

heavy cream or half and half

, warmed

1/4

cup

(1/2 stick) butter, melted

sea salt

freshly ground black pepper
Instructions
Preheat oven to 400°F degrees (if roasting the garlic; otherwise, skip this step and the next two).
Roasting the garlic:
Cut the top 1/2" off of each head (leave skin intact) - the tops of the cloves should be exposed. Place each clove on a square of foil. Drizzle olive oil over each head. Sprinkle liberally with salt and pepper.

Close the foil up over each head, like a Hershey's Kiss. Place the foil packets in the oven for 35-40 minutes. If your house smells positively yummy, you're doin' it right. Remove packets from oven and allow to cool before unwrapping. While the garlic's cookin', move on to the potatoes.
Make the Potatoes:
Place potatoes in a medium saucepan and cover with cold water. Salt liberally and stir. Bring to a boil and cook uncovered for 15 minutes, or until a fork or knife easily pierces one of the chunks.

Mash the potatoes in a clean pot or bowl, using a masher or run them through a ricer. Unwrap the garlic heads. Squeeze the head of roasted goodness into the mashed potatoes (or also send them through the ricer). Don't worry, the cloves will slip right out of their skins. [Plop!]

Stir in the buttermilk and mix well. Repeat with cream and the butter (hold back a bit of the melted butter to drizzle over the finished presentation, if desired). Add salt and stir. Taste. If you can't tell there's salt, add more. Then do the same with the pepper.
Nutrition
Nutritional information, if shown, is provided as a courtesy only, and is not to be taken as medical information or advice. The nutritional values of your preparation of this recipe are impacted by several factors, including, but not limited to, the ingredient brands you use, any substitutions or measurement changes you make, and measuring accuracy.