Corn Chowder gets super-charged with wood-smoked corn and chile peppers, and a fragrant homemade corn stock.
Welcome back, Soup Season, I've missed you! And I hope you, Soup Lovin' Friends, are ready for some epic soup recipes, because my brain has been in soup mode for weeks — despite the unrelenting 90°F weather — and I can't wait to share with you what I've been cooking up in my kitchen.
I'm extra psyched about this year's soup season, because today — exactly today — is my 10 year blogiversary.
Ten years ago — which seems a life time ago — I set up my blog, not really sure what I was doing or why, typed a silly little intro post, and hit Publish. I didn't know then that my little bloggie would provide a space and a focus for my obsession with soup-making. I had no idea that I would meet so many kind and fabulous people because of it. And I also had no idea that, 10 years later, I'd still be at it, and that soup would still be such a love.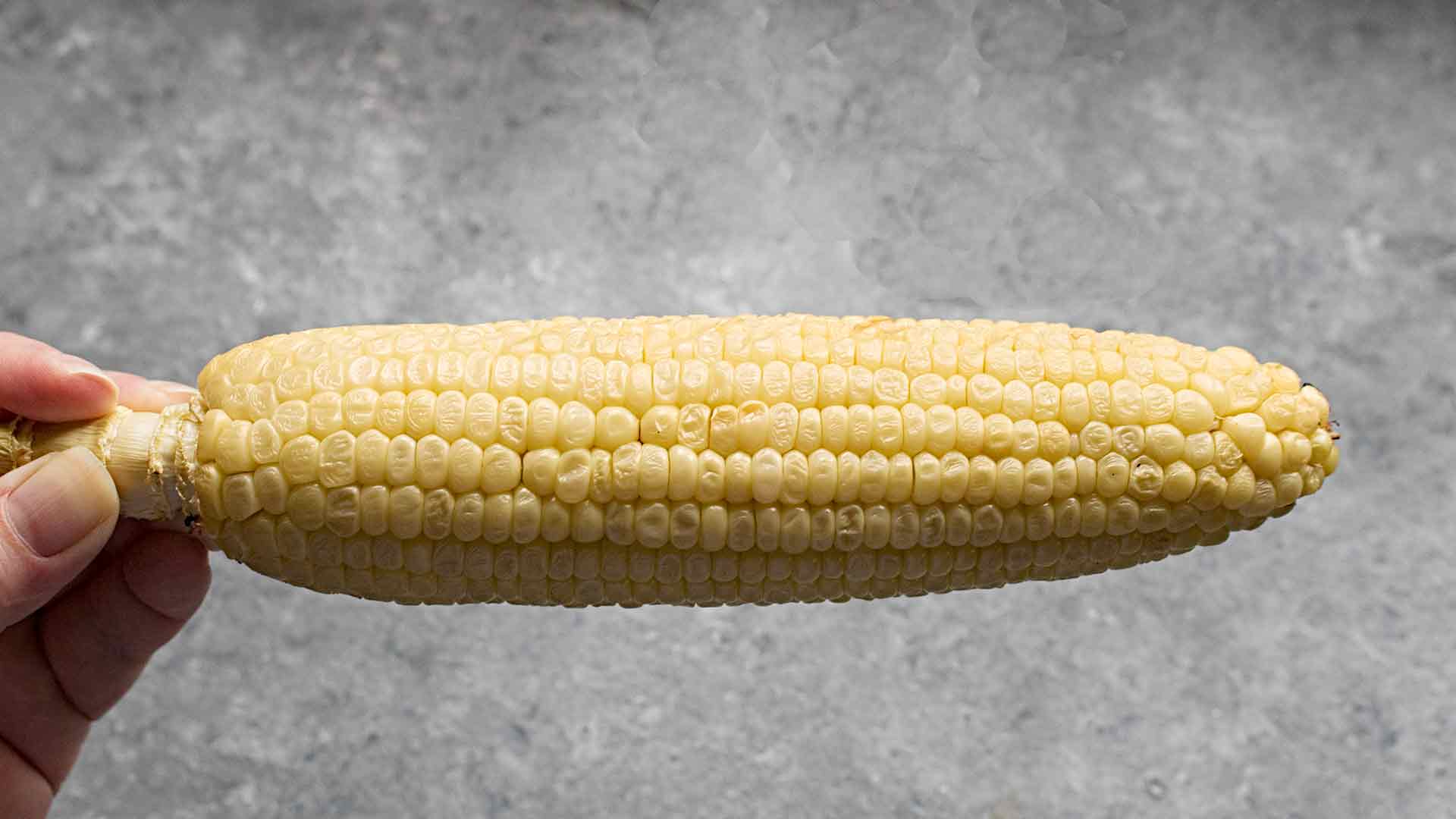 So, I'm really happy that the first soup of my 2nd decade of blogging (yoikes!) is this Smoky Hatch Chile Corn Chowder. And I'm also excited to be sharing the amazing thing that is wood-smoked corn: if you love those sugary crisp, late summer ears of freshly picked corn, you'll fall head over heels for corn that's been smoked on the grill.
It's been my Summer of 2018 obsession. Not a weekend goes by when there aren't wisps of smoke drifting out of my backyard grill, because I just can't get enough of them. This weekend will be even more smoked corn, because I have to cook up a batch of Smoked Corn Stock to store for the winter. (Spoiler alert: it's also the star of this recipe.)
Another late summer treasure you should be sure to indulge in are peppers. I grow lots of peppers, both sweet and hot, and let them ripen to deep savory goodness. I raided my own gardens for the peppers in this recipe — poblano, jalapeno, and shishito — and smoked them along with the corn.
But the one pepper I don't have in my garden — and the one that's maddeningly difficult to find locally — is the famous Hatch chile. So, I about fell off my feet when I found bags of fresh Hatch chiles at the grocery store. Score! They went on the grill, too.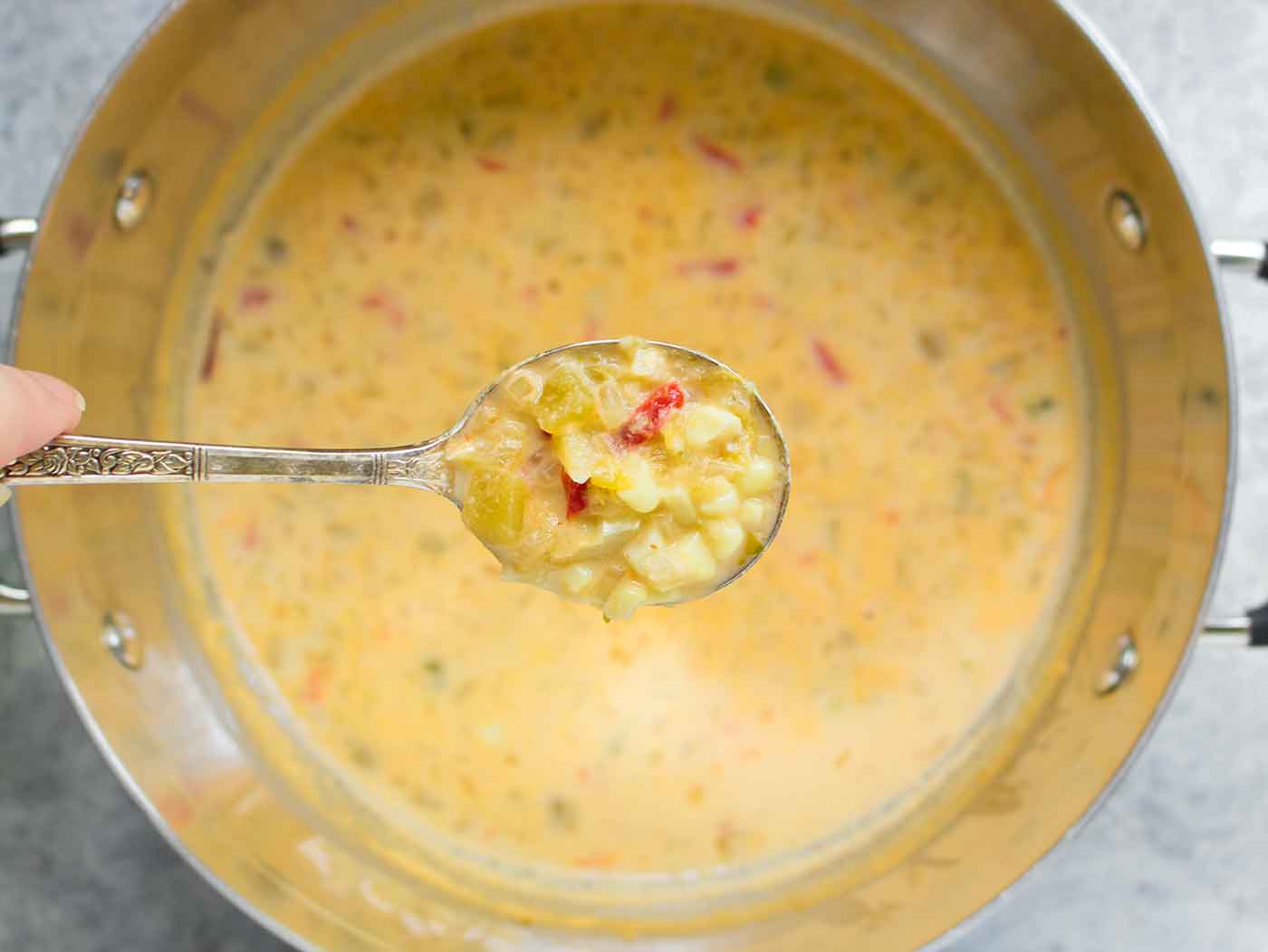 The Secret to great Corn Chowder
Without being too precious about it, the secret to the best corn chowder is using corn stock as the base. Simmering corn cobs with select herbs and spice creates an incredibly tasty soup stock. (But no worries: when local corn season slips into the rear view mirror, don't hesitate to use vegetable stock instead. It's all good.)
But, for now, I can't give enough thumbs-up to using homemade corn stock in this soup. I smoked the corn for extra flavor, but if that's a barrier to you making it, don't worry: the corn stock will still be ever so tasty.
As you read through the recipe, you might notice the absence of potatoes, traditionally used to thicken corn chowder. While I'm as big a fan of potatoes in soup as the next soup lovin' girl, I wanted the flavors of the wood-smoked corn and peppers to just burst out and shine.
And they do. You can absolutely add potatoes to your recipe if you want an extra thick chowder, but I would suggest keeping them down to one or two small Yukon golds, so as to not dilute the flavors in this smoky, creamy corn chowder.
As with most soups, Smoky Hatch Chile Corn Chowder benefits from an overnight rest in the fridge. It's not required, of course, but, the flavors intensify and send this soup right through the tasty roof.
For those with dietary concerns, this recipe is vegetarian with easy vegan/dairy-free option, nut-free, soy-free, and gluten-free.
Welcome home, Soup Season — we're going to have a delicious time of it this year!
Karen xo
Print Recipe
Smoky Hatch Chili Corn Chowder
Corn Chowder gets super-charged with wood-smoked corn and chile peppers, and a fragrant homemade corn stock.
Ingredients
1

tablespoon

olive oil

1/2

medium onion

chopped

2

ribs celery

diced

1/2

teaspoon

smoked paprika

3

shishito peppers or 1 bell pepper

diced*

1

jalapeno pepper

diced (optional, if you don't like spicy heat)

4

ounce

can Hatch chilis or 2 fresh Hatch chilis

chopped

2

cups

corn stock or vegetable stock

(see notes for corn stock)

3

cups

corn kernels

preferably smoked**

1

teaspoon

kosher salt

1/4

cup

half and half or non-dairy substitute

cashew milk is nice
Instructions
Heat the oil in a 4 quart Dutch oven or stock pot over medium until shimmering. Add the onions and celery and cook until softened, about 8 minutes. Sprinkle the smoked paprika over the vegetables and stir to combine. Add the chile peppers and saute briefly.

Blend the stock with 1 cup of the corn kernels (preferebly smoked) until smooth. Skim off any foam. Add to soup along with the remaining corn kernels. Bring to a gentle simmer for 10 minutes, then reduce heat to low. Stir in dairy (or non-dairy option). Taste, and add more salt by the big pinch, if needed. Serve immediately.
To smoke ears of corn:
Remove the husks and silks from the cobs, and trim the stalk ends so they'll fit on your grill. Wash the ears under running water.


Gas grill: preheat one side of grill to high. Charcoal grill: pile hot coals on one of side grill.

Wrap drained wood chips in a flat foil packet, and use a knife to cut slits into the top side.

When grill is hot, place the foil packet over the flame side of the grill (gas grill) or directly on the coals (charcoal grill).

When you see tendrils of smoke streaming from the slits in the foil packet, place the ears of corn on the unheated side of the grill. On a gas grill, close the lid. On a charcoal grill, open all the vents, and position the lid so that the smoke will flow over the corn and out the vent in the lid (if it has one).

Let the corn smoke 20 to 30 minutes. Check periodically to ensure that flames are not reaching the ears and singeing the kernels. The smoking process is finished when the kernels are lightly burnished. Remove from the grill and let cool.
Notes
* If you're wood-smoking corn for this recipe, go ahead and throw the chile peppers in, too. Roast them over the flames, so that their skins will be easy to remove.
** For more tips on wood-smoking corn: see this post, as well as to see the recipe for corn stock.
Nutrition
Nutritional information, if shown, is provided as a courtesy only, and is not to be taken as medical information or advice. The nutritional values of your preparation of this recipe are impacted by several factors, including, but not limited to, the ingredient brands you use, any substitutions or measurement changes you make, and measuring accuracy.
Pin Smoky Hatch Chile Corn Chowder recipe for later:
Pinterest fans, if you'd like to save this recipe for later, use the image (or any image above) to pin to your boards (they're small here, but thanks to the magic of the interwebs, they'll be full size when you pin them). Thanks for sharing, and most of all, thank you so much for reading this post! Blogging wouldn't be any fun without you!