Fresh, summer vegetables make the best soup! Summer Minestrone is loaded with the best veggies from the farmers' market, and brightened with the citrusy flavors of lemongrass and ginger. Quick-cooking on the stove, it's a light, healthy, craveworthy summer soup!
The best thing about summer, in this vegetable gardener's opinion, is all the fresh veggies that sprout out of the ground, or show up at the local farmers' market. Sunshine is great, sure. Warm weather is a relief.
But there's just nothing as rewarding for avid home cooks and fans of great food as the abundance of in-season peppers, cucumbers, summer squashes, carrots, garlic, onions, corn, tomatoes, potatoes, herbs, and so much more.
I'm sure cooking soup in the middle of summer might sound exactly like something one wouldn't want to do, but, it's really no different than firing up the stove for any other reason, whether a batch of BBQ baked beans, or cooking up potatoes for your famous potato salad.
And I've designed this recipe so there's a merciful amount of cooking time. And much of that is done with the pot covered so that the steamy vapors are contained within.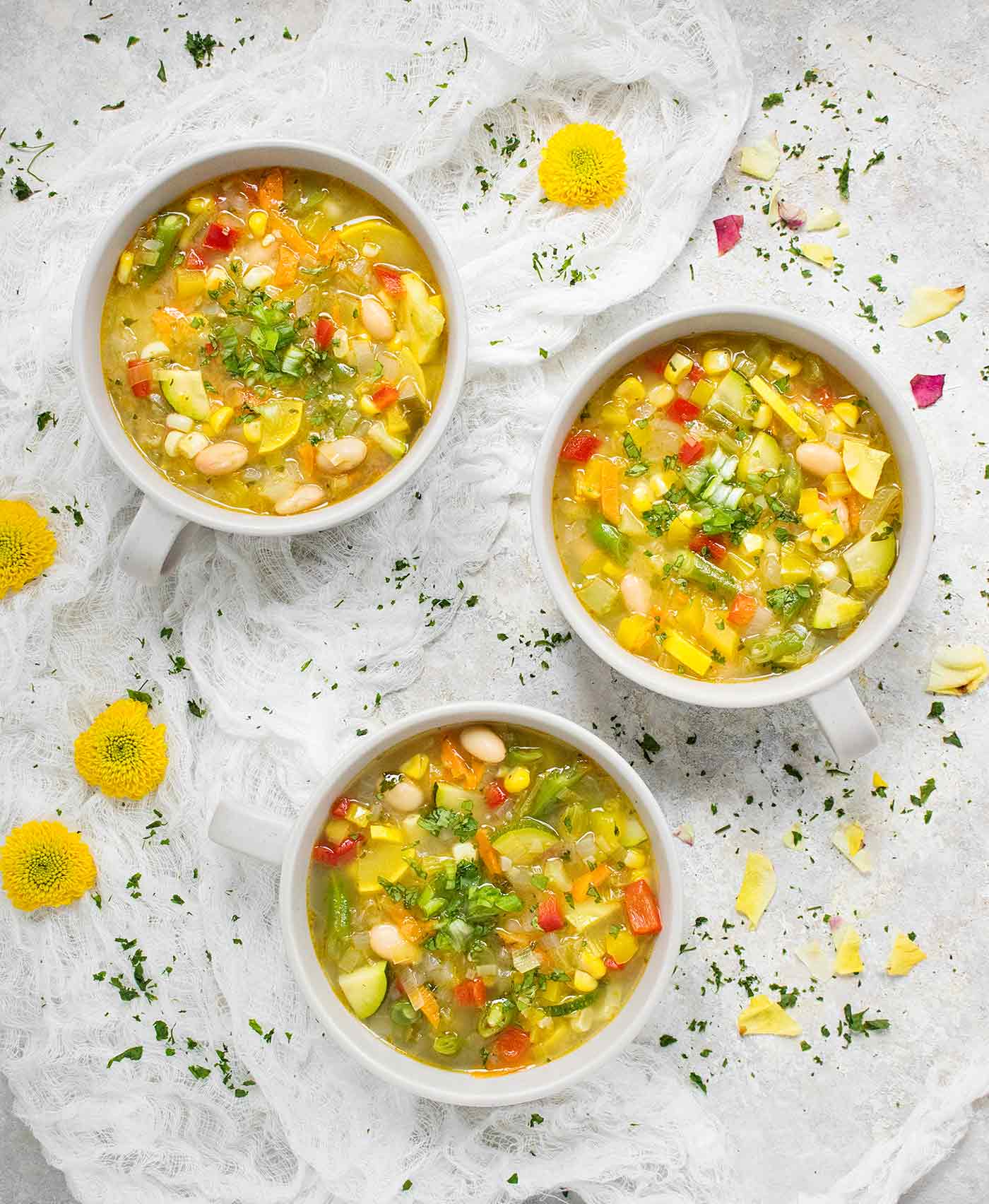 For a veggie-heavy recipe like this, I might normally go for lots of herby seasonings. But for my Summer Minestrone, I went with more of a citrusy vibe, infusing the broth with lots of lemongrass, ginger, and lemon flavors.
The intention was not to lean into Asian flavorings, but rather to brighten the soup with a gentle puckeriness, so it doesn't feel overly rich and winter-heavy.
I also left the vegetables with a little bit of crunch to them, to create a texture-pleasing bite to the soup. If crunch isn't your thing, just cook the soup a little longer, testing the green beans — which are the "toughest" vegetables in the recipe — for your preferred level of tenderness.
There's a bit of prep to be done, for sure. But the good news is that you can do the vegetable prep ahead of time. In fact, that's one of my favorite tips for cooking soup: I almost always prep the dinner soup vegetables in the morning, as soon as I get home from the grocery store.
Separate the chopped veggies into different bowls, according to when they're added to the pot. Or layer a piece of foil between them in one bowl, making sure the first-round aromatics (the onions and such) are on the top for easy access. Then cover and stash everything in the fridge until you're ready to cook.
Also take the time to slice the veggies into pieces that comfortably fit on a spoon. That's why you see quarter-moon slices of zucchini and summer squash in the soup photos: No big spoon-hogging disks in my Summer Minestrone! 😀 Each spoonful contains a kaleidoscope of beautiful, perfectly seasoned vegetables.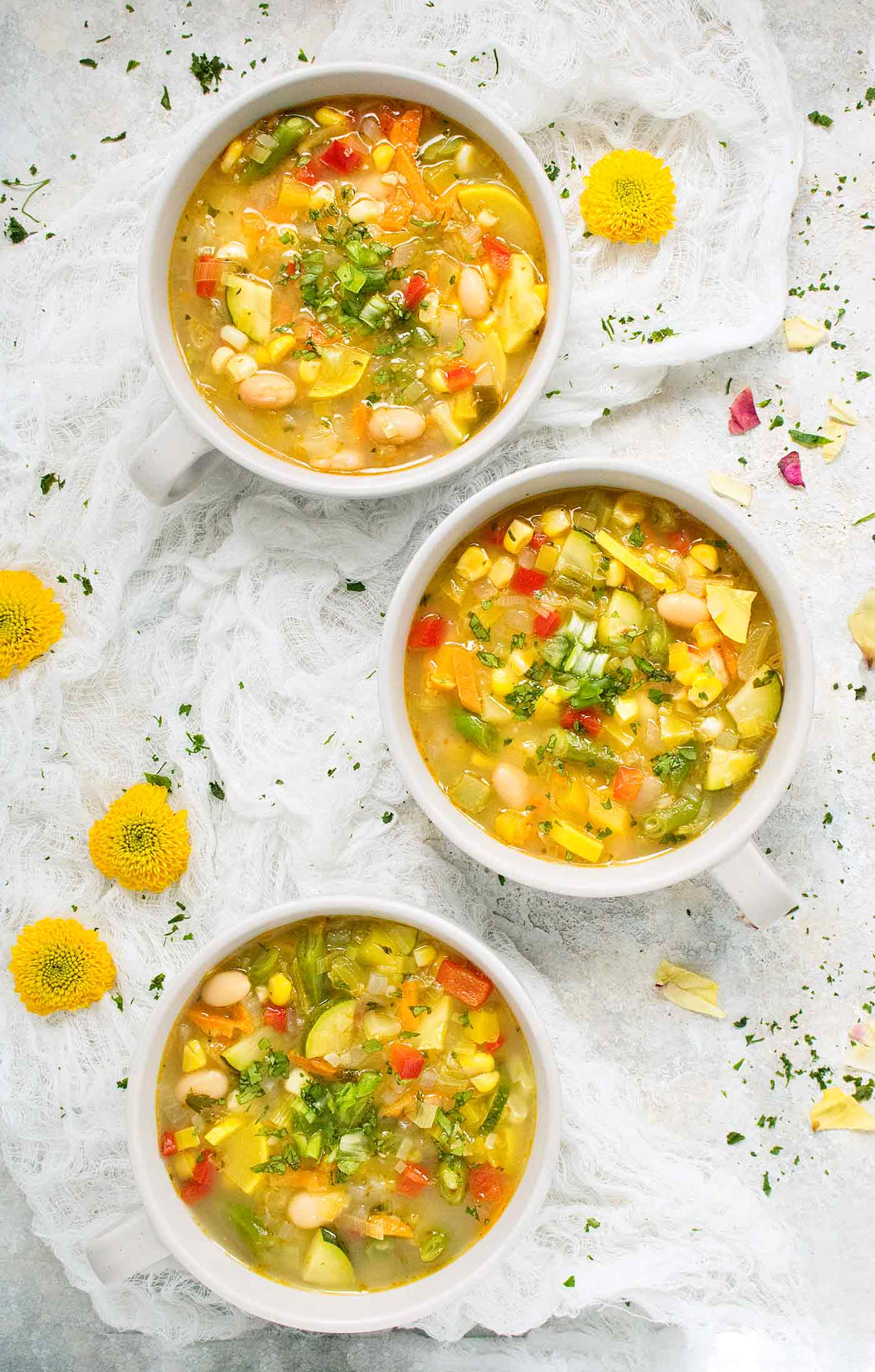 For added nutrition and heft, I included lots of white beans in the soup, but you can also add (or substitute) a small pasta, such as pearl couscous, orzo, or ditilini.
For a year-round minestrone option, try my nutritious and delicious Sardinian Minestrone, a soup inspired by the Blue Zones.
Serve this naturally vegetarian and gluten-free minestrone with crusty bread and a side salad. The leftovers are fabulous, hot or cold. That lemony broth is just craveably delish!
Karen xo
Print Recipe
Summer Minestrone
Fresh, seasonal summer vegetables make the best soup! Summer Minestrone is loaded with the best veggies from the farmers' market, and brightened with the citrusy flavors of lemongrass and ginger. Quick-cooking on the stove, it's a light and healthy summer soup!
Share via Text
Ingredients
1

tablespoon

olive oil

1

tablespoon

butter

1

small onion

, diced

1

leek

, chopped (white and light green parts only)

3

cloves

garlic

, minced

1

small carrot

, peeled and diced

2

ribs celery

, diced

1

small yellow bell pepper

, diced

1

small red bell pepper

, diced

4

cups

vegetable or chicken broth

1

tablespoon

lemongrass paste

1

tablespoon

ginger paste

(or 1" knob fresh ginger, minced)

1

ear corn

kernels only, discard cob

1

small yellow summer squash

, sliced into quarter moons

1

small zucchini

, sliced into quarter moons

8

ounces

haricot verts

, trimmed and cut into 1" pieces

1

teaspoon

dried parsley

1

tablespoon

miso

zest from one lemon

juice from one lemon

kosher salt

1

tablespoon

minced fresh cilantro
Instructions
Heat oil and butter in a 4-5 quart Dutch oven or stock pot over medium until shimmering. Add onions through red bell pepper, stir, cover pot, and let soften 12-15 minutes.

Scootch the veggies to one side of the pot, and add a splash of broth to the cleared side. Spoon the lemongrass and ginger pastes, plus 1/2 teaspoon salt, onto the broth and stir until fragrant (just 15 seconds or so). Mix into the veggies.

Increase heat to medium-high and add remaining broth, plus 1/2 teaspoon salt. Add the corn, squashes, green beans and parsley. Let the soup come up to a gentle simmer, then reduce to medium-low, and cook for 10 minutes. Turn off heat.

Measure about a 1/2 cup of the soup liquids into a small bowl, and let cool for a few minutes. Stir in the miso and mix until dissolved, then pour into the soup, along with the lemon zest and juice.

Taste the soup, and add salt as desired.

Garnish with cilantro, and serve.
Nutrition
Nutritional information, if shown, is provided as a courtesy only, and is not to be taken as medical information or advice. The nutritional values of your preparation of this recipe are impacted by several factors, including, but not limited to, the ingredient brands you use, any substitutions or measurement changes you make, and measuring accuracy.
Pin Summer Minestrone recipe for later: