I've fallen head over heels in love with coconut milk. And I don't get it. Honestly. Because the mere sight of shredded coconut makes my tummy heave.
Just yesterday, I was at my real estate agent's house, where she proudly showed off the leftover Easter bunny cake she had made herself, covered, of course, in the ghastly shreds. While she delightedly pointed out the cuteness of the eyes and nose, and the fluffiness of the ears, I was concentrating on breathing through the gag (breathe, dammit, just breathe … it'll be over soon) as though this were some kind of nightmare trip to the dentist, wielding long tools and poking at the back of my throat. If she had offered me a slice, I think I would've had to crash through the back door, cartoon-character-like.
Ach, shredded coconut. Pure evil.
But coconut milk — dear sweet coconut milk. I do love thee. Nutritionists can battle back and forth over the benefits/hazards of coconut milk and oil all day long. Meanwhile, I'll just go about my b'ness, replacing dairy with coconut milk wherever it makes sense.
Like in soup. Oh, soup and coconut milk, you were positively made for each other.
With the arrival of spring vegetables, I find myself craving lighter, brothy soups with Thai flavors like curry and lemongrass. Can't get enough of them, really.
I had the odd foresight last year — odd, because I never have foresight — to freeze some kaffir lime leaves (photo above, top right), which I promptly forgot having (see? This is why I don't have foresight — it's usually all for naught) until I went about making this recipe. If you can find them, please do use them here — they add an amazing lime essence that's … well … hard to describe. Lime-y, but not sour. Somehow fresh and perfumey (but not cloyingly so).
Thai chilies, or Bird's Eye chilies (photo above, lower left), add a refreshing snap of heat. I also had the good fortune to stumble on roasted red curry paste (center), which is a wonderful variation of the traditional red curry paste — deep and smoky.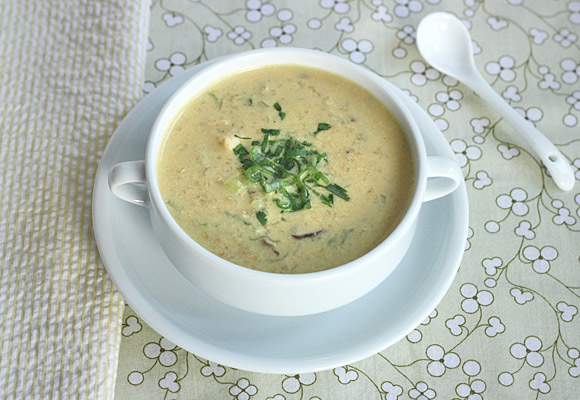 Hope everyone had a wonderful, coconut-free Easter. (I know that some of you actually enjoy shredded coconut — please forgive me, but I must comfort myself with the illusion of a shredded-coconut-free world, or else I might go mad.)
Karen xoxo

Tom Kha Gai (Thai Chicken Ginger Soup with Coconut Milk)
adapted from several sources
Ingredients:
3 tablespoons neutral oil, such as canola or grapeseed, divided usage
1 medium onion, diced
4 ounces shiitake mushrooms, stems discarded, caps sliced
1 head baby bok choy, thinly sliced
2 teaspoons red Thai curry paste, regular or roasted
2 teaspoons curry spice blend
1 stalk lemongrass, outer sheath removed cut into 3 pieces or 1 tablespoon lemongrass paste
8 slices fresh ginger (very thin slices) or 1 tablespoon ginger paste
2 or 3 Bird's Eye (Thai) chilies, red or green, seeds removed, thinly sliced
2 cups vegetable or chicken broth
2 cans coconut milk (full or reduced fat)
12 ounces chicken, sliced into thin strips (or use meat-free substitute)
3 kaffir lime leaves (dried or fresh)
2 tablespoons fish sauce (or soy sauce for vegetarian/vegan)
1 lime, cut in half
1 cup cooked quinoa (optional)
1 scallion, thinly sliced, for garnish
2 tablespoons cilantro, minced, for garnish
Instructions:
1. Heat 2 tablespoons oil over medium in a 4-5 qt stock pot or dutch oven until shimmering. Add onions, mushrooms and bok choy, and saute until onions are soft, mushrooms have begun to release their liquids, and the bok chok leaves are bright green (about 5 minutes).
2. Scoot the veggies to the side of the pot and pour in the remaining oil in the cleared space. Sprinkle the curry paste and curry spice over the oil and let simmer for 15 seconds to bloom the spices. Add the lemongrass pieces, ginger and Bird's Eye chilies to the spice oil, and stir to create a paste. The paste should be very loose and wet – if not, mix in a bit of the broth.
3. Increase heat to medium-high. Add one cup of broth to the pot and stir all ingredients together. Pour in the remaining broth and both cans of coconut milk. Bring the soup to a low boil.
4. When soup is bubbling, reduce heat to medium-low and add the lime leaves, chicken and fish (or soy) sauce. Keep the soup at a gentle simmer – the liquids should bubble but not sputter – 10 to 12 minutes or until chicken/meat substitute is cooked.
5. Squeeze both limes over the soup and stir in the quinoa (if using). Turn heat to low and allow soup to rest for 5 minutes. Taste, and add salt, if necessary. Remove and discard the lime leaves and lemongrass stalks (the leaves will be easy to find as they tend to float to the surface; the lemongrass stalks might be more of a challenge. They're not dangerous to eat, but it's an unpleasant gnawing experience – it's best to either remove them or warn your guests of their presence). Ladle soup into bowls and garnish with scallions and cilantro.
Notes:
Quinoa is not a traditional ingredient in Tom Kha Gai, but I do love the extra body it gives the soup, along with the added healthy protein. When preparing quinoa specifically for this dish (as opposed to using leftover quinoa), I like to add a couple of drops of toasted sesame seed oil to the quinoa cooking water to give the quinoa a subtle, smoky richness.
Vegan – this dish is easily made vegan by using chicken meat substitute (or additional mushrooms) and soy sauce, as indicated. Thai curry paste is (in my experience) usually vegan, but do read the labels before purchase.
Gluten-free – this dish is gluten-free. No alterations need to be made, but do double-check your fish sauce/soy sauce and Thai curry paste. The brands I regularly use are naturally gluten-free, but please read your labels.
Subscribe to the SoupAddict Weekly Digest and get new soups and other delish foods in bowls in your inbox!