Thai Coconut Chicken Soup — inspired by a deli version of the classic Tom Kha Gai — is a comforting and flavorful dish, perfect for chilly winter evenings. Made with a blend of aromatic spices, curry, tender chicken, rice, and creamy coconut milk, it's the perfect balance of flavors and textures. This easy recipe is a delicious and satisfying meal that the whole family will love.
It surprises some people to know that I don't cook soup day in and day out. I mean, that would be the dream, right? Get up in the morning and start a pot of soup simmering during these cold winter stretches.
But, I have a full-time job and a full plate of life stuff, and daily homemade soup is just not within my energy levels. I also eat lunch at home, which means I go through leftovers pretty quickly, even when I do manage to plan ahead on the weekends and make a big pot of something.
So, I'm not embarrassed to say that I do buy soup at the store. Canned soup is not necessarily my favorite (although there are definitely acceptable options out there), but fortunately for me, my local Kroger sells a variety of deli and Panera soups that are many levels above canned.
My all-time favorite is Kroger's Thai Coconut Chicken Soup and during the lows of the pandemic, when everything was going out of stock all the time, I decided to recreate that soup so I'd have the recipe for myself.
A good thing, too, because the soup has been out of stock for over a year — although one Saturday last month I did snag a container before it disappeared again. Oh, the lunch bliss!
Today, I'm sharing it here. Note that this recipe is more a copycat of the Kroger soup than a representation of authentic Tom Kha Gai. IOW, Americanized. But so hearty and delicious!
Ingredients and Substitutions
A few notes about some of the ingredients for my version of Thai Coconut Chicken Soup:
Thai Green Curry Paste — This wonderfully fragrant condiment should be easily found at the grocery store and contains a super-flavorful blend of Thai-inspired herbs and spices.
It's the kind of ingredient that you dump into many kinds of improvized soups for an extra burst of flavor. Green curry paste has a bit of a kick to it, so feel free to add more or less according to your heat preferences.
Ginger — As with many Asian-leaning dishes, ginger is a star ingredient and adds a zesty citrusy note.
Lemongrass Paste — I love lemongrass so much, but in my area, it's sometimes problematic to procure. And, when my store does carry it, it's often dried out and woody.
So, I'll go out of my way to track down lemongrass paste. I can usually find it in a tube in the produce section, but also sometimes jarred in the international or Asian section.
Paste is also easier to deal with than fresh lemongrass stalks, so if you can find the paste, I give it an all-around thumbs up. (Learn more about lemongrass.)
Coconut Milk — I always use full-fat coconut milk for this soup, because it provided a luscious, creamy texture. You can definitely substitute low-fat, though. Just know that the soup's consistency will be a bit thinner.
Kroger's version of the soup also contains heavy cream, which I skip, but it's an option if you don't like coconut milk. (I would be more inclined to use half-and-half than straight-up cream, though; plenty of creamy texture with less dairy fat.)
Chicken — This is the perfect soup for leftover or rotisserie chicken. You can absolutely sear some raw thighs or breasts for the soup first, but I appreciate the time — and standing-in-front-of-the-stove — savings of using a rotisserie chicken.
Fish Sauce — It might seem completely counter-intuitive to add funky fish sauce to a creamy soup, but its natural umami is actually a perfect fit. I can usually find a small bottle of fish sauce at the grocery store now — back in the day, you could only find huge, hard-to-store bottles — and tuck it away in a corner of the fridge.
Kaffir Leaf — If you're lucky, you can find kaffir leaves bagged or bottled in the spice or international section of the grocery store. These leaves are from Kaffir lime trees and have a bright, spicy-citrusy flavor. Used like bay leaves, they're well-suited for seasoning coconut milk soups.
I won't begin to guess about availability across the U.S., but if you can't find them, lime zest (and the already-included lemongrass) is a good substitute. (Note that while I do call for fishing out the kaffir leaf after cooking, they are edible, if you'd rather chop it up to incorporate into the soup.)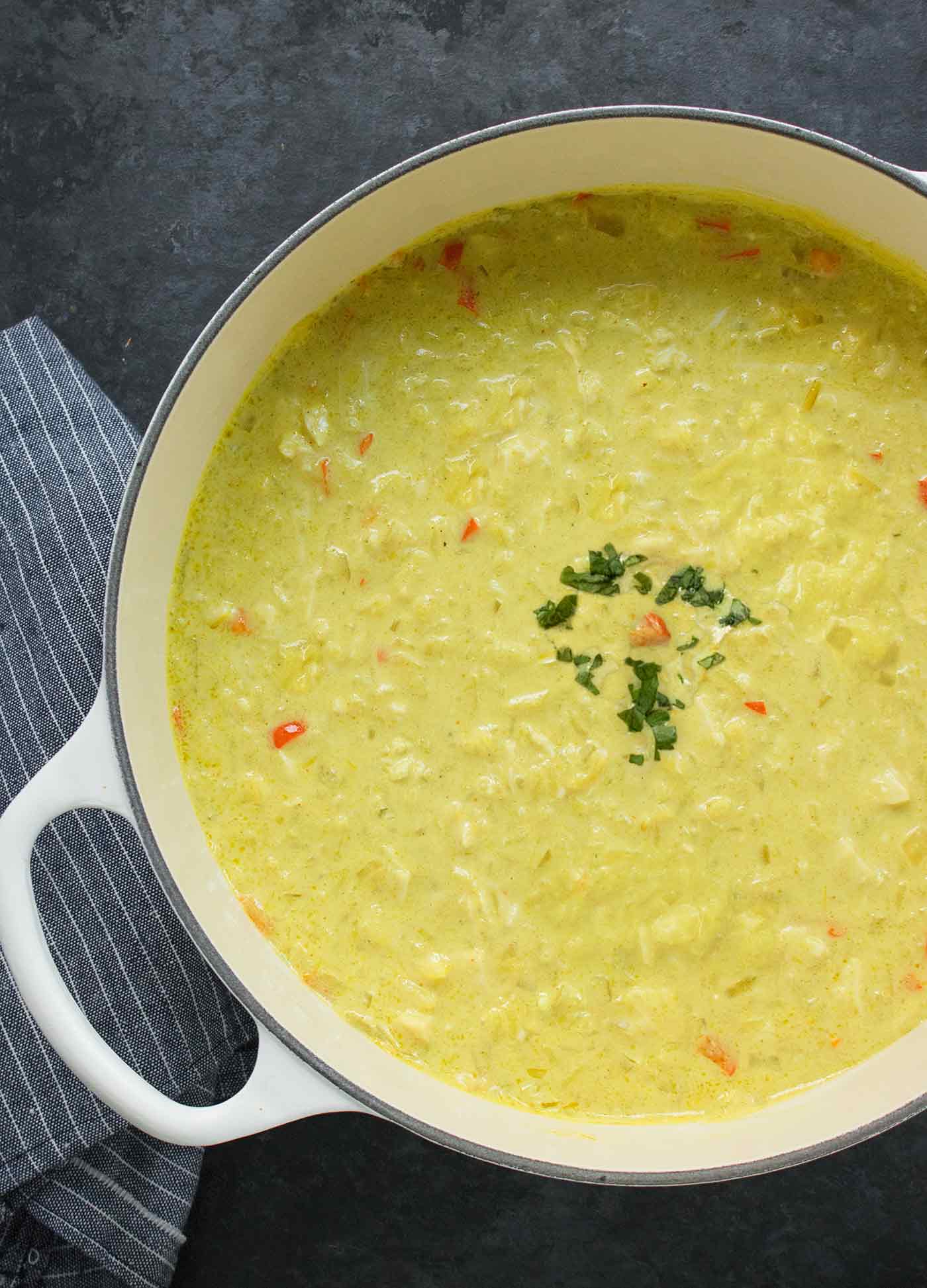 Frequently Asked Questions about Thai Coconut Chicken Soup
How long can the soup be stored in the refrigerator?
Thai Coconut Chicken Soup can be stored in the refrigerator for 3-4 days in an airtight container.
Can the soup be frozen?
Yes. There is a slight chance that the coconut milk might separate after thawing, but the other ingredients in this soup should keep it stabilized. For best results, thaw in the refrigerator overnight.
I've never had a problem freezing this soup, but wanted to give a heads-up in case you notice separation. The soup will last up to 3 months in the freezer.
Is this dish spicy?
The spiciness of the dish depends on the amount of chili paste added. As written, this recipe is only slightly spicy, but it can be made mild, medium, or hot to suit your preferences.
If you have a favorite hot chile, such as jalapeno or bird's eye chile, you can chop one up and add it to the soup when you cook the rice. Or use it as a garnish!
What kind of proteins can be used in this soup?
Chicken is the most common protein used in this dish, but shrimp, tofu, or even pork can be used as well. Just be sure to factor in cooking time if you're starting with a raw protein, as this recipe calls for cooked chicken.
Can this dish be made vegetarian or vegan?
Yes, this dish can be made vegetarian or vegan by using tofu or other plant-based protein and substituting chicken stock with vegetable, and fish sauce with an alternative such as soy sauce.
What toppings go well with this soup?
Oh, so many! Here are some classic options as well as a few personal favorites:
Chopped cilantro, basil, or Thai basil
Chopped cashews or peanuts
Chopped chile peppers, mild, medium, or spicy
Lime wedges
Sliced green onions
Diced cucumbers
Bean or radish sprouts
A spoonful of chili crisp
A nice, spicy kimchi
I hope you'll try this hearty and flavorful version of Thai Coconut Chicken Soup. Its rich texture and aromatic spices are comforting and crave-worthy.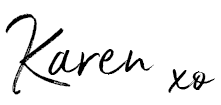 More Thai-inspired Soup Recipes
Print Recipe
Thai Coconut Chicken Soup
This Thai Coconut Chicken Soup recipe is a delicious and easy way to enjoy the flavors of Thailand. Made with tender chicken, aromatic spices and rich coconut milk, it's the perfect balance of creamy, savory, and spicy. Perfect for a chilly evening, it's a comforting and satisfying meal that everyone will love. Make sure to try our recipe today and experience the taste of Thai cuisine at home!
Ingredients
1

tablespoon

olive oil

1

small onion.

diced

1

red bell pepper,

diced

1 1/2

tablespoons

Thai green curry paste

1

tablespoon

lemongrass paste

1

tablespoon

ginger paste

(or minced fresh ginger)

1

teaspoon

yellow curry powder

(or 1/2 tsp ground turmeric)

3

cups

low-sodium chicken stock or broth

2

teaspoons

fish sauce

1

teaspoon

brown sugar

1

kaffir leaf

(optional)

1/2

cup

uncooked jasmine white rice

14

ounces

canned full-fat coconut milk

2

cups

diced or shredded cooked chicken

Kosher salt
Instructions
Heat the oil in a 4 quart Dutch oven or soup pot over medium until it begins to shimmer.

Add the onions and bell peppers and saute for about 5 minutes, or until the vegetables begin to soften slight.

Scoot the vegetables to one side and add a small glug of oil to the cleared area.

Spoon the curry paste, lemongrass, ginger, and curry powder over the oil and stir to create a fragrant paste.

Add a splash of the chicken stock and stir everything together until well-mixed and saucy.

Pour in the remaining stock, plus the fish sauce, brown sugar, rice and kaffir leaf

Bring to a gentle boil on high heat then reduce to medium/medium-high to maintain active simmer. Cover pot with a lid or foil.

Cook for 15 minutes (or, at a minimum, for the time indicated on the rice packaging).

Remove the lid, stir, and test the rice for doneness (it should be plump and tender).

Reduce heat to low to halt the simmering. Fish out and discard the kaffir leaf.

Add the coconut milk and chicken. Stir and let the heat of the soup warm them through.

Taste and adjust with salt, if necessary.
Nutritional information, if shown, is provided as a courtesy only, and is not to be taken as medical information or advice. The nutritional values of your preparation of this recipe are impacted by several factors, including, but not limited to, the ingredient brands you use, any substitutions or measurement changes you make, and measuring accuracy.