Healthy soups don't have to be boring. Bowtie Vegetable Soup is loaded with your favorite rainbow vegetables, tender pasta, and flavor-charged with delicious pesto.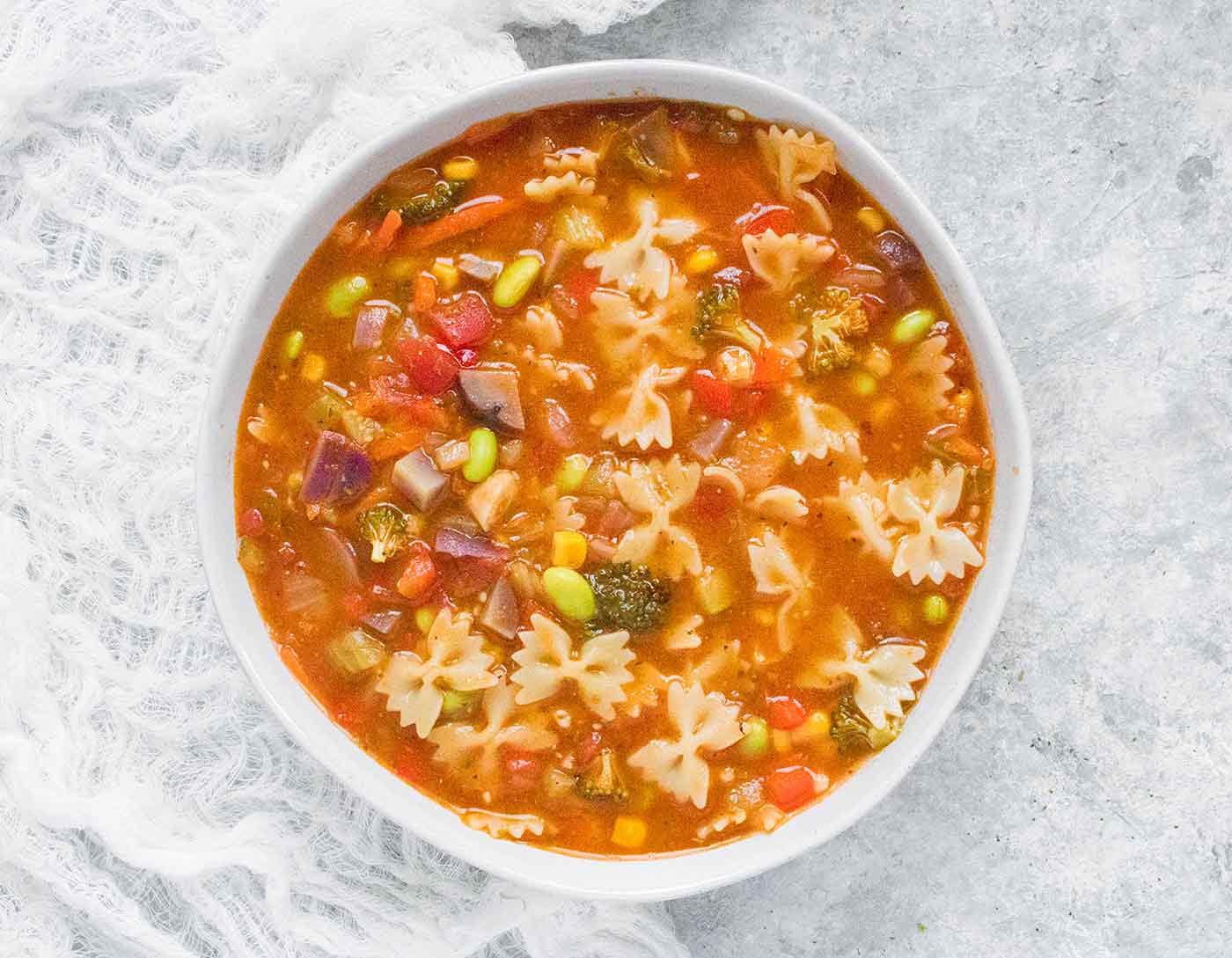 Whenever I feel like my healthy eating goals are getting away from me, I love how soup slides right in to the save the day.
Because of our human salt-fat-sugar propensities, we might crave decadent soups like Buffalo Blue Cheese Chicken Soup or Italian Sausage Orzo Soup, but, in my humble soup-lovin' opinion, that's not soup's highest purpose.
Soup has a long history of making us feel better. When we need to warm our bones, plow through a cold, or just get some cozy relief from winter's unforgiving weather, soup is there.
And whenever we need to "up" the body's health factor, there's vegetable soup.
This the perfect vegetable soup for maximizing the goodness of vegetables. They're the stars of the show, but flexible, too, so you can alter the recipe to fit the moment.
For a healthy nutritional balance, use a rainbow of vegetables whenever possible, so that you get benefit from the unique properties of each.
But this is also a great recipe for clearing out that vegetable drawer, and rescuing anything that's on its last legs, lol. Broccoli starting to yellow a little? Perfect. Carrots gone wilty? Throw them right in.
The colorful photo above shows most but not all of the vegetables I added to the soup. Here's the full list, but don't feel like you have match it, vegetable for vegetable!
Red onions
Celery
Carrots (grated)
Bell peppers (green, yellow, red)
Purple potatoes
Broccoli
Frozen corn
Frozen edamame
Tomatoes
It's the kitchen sink of vegetable soups!
Tip: makes sure you cut the vegetables into about the same sized pieces, so that they cook evenly. I grated the carrots, because carrots take a long time to get tender, even in a small dice.
I love the mini bowtie pastas (a.k.a., farfalle) because they fit neatly on your soup spoon, with room for a few veggies to spare. No chasing after noodles, no splashing.
Why the pesto? Because vegetable soup can sometimes be a bit bland, inviting the temptation to over-salt it.
With its bright, verdant flavor, pesto is a natural companion to bowtie vegetable soup. In the photos above, I swirled almost a quarter cup right into the soup pot, and then set out extra at the table, so that guests could spoon more in if they wanted.
This soup is naturally vegetarian, but if you need a vegan/non-dairy version, use vegan pesto (most pestos contain cheese, which can be replaced in homemade versions with nutritional yeast).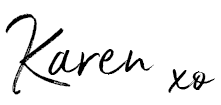 More vegetable soups to try:
Print Recipe
Bowtie Vegetable Pasta
A healthy vegetable soup that's flavor-enhanced with a generous helping of herbaceous basil pesto.
Ingredients
1

tablespoon

olive oil

1

small onion,

diced

1

carrot,

grated

2

ribs celery,

diced

1

small red bell pepper,

diced

2

cups

of other diced vegetables

(see suggestions in Notes)

1

tablespoon

tomato paste

1

teaspoon

dried Italian herb blend

4

cups

vegetable broth

15

ounces

diced tomatoes

8

ounces

mini bowtie pasta

(about half of a 1 pound box)

kosher salt

1/4

cup

basil pesto

(plus extra for serving)
Instructions
Heat the oil in a 4 to 5 quart Dutch oven or soup pot over medium heat, until the oil shimmers. Add the onions, carrots, celery, and red bell pepper, until the vegetables are soft (about 8 minutes). Add the tomato pasta, dried herbs, and a splash of broth, and incorporate the tomato paste into the aromatics.

Add the remaining broth and tomatoes to the pot, and increase heat to bring the soup to a light boil. Add the other diced vegetables, a big pinch of salt, and adjust the heat to maintain an active simmer while you cook the pasta.

In a medium pot, prepare the pasta according to package directions. Drain, and add to the soup.

Before serving, stir the basil pesto into the soup. Taste and add more salt or pesto to suit.

Optional: bring an extra bowl of pesto to the table so your guests can add more pesto directly to their bowls.
Notes
Why grate the carrot? Carrots take a looong time to cook, and breaking them down into grates will help them soften and cook faster, so that you don't have to cook the other veggies to death.
This soup is great to use up vegetables that about to give up the ghost in your fridge. Just about any vegetable goes great into this soup. Here's what I used for the photos in this post: Red onions, Celery, Carrots, Bell peppers (green, yellow, red), Purple potatoes, Broccoli, Frozen corn, Frozen edamame, Tomatoes.
Nutrition
Nutritional information, if shown, is provided as a courtesy only, and is not to be taken as medical information or advice. The nutritional values of your preparation of this recipe are impacted by several factors, including, but not limited to, the ingredient brands you use, any substitutions or measurement changes you make, and measuring accuracy.