The classic American comfort food gets a super fun preparation: baked into a sliceable pie stuffed with cheese and sweetly savory caramelized onions. Everyone will love spaghetti pie!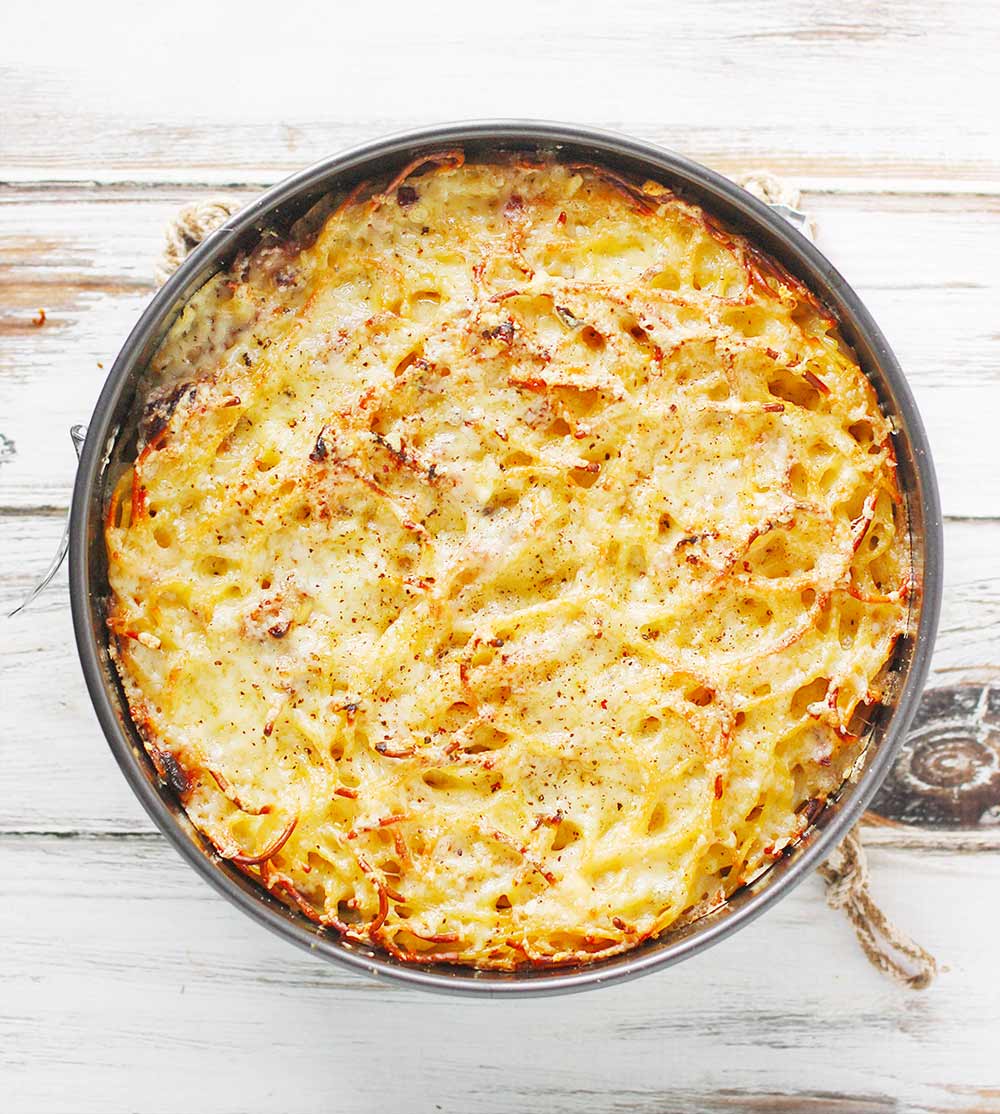 I love spaghetti. I love spaghetti <— thiiiiiiiiiiiiis —> much. Spaghetti is a weekly staple. And when I'm having one of those weeks — you know what I'm talkin' about — sometimes it's an all-the-days-that-end-in-y dinner.
In the winter, it's spaghetti with marinara sauce. (Sometimes I get fancy and saute some mushrooms, too.) In the summer, it's a cold spaghetti salad that I love so much I could eat on every day that has a "y" … for dinner and lunch.
I never get bored with spaghetti, especially when you can do things to it, like make it into a pie.
Pie, peeples! Pie.
Why, Oh Why, Spaghetti Pie!
Because:
It's spaghetti.
It's pie.
It's noodley pie stuffed with three cheeses and bacon-fat-cooked caramelized onions.
And when the spaghetti pie is cooked through and set, you'll be able to pick up a slice like pizza, which is — yeppers, this is an adult saying this — a really fun way to eat spaghetti. If the peeps in your life are more refined than I am (aaaaand that would be everyone in world), serve with a fork and a sharp steak knife, as the top layer is crunchy.
There's spaghetti. And there's also cheese. And not just one cheese. Three cheeses. One cheese is melty, one cheese is super tasty. And one cheese is parm because spaghetti isn't spaghetti unless there's a big haystack of parmigiano reggiano on top.
My go-to melty cheese is fontina. Oh, fontina. You lovely.
And when I'm okay with being spendy on something like spaghetti pie, I go for the artisan cheddar cheese. Pictured above is my cheese crush, Merlot BellaVitano – a cheddar/parmesan wheel that's been marinated in merlot. Beyond dreamy.
And when you mix this kaleidoscope of cheese deliciousness with properly slow-simmered caramelized onions cooked in bacon fat, you'll want to have spaghetti pie for all the meals. (Cold spaghetti pie breakfast: yaaas!)
More About Spaghetti Pie:
Don't be alarmed by the quantity of onions this recipe calls for. If you're new to caramelizing onions, you'll be surprised – and a tad disappointed, given all the chopping you had to do – at the small quantity of caramelized onions that one jumbo onion actually produces (i.e., the heaping mound of tear-bringing onion slices will yield less than 2 cups of caramelized onions).
Another don't: please do not be tempted to rush the caramelization process. Browned onions are not the same as caramelized onions. You can achieve browned onions in 15 minutes, where they go from white to translucent to brown (i.e., nearly burnt). That's called sauteing. Do not believe the magazine recipes that tell you caramelization takes 15 minutes. It takes a minimum of an hour; plan on an hour and half. (You can make them ahead of time – just stash in the fridge!)
It's counter-intuitive – and sort of maddening, I'll admit – to cook a huge mound of onions over medium-low heat … but don't touch that oven dial! Low and slow is the name of the game. This is also where a pan lid comes in handy. It keeps the heat even and moisture trapped inside … and deters you and me from hovering and impatient toe-tapping.
Some spaghetti pie recipes suggest to undercook the spaghetti. I've not had any success with that, even though it sounds like a sensible idea. The thought is that the spaghetti will continue to "cook" in the egg mixture while in the oven. But it doesn't really take in more moisture in the way you'd expect, and ends up sort of tough and dried. Go ahead and cook all the way to al dente, which is 7 to 8 minutes.
To cut the spaghetti pie, use a very sharp chef's knife, and insert the knife vertically, point down, and saw through the pie up-and-down, rather than horizontally. I find this keeps the nest of noodles and the edges of the slices nicely intact.
If your family loves spaghetti like I do — you know, <— thiiiiiiiiiiiiis —> much — they'll love cheesy, sweetly-oniony-bacony spaghetti pie.
Karen xo
Print Recipe
Three Cheese Caramelized Onion Spaghetti Pie
Share via Text
Ingredients
2

strips thick bacon

1

large onion

or 2 medium, sliced into thin half moons

red wine

for deglazing (optional)

16

ounces

spaghetti

3

eggs

1 1/2

cups

milk

1

teaspoon

freshly ground black pepper

2

cups

grated quality cheddar

1

cup

grated melty cheese

such as fontina

1

cup

grated Parmigiano reggiano
Instructions
caramelize the onions
Place the bacon strips in a cold frying pan or wide saute pan - you'll need a lid or a cover of some sort (such as foil) - with enough water to barely cover the surface. (It's perfectly okay to cut the bacon into halves or thirds, so they fit in one layer in the pan.) Turn the heat to medium-low, and let the bacon cook, turning every now and then, until both sides are done to the crispness you prefer. Remove the bacon to a plate lined with paper towels, to soak up the excess grease. Drain all but one tablespoon of bacon fat from the pan and return to the heat (still on medium-low).

Add the sliced onions, and stir well to coat with the bacon fat. If there are brown bacon bits stuck to the bottom of the pan, deglaze with a few short pours of red wine. Cover the pan and cook, stirring occasionally, for 1 to 1 1/2 hours. Properly caramelized onions will soften and reduce over time, starting off pale beige and slowly turning a deep golden brown. So as to not drag things out eternally, you can remove the lid after an hour. When the onions are a deep golden brown, remove from the heat and let rest.
cook the spaghetti
When the onions are starting brown up, preheat the oven to 425°F and butter or spray a 9" springform pan.

Cook the spaghetti to al dente, according to package directions. Drain.

While the spaghetti cooks, whisk the eggs, milk, and black pepper together in a large bowl, then mix in about 3/4ths of each of the cheeses, reserving the rest. Stir in the cooked spaghetti and the caramelized onions. Crumble the bacon and stir that in as well.

Snuggle the springform pan into a square of foil, bringing the edges up and covering the bottom seam of the pan. (This will keep your oven clean!) If you've been caught without foil, place the pan on a rimmed baking sheet.

Pour the spaghetti mixture into the prepared springform pan and sprinkle the remaining cheeses over the top. A grind or two of pepper would not be out of line here.

Bake for 35 to 40 minutes. Turn on the broiler, and place the pan about 8" from the broiler unit. Let the cheese brown, then remove.

Let the spaghetti pie rest for 15 minutes, then use a thin bladed knife to cut around the edge of the pan. Remove the springform ring. Slice, and serve.
Nutritional information, if shown, is provided as a courtesy only, and is not to be taken as medical information or advice. The nutritional values of your preparation of this recipe are impacted by several factors, including, but not limited to, the ingredient brands you use, any substitutions or measurement changes you make, and measuring accuracy.
Inspired by Food & Wine magazine.