Vegetarian soups can be hearty and crave-worthy meals, too, and this Creamy Mushroom Tortellini Soup is a great example. Filled with umami mushrooms, cheese tortellini, and herbs and spices in a smooth and savory broth, this soup is the perfect addition to your Meatless Monday line-up.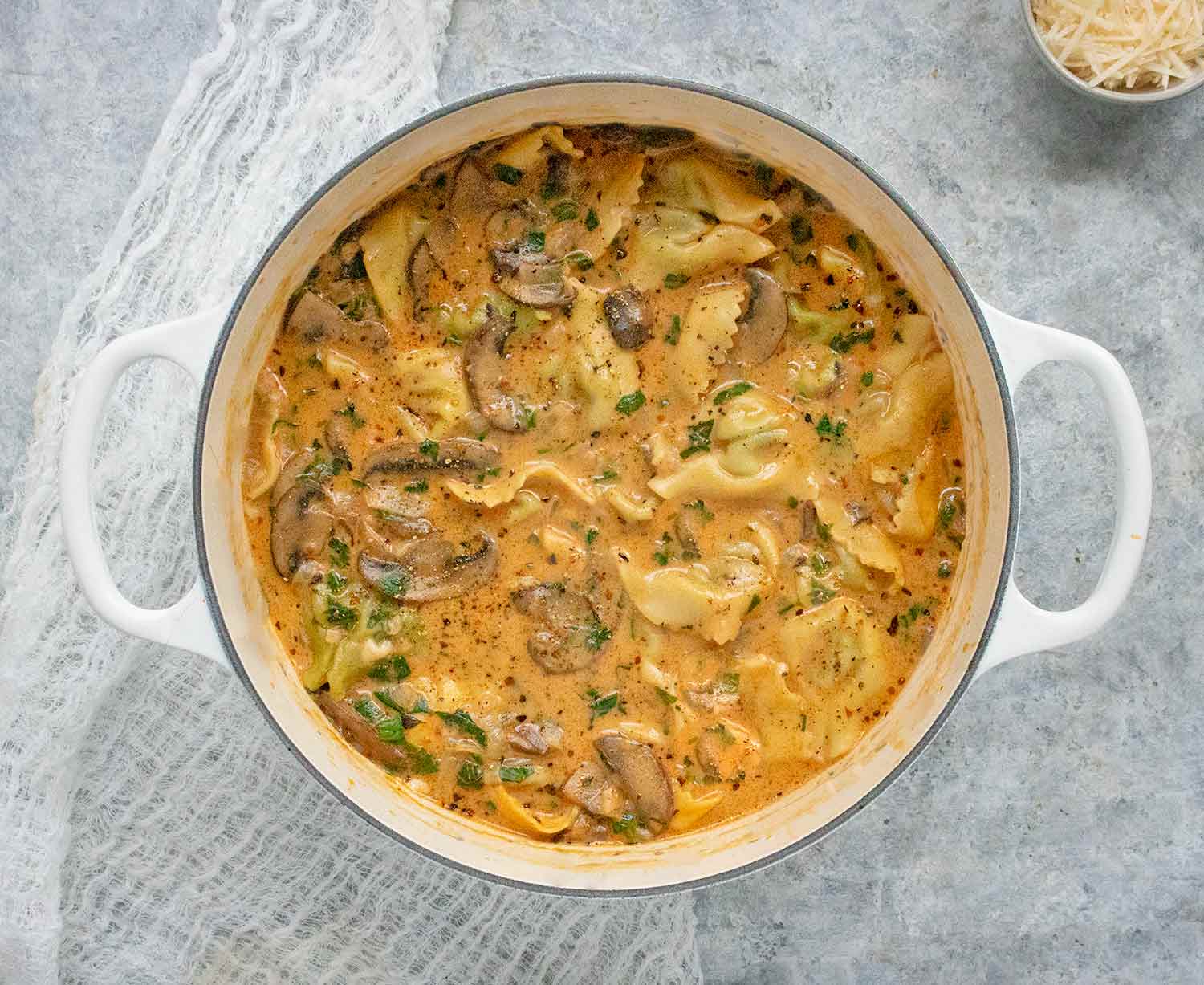 One of the things I love about soup season is the variety of soup recipes that keep meals interesting, no matter your eating preferences or goals. I was a vegetarian for a long time, and soup was always a go-to option for easy meals on busy weeknights.
But I think it can be difficult for a meat lover to envision a vegetarian soup being hearty enough to satisfy, especially on the chilly days of winter. And that's where soups like this one come in.
Creamy Mushroom Tortellini Soup is a one-pot meal that's stove-to-table in under an hour, loaded with comforting cheese-stuffed pasta in a delicious creamy mushroom broth. Serve with a side of hot crusty bread, this soup is filling and scrumptious and I predict will become a mainstay on your menu for the winter months.
This soup is easy to whip up and to ensure success, here are some helpful notes and details.
Ingredients Notes & Substitutions
Mushrooms — I almost always use cremini, or baby bella, mushrooms for this soup, but you can also use white button mushrooms interchangeably. They're widely available at grocery stores and are generally the least expensive.
If you happen to have a packet of dried porcini mushrooms sitting about with nothing particular to do, I highly recommend dehydrating a few pieces in a little hot water until softened (about 15 minutes), then dice the dehydrated pieces and add them, plus the soaking liquids, to the soup in Step 2 below.
Porcini mushrooms are crazy savory delicious, but are very hard to find fresh in the U.S. I always keep dried on hand to give an extra boost of flavor to mushroom soups.
Tortellini — This recipe calls for convenient fresh, refrigerated tortellini, which are often packaged in 9 ounce containers. I use the spinach and cheese stuffed version, but you can choose your favorite without issue.
You can also use dried tortellini pasta. They're generally unstuffed (although I have seen stuffed at the grocery store now and then). You can cook them right in the soup, the same as the fresh; just follow the time on the package directions.
Dairy — I use a little bit of heavy cream in this recipe because I love the ultra-smooth texture that it adds. You can definitely step down the fat content by choosing half-and-half, whole milk, or 2% milk instead. The soup will be less "creamy" once you hit the milks, but still delicious.
Spinach — Baby spinach is hands-down my favorite leafy green to use in soup. The leaves are tender and mild-flavored and wilt to a lovely silkiness in soup. You can, however, substitute kale or Swiss chard or even arugula (rocket). Keep in mind that kale will stay quite sturdy, even after cooking — sometimes that papery texture can be off-putting in a soup. In a pinch, you can leave out the greens altogether.
How to Make Creamy Mushroom Tortellini Soup
This soup is actually a great soup for busy evenings. There are no complicated techniques, and there's time between the steps to do other things, whether heating up a side of bread or setting the table.
Step 1: Build flavor & texture
First we begin by sautéing the onions to draw out their savory flavors, cooking to a light golden brown. Then we add umami-loaded mushrooms and let them cook down to softness while releasing their liquids into the pot.
Next, we take a few moments to bloom the herbs and spices in a little bit of oil, along with the tomato paste. Why? A few minutes on a heated surface activates the flavors of the dried herbs and paprika, and gently toasts the tomato paste.
Tomato paste is another umami-bomb that brings deep acidic sweetness to recipes, and also adds a blush of color to soups that otherwise might end up a strange tan color. It's a recipe win-win.
To create the creamy sauce, sprinkle the flour over the mushroom mixture and stir well, which will later thicken the soup liquids as they simmer.
Step2: Simmer the soup and pasta
Bring the soup stock and bouillon (if using) to a light boil and then add the refrigerated cheese-filled tortellini. Simmer for the time indicated on the package directions — usually about 5 minutes or until the pastas begin floating to the surface.
Step 3: Add the final touches
Finish the soup with colorful fresh spinach, luscious cream, and tangy parmesan cheese. Always taste the soup and adjust the seasonings. A quick pour of a quality balsamic vinegar beautifully complements the richness of the cream with its sweet-acidic pucker.
Don't forget the black pepper, which added a lovely kick at the end of the cook.
Creamy Mushroom Tortellini Soup FAQs
Can this soup be made ahead?
Any soup with pasta is going to end up less brothy when made ahead because the pasta will continue to absorb liquids as the soup rests. This leaves the pasta a bit mushy and the soup more stewy than intended.
You can, however, make the soup without the pasta, cool, and refrigerate. Then before serving, cook the pasta separately and add to the soup before reheating.
As long as you're good with that extra step, it can absolutely be made ahead of time.
And don't forget that you can always prep the ingredients ahead — slice the onions and mushrooms; measure out everything into little bowls — which will save a chunk of time during cooking.
Can this soup be frozen?
I'm not a big fan of freezing soups with cream or, especially, pasta, but you can make the soup base without these two ingredients and freeze, and then add each — fully cook the pasta first — upon reheating.
Can this soup be made vegan?
Yes. There are a few ingredients you will need to replace:
Tortellini: most refrigerated tortellini is stuffed with some sort of dairy cheese or meat. Instead, use 8 ounces of dried, unstuffed tortellini, and cook the tortellini right in the soup according to package directions. Just double-check the tortellini pasta ingredients to ensure they weren't made with eggs.
Parmesan cheese: While it's fairly easy to find vegan versions of parm, nutritional yeast is also your friend here. It has a nutty, cheesy flavor that works very well in cooking. Add a tablespoon to the soup, along with the vegan parm.
Heavy cream: There's a wide variety of non-dairy products available to create creaminess in soups. Choose your favorite. For this soup, I recommend oat milk or soy milk. The key, though, to recreating heavy cream's luscious texture requires a thickening agent. Here are two ways to accomplish this:

Recommended: Whisk 1 tablespoon of a neutral oil or extra virgin olive oil into 1/3 cup of non-dairy milk until smooth, then add to the soup in place of heavy cream.
Slowly whisk 2 teaspoons of cornstarch into 1/3 cup of non-dairy milk for the recipe. Make sure the milk mixture heats fully (but not simmer) after adding to the soup so that the cornstarch will thicken.

If using Better Than Bouillon, use one of its vegan versions rather than the mushroom flavor listed in the recipe (which is not vegan: it contains milk).
Can I add meat to this soup?
I get it: sometimes the fam just won't accept a meal if it doesn't have meat in it. I think the most companionable addition to this soup would be sausage, whether a nice mild Italian sausage or a length of smoked sausage sliced into half moons.
Either way, cook the sausage first, transfer to a plate, drain off the excess fat, and then continue with the onions in the recipe.
Meatless soup options don't need to be bland, brothy affairs. Creamy Mushroom Tortellini Soup is a crave-worthy meal, perfect for warming chilly bones in the heart of winter. Serve with focaccia or garlic bread for a filling dinner any day of the week.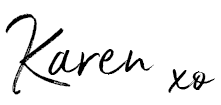 More Mushroom Soups to Enjoy
Print Recipe
Creamy Mushroom Tortellini Soup
A delightful and filling vegetarian soup, Creamy Mushroom Tortellini Soup is a hearty, crave-worthy meal. Filled with umami mushrooms, cheese tortellini, and herbs and spices in a smooth and savory broth, this soup is the perfect addition to your Meatless Monday line-up.
Ingredients
1

tablespoon

olive oil

1

medium onion,

sliced into thin, short slivers

8

ounces

sliced mushrooms

2

tablespoons

tomato paste

1

teaspoon

Italian herb blend

1/2

teaspoon

smoked paprika

2

tablespoons

all-purpose flour

30

ounces

vegetable or mushroom broth

1

teaspoon

Mushroom Better Than Bouillon

(optional, see notes)

9

ounces

fresh, refrigerated tortellini

1/3

cup

heavy cream

1/4

cup

finely grated parmesan

4

ounces

baby spinach,

thinly sliced

2

teaspoons

balsamic vinegar

Kosher salt

Freshly ground black pepper
Instructions
Heat olive oil in a 4qt Dutch oven or soup pot over medium until the surface shimmers.

Add the onions and sauté for 8 minutes, stirring often. If the onions cook too quickly and begin to brown, reduce heat and keep stirring. They should be very soft and on the verge of turning golden, but not burning.

Add the mushrooms and sauté until they release their liquids, 8 to 10 minutes. Cover the pot to help speed things along.

Scoot the onions and mushrooms to one side, and to the cleared side pour in one quick glug of oil and add the tomato paste, smoked paprika and Italian herbs. Stir the paste and herbs together until fragrant, then mix into the onion mixture.

Sprinkle the flour over the mixture and stir. Everything should become very thick. If too thick to stir, add a splash of the broth. Cook for a minute or two to eliminate the rawness of the flour.

Pour in the broth, plus the bouillon, if using. Raise the heat to medium-high and bring the soup to a light boil. Let simmer for 5 minutes.

Add the fresh tortellini, maintaining the soup at a simmer. Let cook according to the package directions (about 5 minutes).

Add the heavy cream, Parmesan, and spinach. Stir until the spinach wilts.

Stir in the balsamic vinegar, and taste the soup broth. Add salt as necessary (you probably won't need much, if at all, if you used the bouillon).

Season the soup with black pepper before serving, with extra parm on the side.
Nutritional information, if shown, is provided as a courtesy only, and is not to be taken as medical information or advice. The nutritional values of your preparation of this recipe are impacted by several factors, including, but not limited to, the ingredient brands you use, any substitutions or measurement changes you make, and measuring accuracy.