Preserving summer's amazing heirloom tomatoes this month? Don't toss those beautiful, flavor-rich tomato skins! Instead, use them to make homemade heirloom tomato salt with freshly dried basil. My garden is producing a bounty of super-flavorful cherry tomatoes (and farmers' markets are flush with these sweet jewels), so they were a natural choice to create a flavored salt that will bring back all the tastes of summer even after the first snow flies.
I know that summer is more or less over in the minds of cooks everywhere, and thoughts of soup and pumpkin spice and decorative gourds and cozy pots of simmering yums occupy our food brains. But for gardeners and home canners and preservers, September is tomato month. It's the month when our kitchen windows are constantly dripping with condensation from all the liquids cooking on the stove. (And we're dripping with condensation, too, because the last thing we want to do in humid, hothothot September is stand over the stove with all burners going, but that's what we're willing to do for the love of heirloom tomatoes.)
So, I have one more summer recipe before the first soup of the season makes it debut (coming up next – it's a beaut!). And this one is about the most unlikely of ingredients: tomato skins.
Oh, the tomato skins. I don't always peel my garden tomatoes when making sauce or paste — they're full of flavor, peeples — but if I need an extra smooth sauce, I will take the time to peel them. And then I have piles and piles of skins.
In the past, they might've just gone in the compost pile. But not this year.
I'm making summer flavored salt! That's right: tomato salt with heirloom tomato skins and a nice dose of fresh basil, all from my gardens. It's so easy to dry the skins with a low-and-slow stint in the oven, you don't even need a dehydrator (although you can certainly use one if you prefer). Then, just buzz up the dried skins and basil leaves in a spice grinder or crush in a mortar and pestle, and you're ready for salty goodness.
What the Heck Do You Do with Heirloom Tomato Salt?
Let me tell you!
Stir into homemade tomato sauce.
In a hurry and using jarred sauce from the store? Brighten up the flavor at the end of warming with a nice big pinch.
Sprinkle on scrambled eggs or on a vegetable frittata.
Season a green salad, along with evoo and lemon juice.
And for a completely over-the-top Caprese salad, sprinkle over freshly sliced heirloom tomatoes and mozz before adding your fresh basil slivers and balsamic dressing.
Sprinkle on roasted summer squash and eggplant, or winter root vegetables.
Add a big pinch to your favorite risotto (like this one).
And my summer lunchtime favorite: use tomato salt to season cottage cheese on toast.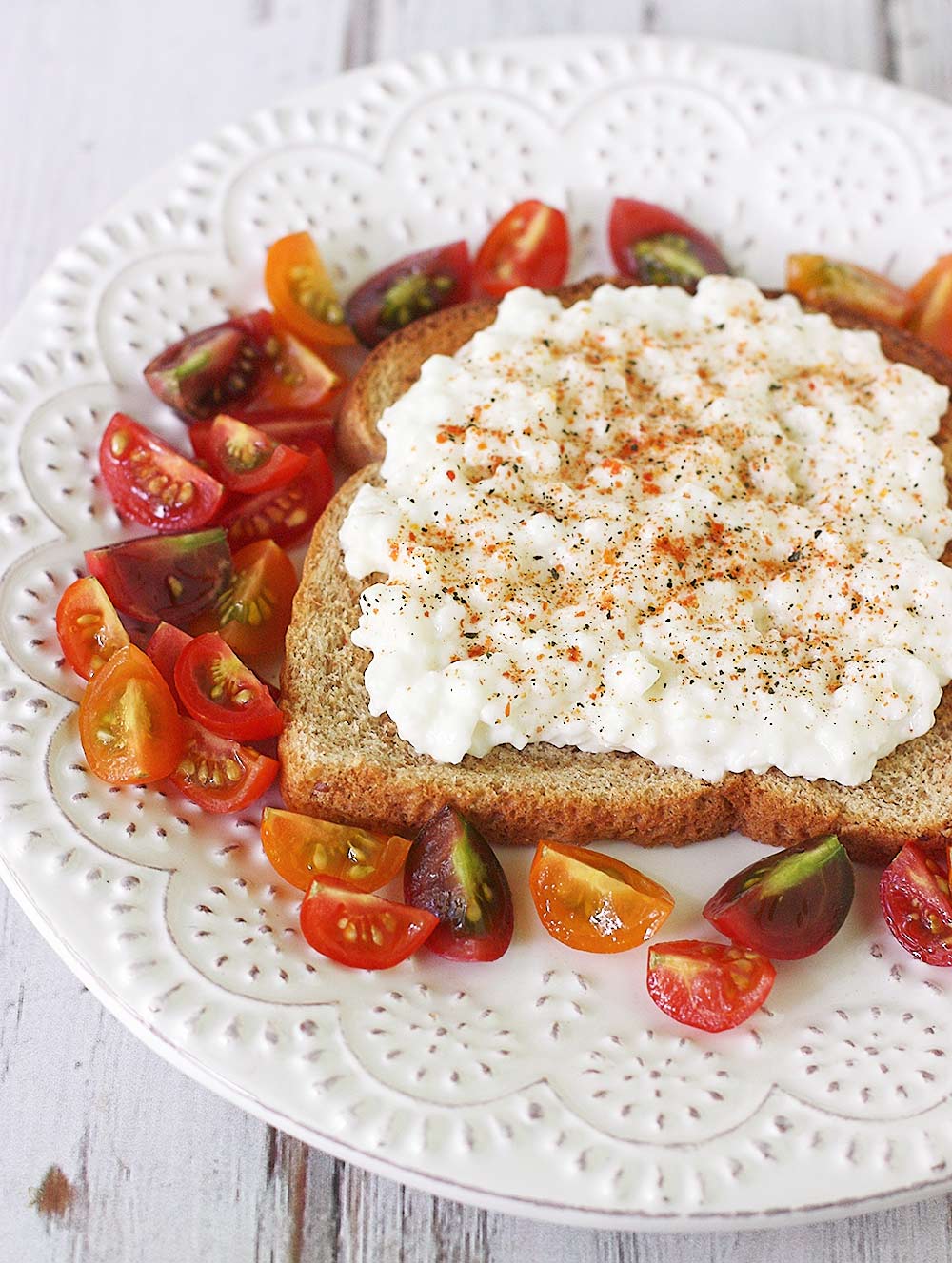 Tomatoes are still plentiful in the garden and at the farmers' markets — make your own batch of pretty pink heirloom tomato salt and enjoy the flavors of summer all winter long.
Karen xo
Print Recipe
Homemade Heirloom Tomato Salt
This small batch recipe can easily be scaled up or down. Use an equal amount of coarse salt as tomato skins, by weight. For this recipe, 4 ounces of cherry tomatoes yields about a 1/2 ounce of tomato skins; use a 1/2 ounce of salt. I use 1 medium basil leaf for each ounce of cherry tomatoes. Note that because you're grinding up the salt with the tomato skins, you'll want to use this as a finishing salt, rather than a salt you measure out. Because it's finely ground, one teaspoon would be salt-overload!
Ingredients
4

ounces

cherry tomatoes

preferably organic

1/2

ounce

coarse salt

such as Kosher or a coarse grind of pink Himalayan or French grey salt

4

medium fresh basil leaves

rinsed and patted dry
Instructions
Preheat oven to 200°F. Line a rimmed baking sheet with parchment paper.

Make a shallow slice across the top of each tomato. This will make the tomatoes easier to peel.

Bring a pot of water to boil and drop in the tomatoes. Blanch for 2 minutes. While the tomatoes boil, fill a medium bowl with icy water.

After two minutes, remove the tomatoes to the ice water and let cool.

Peel the tomatoes, separating the skins from the tomato flesh (use the tomato flesh for another purpose). Press the skins between two paper towels to remove excess moisture.

Transfer the skins to the prepared baking sheet, insides up when possible, leaving room on one end for the basil leaves.

Thoroughly coat the tomato skins with the salt.

Remove the main stem from each basil leaf and discard. Place the leaves on the parchment paper.

Place baking sheet on the top rack of a preheated oven.

Check the basil leaves at 30 to 45 minutes. The leaves are ready when they're completely brittle. Remove from the sheet and set aside, returning the tomato skins to the oven.

The tomato skins will take about 2 hours or so, total. Check periodically for brittleness. The salt will be recrystalized on the skins. When brittle, remove from oven and allow to cool.

Add the tomato skins and basil leaves to a spice grinder and buzz until pulverized. You can also use a mortar and pestle. Store in an air-tight jar.
Nutritional information, if shown, is provided as a courtesy only, and is not to be taken as medical information or advice. The nutritional values of your preparation of this recipe are impacted by several factors, including, but not limited to, the ingredient brands you use, any substitutions or measurement changes you make, and measuring accuracy.
Tomato salt based loosely on a recipe from Gabrielle Hamilton in her book, Prune