A lovely dish to help transition from summer into soup season, Potsticker Soup features plump dumplings pooled in an extra flavorful broth. Not heavy, but still satisfying, savory vegetables and mushrooms round out this beautiful, easy-to-make soup, topped with chili crisp (optional but delish!)
As an Amazon Associate I earn from qualifying purchases.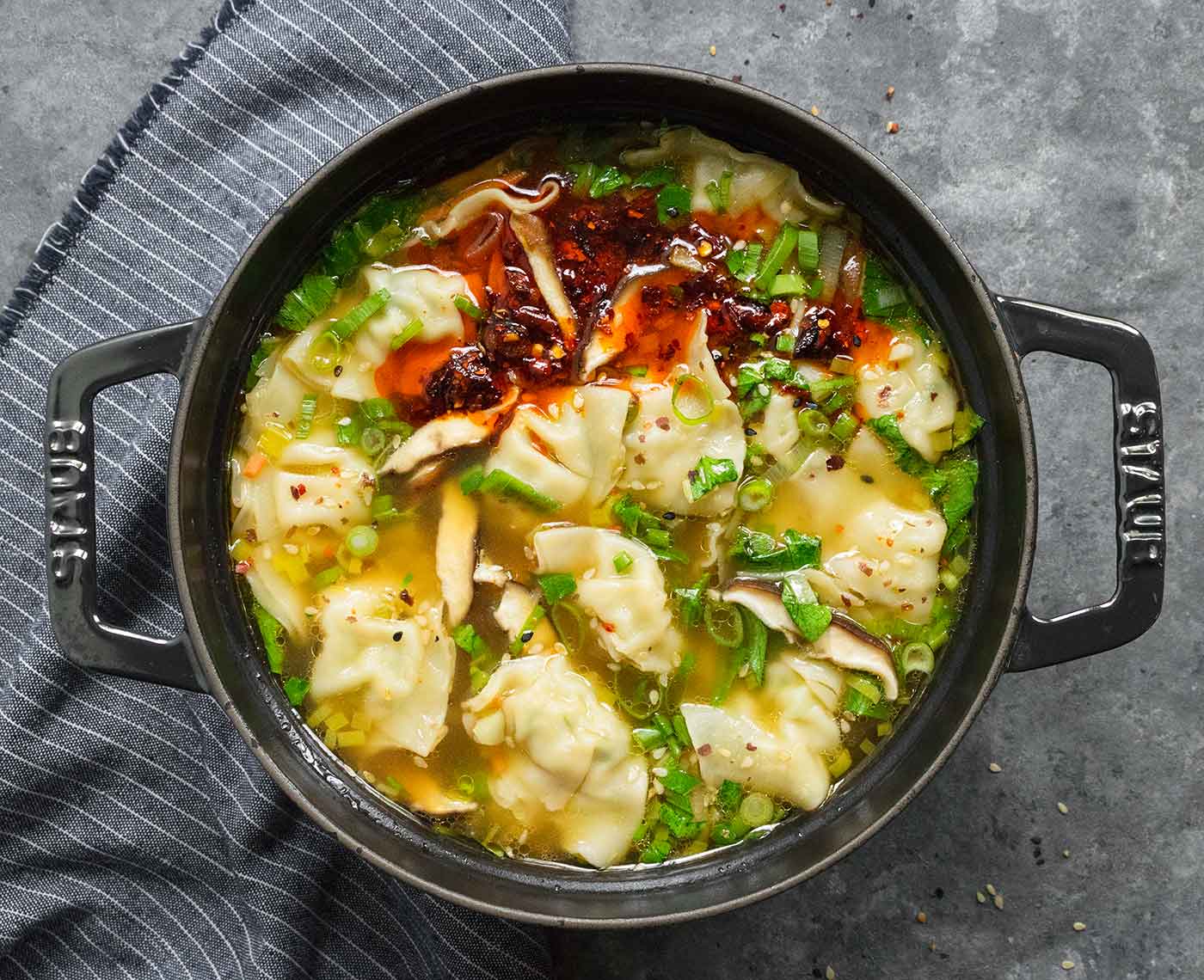 It's early fall as I write this and, while it's far from the first soup I've had since spring, it is the first soup I cooked while feeling all the falls feels — overcast, chilly, dusk arriving suddenly very early in the evenings.
So, all was pretty cozy that Saturday night, snuggled on the couch with a huge mug of wonton soup, catching up on the latest episode of Ted Lasso (#TeamRoyKent).
And it seemed the perfect soup to kick off Soup Season 2021 at Casa SoupAddict. So let's get this soup party started!
And best of all, this is such an easy dish to prepare. It's brothy, it's super-flavorful, it's customizable. And it's ready in under a half hour, so it's the perfect weeknight soup for busy families. Or, for people like me who sometimes just don't want to fuss over dinner, but still want something comforting and tasty.
What Are Potstickers?
Potstickers are a type of Asian dumpling, with a thin wrapper that fries up delightfully in the pan. They're then stuffed with a variety of fillings, from pork or chicken to cabbage to a chop of other vegetables.
They're usually pan-fried or steamed. But for Potsticker Soup, we're going to skip both and cook them directly in the soup from frozen.
What Kind to Use in the Soup: Potstickers, Dumplings, Wontons, or Gyoza?
Culturally speaking, each of these options is unique, both in history and symbolism, as well as in composition (dumplings, for example, have a thicker, doughier wrapper).
In the United States, however, potstickers, dumplings, wontons, and gyoza are often sold and packaged almost interchangeably at the supermarket.
To be clear, you might have fresh, authentic options available locally, if you're lucky enough to have an Asian cuisine presence where you live. But regardless, you'll should be able to find a selection of some or all of them in the frozen food section of your grocery store, packaged in large 1.5 or 2 pound bags.
I'm not here to judge the authenticity of the potstickers you can buy at the grocery store, only to say that whatever you have available will very likely work in this soup.
For the photos in this post, I used Bibigo's "Korean-Style Mini Wontons, Chicken & Vegetable Dumplings," which come frozen in a 1.5 pound bag. The minis are the perfect size to fit on a soup spoon.
The large appetizer sizes work well, too. There will just be fewer of them in the soup pot. I've found that they're easy to cut in half with your soup spoon against the side of the bowl as you eat.
So, when you're trying to decide among the various brands and names, you can really just focus on their fillings. Whether you prefer pork or chicken, or a vegetarian option, it's all good. They will all work in the soup!
Other Vegetables & Greens You Can Add to the Soup
While I kept things pretty pared down with this recipe, using leeks, mushrooms, carrots, and baby bok choy, the sky is really the limit, although using just a few keeps the soup simple and the flavors clean.
Here are some other vegetables that I've used successfully in Potsticker Soup:
onion
broccoli
cauliflower
spinach
kale
napa cabbage
bell peppers
sugar snap or snow peas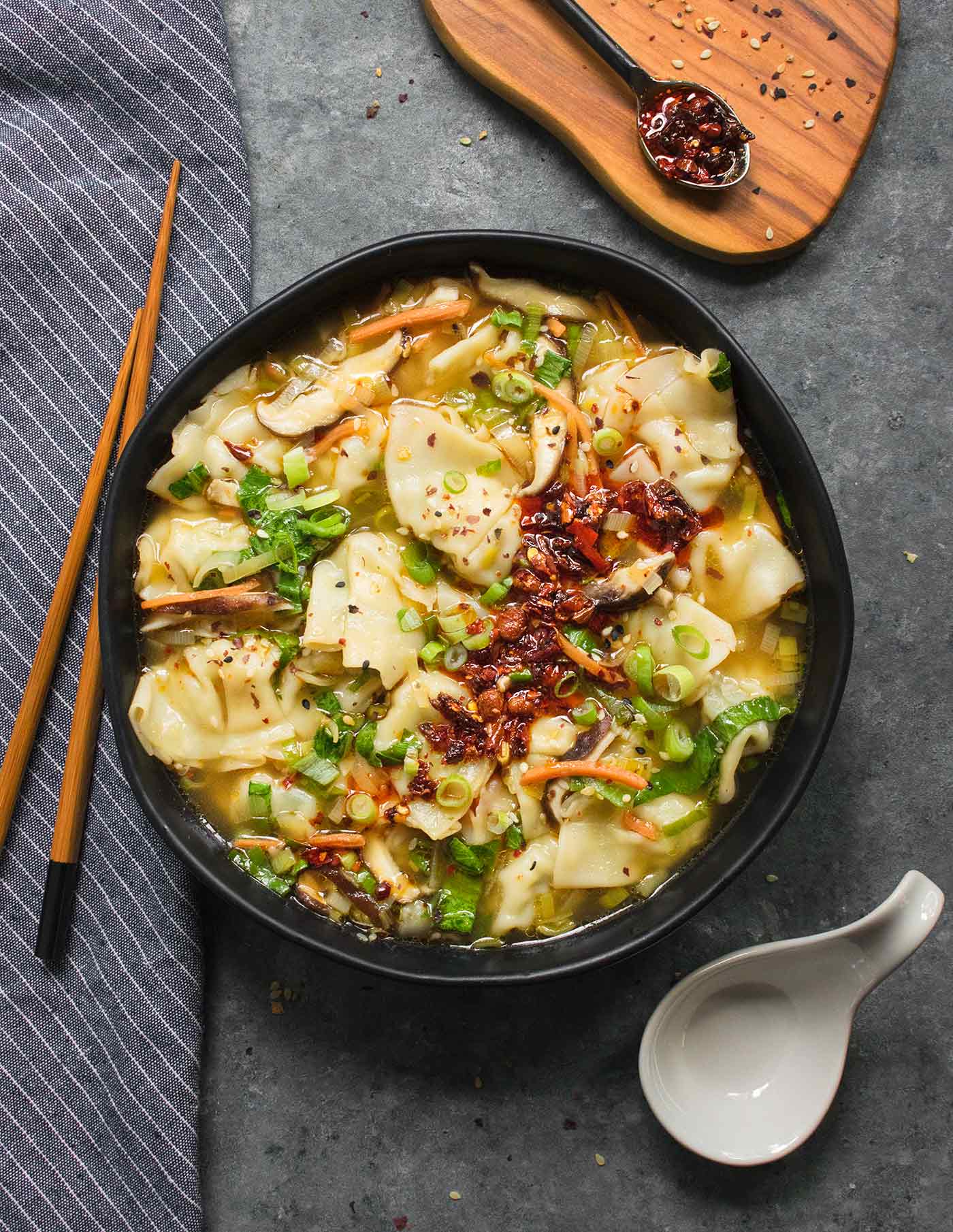 Toppings for Potsticker Soup
I recently scored a jar of chili crisp (Amazon affiliate link) at my local Kroger, and I've been putting that stuff on everything. Oh my, is it good.
It's a natural topping for this soup, I think: A little spicy crunch with some nice chili oil vibes going on. Just lovely.
I'm also quite fond of using kimchi as a soup topping. Just a forkful will do it.
Don't forget a palmful of thinly sliced green onions. And a nice sprinkling of sesame seeds or furikake. Minced cilantro or Thai basil adds an interesting herbal twist.
Oh, and about furikake (Amazon affiliate link). This umami-bomb Japanese seasoning can be hard to find, depending on the local cuisine leanings of your region. Indeed, I would browse for "furikake" in every store I shopped (spices are normally displayed alphabetically), but no luck. Until my eye accidentally landed on a jar of "Japanese sesame seasoning" at my Kroger in the J's. Yes!
Can This Soup Be Made Ahead of Time?
It depends. The potsticker wrappers will soften and may break down a little bit while they sit overnight in the broth. If this doesn't bother you — and it doesn't bother me — you can definitely make the soup ahead of time and stash it in the fridge.
The soup holds up nicely to microwaving, for office lunches. I work from home, and I've had the leftovers many times for working lunches. Still so delicious.
But to guarantee firm wontons, if that's your preference, make the soup base ahead of time, store it in the fridge, and then while the soup reheats on the stove, prepare the potstickers separately according to package directions (e.g., pan fry or steam them). And then add them to the soup.
Karen xo
More Asian-inspired soups to try: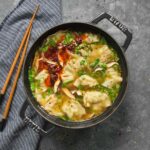 Print Recipe
Potsticker Soup
This scrumptious, savory, brothy dumpling soup is so easy to make and perfect for weeknight meals. It's super flexible, so you can add your favorite veggies, and it's ready in under a half hour.
Share via Text
Ingredients
1

tablespoon

vegetable or olive oil

1

large leek

, cleaned and chopped (white and light green parts only)

1/3

cup

shaved or chopped carrots

3

garlic cloves

, minced

4

shiitake mushroom caps

, cleaned and thinly sliced

3

baby bok choy

, tender leaves and firm stems chopped separately

1/4

cup

lite soy sauce

5

cups

chicken or vegetable broth

(= two 14 oz cans plus 1 cup of water)

2

teaspoons

sesame oil

2

teaspoons

Better Than Bouillon

, chicken or mushroom (optional but delish)

1 1/2

pounds

frozen potstickers

, wontons or dumplings (minis recommended, see notes) (no need to thaw)

1/3

cup

thinly sliced green onions

(about 2 green onions)

sesame seeds for topping

(see notes for other suggestions)
Instructions
Heat the vegetable or olive oil in a 4 quart Dutch oven or soup pot over medium heat until the oil shimmers.

Add the leeks, carrots, garlic, mushrooms, and the firm baby bok choy stems (reserve the leaves for later) to the pot and saute until the leeks are soft (about 5 minutes).

Add the soy sauce, broth (and water if using) and sesame oil. Increase heat and bring the soup to a light boil, stirring frequently.

If using, stir in the Better Than Bouillon paste until completely dissolved.

Carefully add the frozen potstickers to the pot, and cook according to the boil instructions on the packaging (usually just a few minutes).

Reduce heat to low and stir in the reserved baby bok choy leaves and most of the green onions (reserve about a tablespoon for the soup bowl).

Serve immediately, topping bowls of soup with more green onions and a sprinkling of sesame seeds.
Notes
You can use any kind of potstickers or dumplings that you prefer, meat-filled or vegetable. They will all cook right in the soup. I recommend mini potstickers, however, simply for the size. For the photos in this post, I used Bibigo's Korean-Style Mini Wontons, Chicken & Vegetable Dumplings. They're the perfect size to fit on a soup spoon with broth. But, the big appetizer potstickers will work, too, and I've found them to be easy to cut in half with my soup spoon against the side of the bowl as I eat.
Additional topping suggestions: furikake seasoning, chopped cilantro, a little kimchi, a spoonful of chili crisp or chile garlic sauce (or even sriracha).
Nutrition
Nutritional information, if shown, is provided as a courtesy only, and is not to be taken as medical information or advice. The nutritional values of your preparation of this recipe are impacted by several factors, including, but not limited to, the ingredient brands you use, any substitutions or measurement changes you make, and measuring accuracy.