A filling and wonderfully flavorful one-pot dinner, Smoked Sausage and Gnocchi Skillet is easy to prepare and is ready in under 30 minutes. Makes a great weeknight meal!
No matter how much you love to cook, I don't think it's possible to not appreciate the one-pot meal. While I do look forward to spending a Saturday afternoon, say, teasing flavors out of a pot of vegetarian chili, when Wednesday night rolls around, I'm more than content to pull out a single skillet, add some stuff, and be sitting down to my plate 30 minutes later.
Oh, and the minimal clean-up!
The thing I love most about these kinds of skillet meals is that all of the "shortcut" is in the time, not in flavor or heartiness. It's a single skillet, but it's a balanced meal full of protein and vegetables, rounded out with tummy-filling carbs in the form of pillowy gnocchi. All draped in a savory sauce.
Best of all, this recipe can flex and stretch to your preferences. Do you prefer smoked turkey sausage? Or maybe chicken? Substitute, and feel good about it.
How about whole wheat gnocchi? Go for it! More vegetables? Yes! No spinach? No problem.
And if you have dietary choices in play, this recipe will help you cover the bases.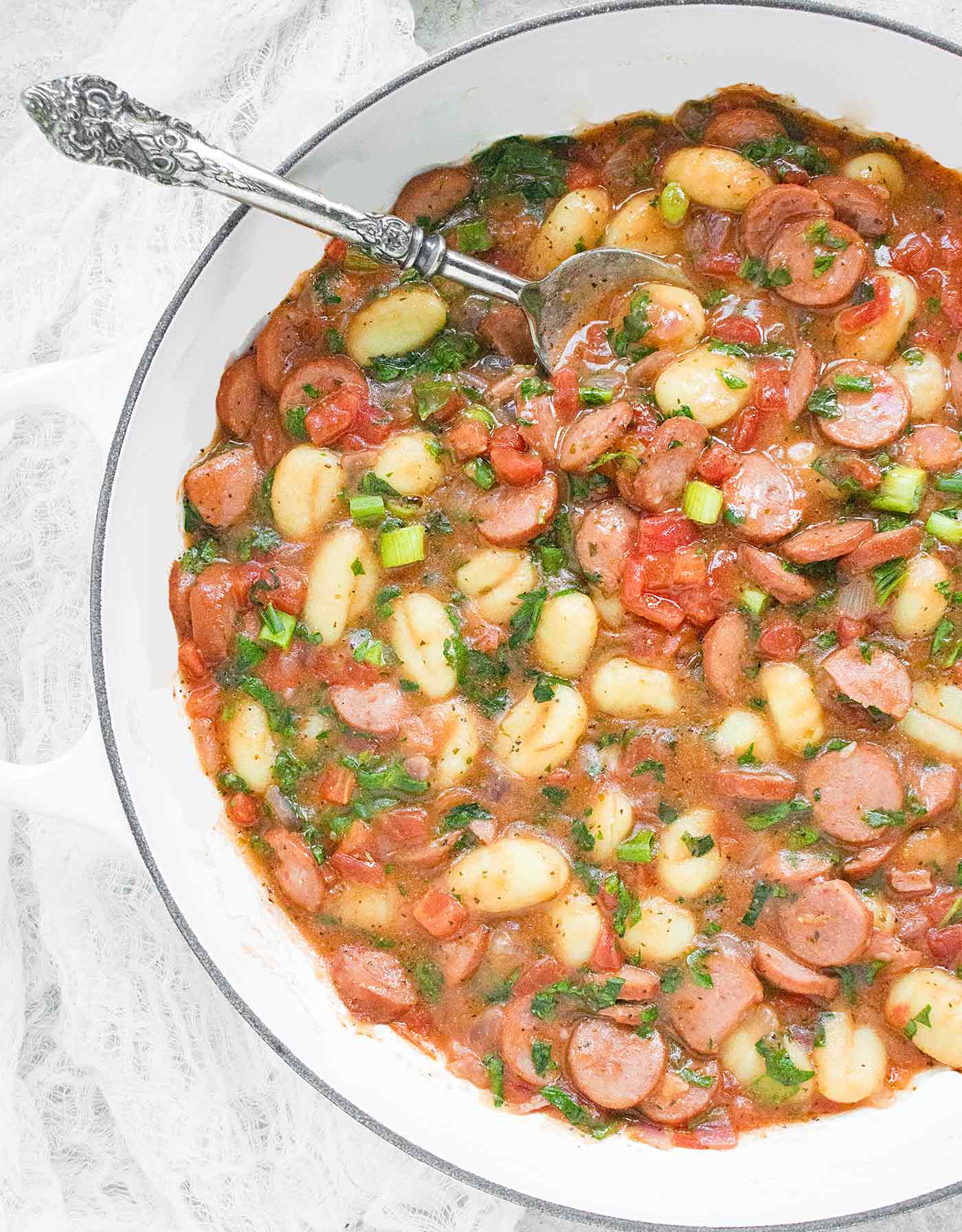 Make It Gluten-Free or Vegetarian/Vegan (Dairy-free)
One of the best things about a meal like this is that its flexibility means it can be easily adapted for the people who will be sitting around your table, with the same ease of the original recipe.
Gluten-Free:
I hope this is the case for you: at my grocery store, there are gluten-free gnocchi options right next to the regular gnocchi in the pasta aisle. Simple switch!
The flour called for in this recipe is to thicken sauce. Substitute cornstarch instead: mix a tablespoon of cornstarch with tablespoon of water or broth until smooth. Add to the skillet and continue cooking.
Vegetarian/Vegan:
Finding vegetarian sausages these days is easy peasy. Don't get hung up on the "smoked sausage" part of this recipe. Any sausage will do, just cook it for the time specified on the package directions before continuing with the recipe (animal-based smoked sausage is already cooked and basically just needs to be heated, which is a time-saver). I personally prefer the products from Beyond Meat and Field Roast, but use your favorite. If you've never tried Beyond Meat, you'll find it in the meat department (often right between packages of beef and pork. Steady the buffs: obviously, they're trying to get their product in front of meat eaters, not torture vegetarians with awkward product placement). Field Roast is usually in the vegetarian products section, often near yogurts and dairy milk alternatives.
Substitute vegetarian broth for the chicken. You shouldn't have to alter any flavorings because of it — it simply provides a nice salty hit of liquid.
To take this dish vegan and dairy-free, substitute the parm with nutritional yeast (about 2 tablespoons), or just leave it off. If you can't find vegan wine, just use additional veggie broth to scrape up any stuck-on bits in the pan at the point where the wine would've been added.
A quick word about the spinach: I wouldn't recommend frozen spinach, but if that's the best route for you to take, make sure you thaw it completely and wring the ever-lovin' heck out of it first. Thawed spinach contains a surprising amount of liquid, and you don't want it watering down the dish.
This dinner is actually a riff on my Smoked Turkey Sausage Tortellini Vegetable Saute. But, thanks to the beautiful simplicity of gnocchi, it becomes a one-pot dinner, with everything cooked in the same skillet from start to finish.
Karen xo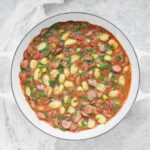 Print Recipe
Smoked Sausage & Gnocchi Skillet | 30-minute One Pot Dinner
A filling and wonderfully flavorful one-pot dinner, Smoked Sausage and Gnocchi Skillet is easy to prepare and ready in under 30 minutes.
Ingredients
1

tablespoon

olive oil

7

ounces

smoked sausage

, sliced into 1/4" rounds

1

small red onion

, diced

14

ounces

canned diced tomatoes with their juices

1 1/2

teaspoons

Italian seasoning blend

1/2

teaspoon

garlic powder

1

tablespoon

all-purpose flour

red wine

(optional)

12

ounces

uncooked gnocchi*

1

cup

chicken broth

1

cup

chopped or slivered fresh spinach

1/2

cup

grated Parmigianno reggiano or other aged cheese

2

green onions

, sliced thinly
Instructions
In a large skillet or saute pan, heat the olive oil over medium until the surface shimmers.

Add the sausage and onions, and cook for 5 minutes, until onions are softened and the sausage coins have golden edges.

Pour in the tomatoes with their juices, and sprinkle the Italian seasoning blend and garlic on top. Mix well.

Sprinkle the flour over the tomato mixture, stir, and cook for 2 to 3 minutes, stirring several times.

If using wine, add a quick pour to the pan, and mix well, gently scraping up any vegetable or flour residue from the bottom of the pan.

Add the gnocchi (see * note below).

Pour the chicken broth over the top. The gnocchi won't be completely covered, but they will be mostly submerged. Stir well and cook for 5 minutes, stirring frequently, flipping the gnocchi as you go.

When the gnocchi are nice and plump, reduce heat to medium-low, and stir in the spinach and grated cheese. The sauce should thicken to a stew-consistency. Top with green onions.

Serve immediately.
Notes
* If you can only find a 16 ounce package of gnocchi, you might not want to use the entire package. Or, you can proportionally increase the amount of sausage and chicken broth to make a larger recipe. In the photos shown on the post, I used about 14 ounces.
Nutrition
Nutritional information, if shown, is provided as a courtesy only, and is not to be taken as medical information or advice. The nutritional values of your preparation of this recipe are impacted by several factors, including, but not limited to, the ingredient brands you use, any substitutions or measurement changes you make, and measuring accuracy.