Curried coconut milk creates a rich, simmery broth for cauliflower and fennel. This light vegan soup that's the color of sunshine is a delightful transition to spring's lighter eating.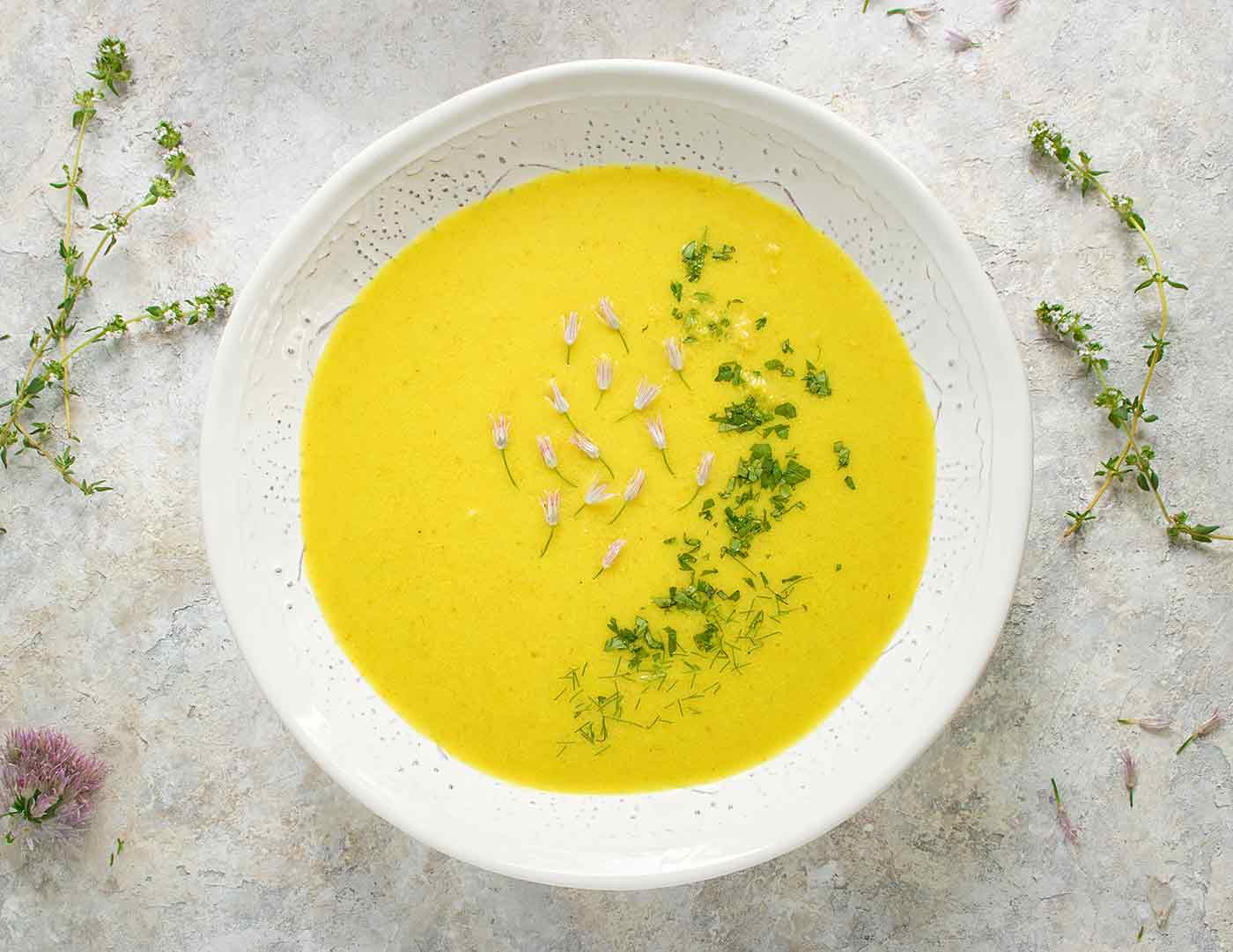 Did you know that cauliflower is both a fall and a spring crop? In regions where both seasons feature cool weather, cauliflower will grow happily twice per year (broccoli, too). That means this cauliflower fennel soup is fresh and in-season for spring.
It's also the perky color of sunshine, thanks to turmeric, and its light and fresh flavors signal the transition to lighter eating. I can feel summer just over the horizon. I know it!
Fennel (or, anise, as it's sometimes labeled at the grocery store) is an entirely under-appreciated vegetable. It adds a unique pop of flavor and blends well with herbs like tarragon and dill. It's especially lovely in vegetable soups.
Weird-looking, like a cross between celery, an onion, and dill, it's easily grown at home in the spring, if you love growing veggies, like I do. The bulb can be diced and used like any other aromatic vegetable, while the herby, feathery tops can be chopped up as garnish.
It also pairs wonderfully with cauliflower, and when simmered the creamy coconut curry broth … veggie heaven.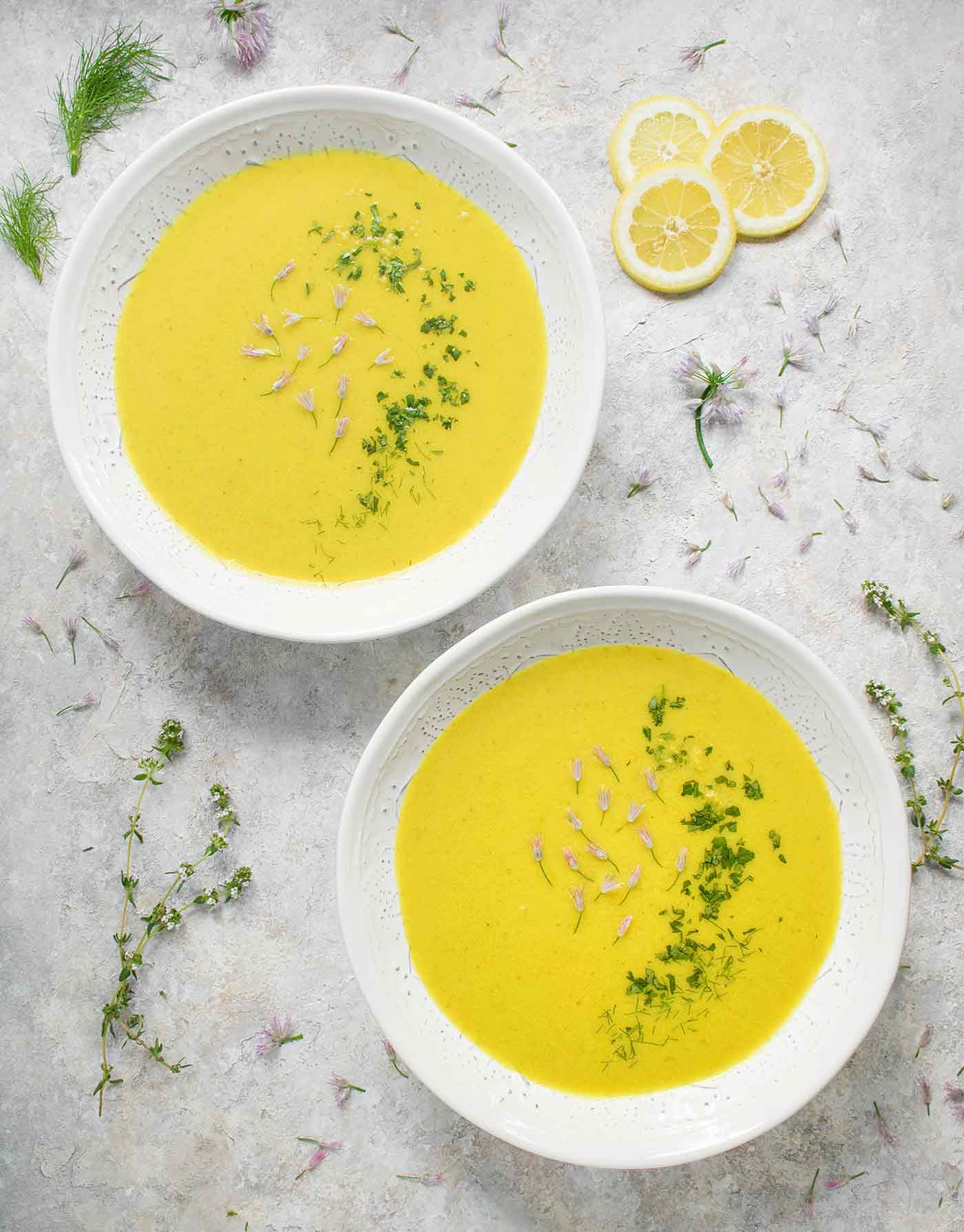 Also featured in these photos are chive flowers. Chives are a spring herb — mine are already up! — and they bloom into sweet little purple flower puffs. All parts of chives are edible, including these flowers — the taste is similar to very mild garlic.
And, as you can see, they make beautiful garnishes for soups and salads. I've never seen them at the grocery store, but you can probably find them at a farmers' market.
This cheerful soup, I think, creates an opportunity to help the family grow into loving vegetables. Tell the kids they're eating sunshine, or magic energy soup. Or a big bowl full of cauliflower and fennel.
However you feel most comfortable explaining the wonderfulness of vegetables. 😉
Karen xo
Print Recipe
Spring Cauliflower Fennel Soup
A light and savory soup the color of sunshine to welcome spring and enliven the spirit.
Ingredients
2

tablespoons

olive oil or vegetable broth

1/2

cup

chopped onions

about 1/2 of medium onion

1

small fennel bulb chopped or grated

1

tablespoon

chopped cilantro stems

save the leaves below

1/2

teaspoon

ground turmeric

powder

1

teaspoon

mild yellow curry powder

4

cups

vegetable broth

homemade or low sodium

12 to 16

ounces

cauliflower core and leaves removed

roughly chopped (about one small/medium head)

1

can

14 ounces unsweetened coconut milk well-shaken

2

tablespoons

coarse or whole grain prepared mustard

1

tablespoon

chopped cilantro leaves

1

tablespoon

chopped fresh dill

1

tablespoon

chopped fresh tarragon

1

lemon half

Kosher salt and freshly ground black pepper
Instructions
Heat 1 tablespoon of the oil in a 4-5 quart Dutch oven or stock pot over medium until shimmering. Add the onions and fennel and saute until softened, about 5 minutes.

Scootch the vegetables to the side, and add the remaining oil to the cleared spot. Spoon the cilantro stems, curry powder, turmeric, and a pinch of salt over the oil, and stir in place to create a fragrant paste.

Add the vegetable broth and cauliflower, and bring the soup to a gentle bubbling boil over medium-high heat, then immediately reduce heat to medium-low and simmer for 15 minutes. Test the cauliflower florets by slicing one with a knife: it should cut easily through. Stir the mustard into the soup.

Puree the soup thoroughly: use an immersion blender directly in the pot to blend the soup smooth, or use a regular blender (you'll need to do it in batches), and return the soup to the pot.

Add the coconut milk, cilantro leaves, dill, and tarragon. Stir thoroughly.

Let the soup heat gently over medium-low for 10 minutes - if the soup begins to bubble at any point, reduce the heat a bit.

Squeeze the lemon half over the soup, and add a pinch of salt with a few grinds of black pepper. Stir, and taste, adding more salt as needed.

Serve immediately with a loaf of crusty bread. This soup can be made ahead of time and stored in the fridge. Leftovers, if there are any, will taste great for lunch the next day.
Nutrition
Nutritional information, if shown, is provided as a courtesy only, and is not to be taken as medical information or advice. The nutritional values of your preparation of this recipe are impacted by several factors, including, but not limited to, the ingredient brands you use, any substitutions or measurement changes you make, and measuring accuracy.
Pin Spring Cauliflower Fennel Soup recipe for later:
Pinterest fans, if you'd like to save this recipe for later, use these images (or any image above) to pin to your boards (they're small here, but thanks to the magic of the interwebs, they'll be full size when you pin them). Thanks for sharing, and most of all, thank you so much for reading this post! Blogging wouldn't be any fun without you!