I think I'm probably in the minority when I admit that salads make me happy.
But please don't get me wrong — I'm not playing high-and-mighty on the food front, boasting a conveniently timely preference for raw vegetables while our country battles its addiction to processed food. (I have my junk food weaknesses, oh, yes. Namely, potato chips — they're manna, I do believe. Manna.)
It's simply that I really, really do like vegetables. A lot. Always have, ever since my awesome brothers introduced me to the wonders of the homegrown tomato when I was but a youngster. Gardening is more than just a hobby — it's both passion and sustenance. I do consume the things I grow, and happily so.
But I know that's not how everyone feels about salads, especially if you consider "salad" to be a bowl of leafy, bitter-ribby greens and goopy dressings.
A salad can be much, much more than that.
The salad converts among you are already nodding in agreement; for the rest, I hope today's recipes will begin the process of winning you over.
Cucumbers, baby carrots and fennel have already begun showing up in our city's farmers' markets (my own cucumbers and baby carrots should be along shortly). But my jaw dropped when I saw a big bag of baby Swiss chard sitting innocently on the table of one of my favorite produce farmers (Thistlehair Farms in Union, KY). I had $4 left after totaling my blueberry purchases (2 quarts), earmarked for eggs, but changed my mind and grabbed the bag of rainbow chard instead.
Risotto had been on the evening's menu, but a grain salad with fresh chard and the other veggies tucked in my bag quickly replaced it.
Unlike full-grown leaves, baby Swiss chard does not need to be destemmed and cooked/blanched, which makes it particularly suited for summertime salad prep.
This salad's dressing is also one of my favorites, a much simplified riff on another favorite, green goddess dressing. Easily prepared with a stick blender in a tall container, it adds just the right amount of herby savoriness.
Finally, a smattering of seeds — hemp, chia, pepitas — contributes crunch and texture to farro's already toothsome* quality.
Warning: this is the kind of dish that encourages the repeated sneaking of forkfuls to the point where 4 servings becomes 2½ and you really wish you hadn't already told the fam about the amazing salad that they will just die for because you really want to put a cover on the bowl and stick it in the fridge for a private midnight snack later.
Speaking of crunch and texture….
Whether all-beef, turkey or veggie, a summer-grilled burger begs for super crunchy pickles, whether under the bun or on the side.
Me, I prefer mine in … wait for it … a salad. A big, vinegary pickle salad with lots of crunch and a hit of sweet and sour.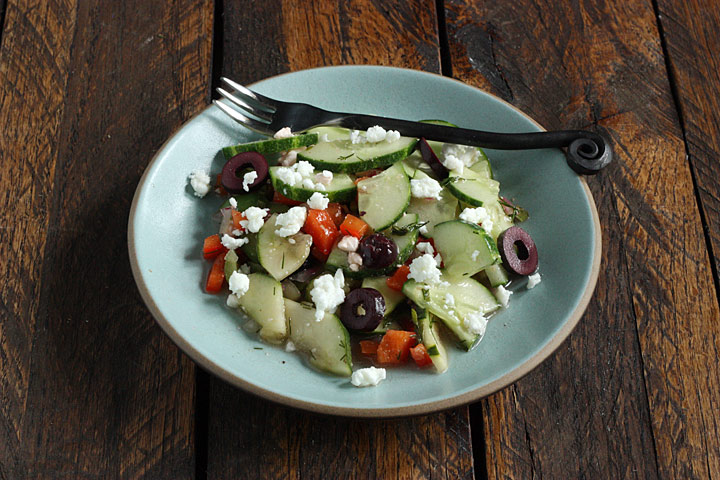 And you know the great thing about calling something "Mediterranean?". It's the perfect excuse to add olives. Olives and crunchy veggies – summer in a bowl.
Baby Swiss Chard & Farro Salad
Ingredients:
for the salad
big, double-handful of baby Swiss chard or baby spinach
2 cups cooked farro
1 small cucumber, seeded and sliced
1 small red bell pepper, diced
1/2 avocado, peeled and diced
1 small fennel bulb, very thinly sliced
1-2 baby carrots, thinly sliced
1 tablespoon chia and/or hemp seeds (optional)
1 palmful pepitas or sunflower seeds (raw or roasted – your choice)
1 recipe herbed avocado dressing, below
for the dressing
1/2 avocado, peeled and cut into large chunks
1 scallion, chopped
1 tablespoon roughly chopped basil leaves
1 tablespoon roughly chopped flat leaf parsely
1 tablespoon roughly chopped dill weed (leaves)
1/4 teaspoon salt (plus more as needed)
1 tablespoon white wine or champagne vinegar
1 tablespoon honey
1 teaspoon lemon juice
1/3 cup extra virgin olive oil (plus more as needed)
water
Instructions:
for the salad
Combine all of the ingredients except the dressing in a large bowl, tossing lightly to mix.
Add 2 tablespoons of dressing and incorporate into the salad. Taste, and add dressing, one tablespoon at a time, until the flavor of the dressing is noticeable.
Serve at room temperature or slightly chilled.
For the dressing
Add all of the ingredients except the water to a tall container (such as a large glass or storage container.
Use an immersion blender to thoroughly mix the dressing. Continue blending until the dressing is fully emulsified and the herbs chopped.
If the dressing is thick, begin adding water 1 tablespoon at a time until the dressing reaches a pourable consistency.
Store in an airtight container in the fridge.
Crunchy Mediterranean Pickle Salad
Ingredients:
for the pickle salad
2 pickling-sized cucumbers, sliced in half lengthwise, seeds removed, sliced
1 small red bell pepper, diced
1/2 small red onion, diced
8 to 10 Kalmata or green olives, sliced
2 to 3 ounces feta cheese
salt and pepper
for the vinaigrette
1/4 cup red wine vinegar
2 teaspoon honey
1/4 teaspoon salt
Instructions:
Toss the vegetables and the olives in a medium bowl. Sprinkle lightly with salt and pepper. Set aside.
Whisk together the vinaigrette ingredients in a small bowl. Pour over the vegetable mix and stir to coat.
Refrigerate for at least an hour, preferably several. Sprinkle with feta just before serving. Store leftovers in the fridge. Vegetables will stay crunchy for about 24 hours.