A classic Southern dish, Shrimp Etouffee is a winter cozy stew, with succulent shrimp and Creole seasonings, just in time for Mardi Gras and snowy evenings. Instructions for making a blonde roux included!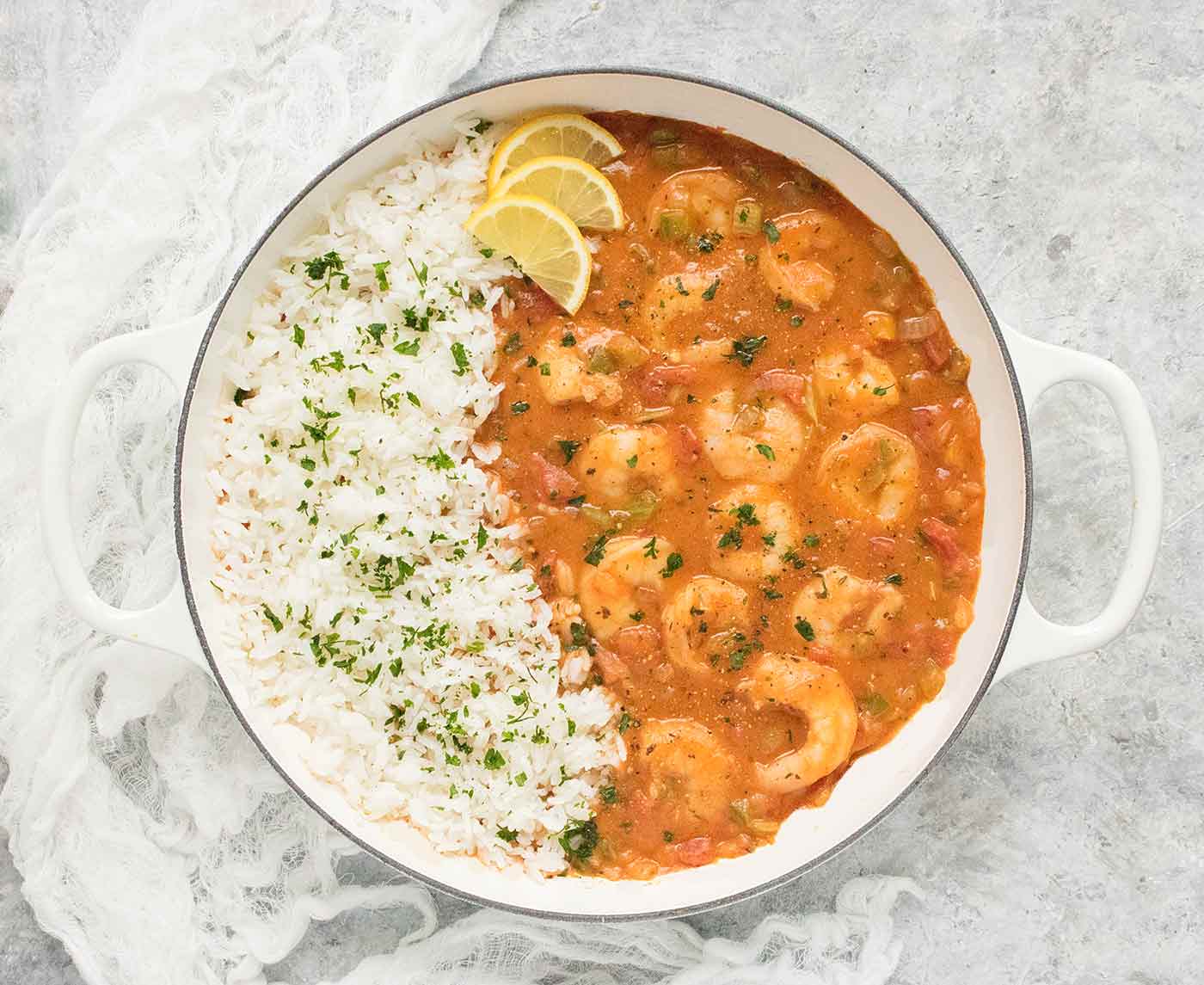 Mardi Gras' timing in the middle of winter is so fortunate for us mere mortals, because those classic New Orleans dishes come fully and purposefully into season, just when we need cozy comfort and indulgence the most.
I'm not the least bit Southern, but I have an enormous appreciation of the Creole flavor palate, from the Holy Trinity of aromatics – onions, celery, bell peppers – to creole seasonings to the seafood focus (especially shellfish).
And the lovely thing about Shrimp Etouffee is that it's a distinctly Louisiana dish, but, unlike its cousins jambalaya and gumbo, which have a little bit of hoopla involved (not much, but some), etouffee can be a weeknight easy dish, even with the roux.
Now, if you happen to be making this on the weekend, you can take the full-flavored Cajun/Creole "smothering" cooking route, which is basically just covering and braising the stew over low heat, like you might a bolognese.
But for this preparation, I'm skipping the braise, knowing that the roux and the Creole spices will add loads of flavor and a shortened cooking time that post-work me appreciates. "Etouffee" actually means smothered, so I know I'm bucking tradition, but it's ever so lovely to have such a dish during the week that I hope I can be forgiven.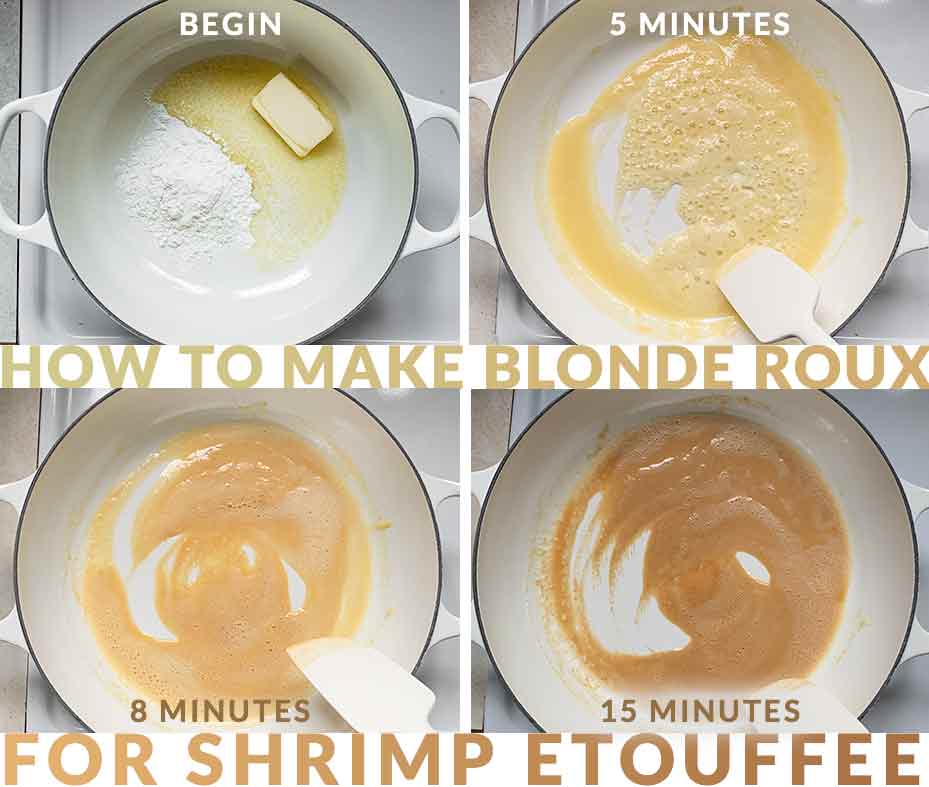 How to Make a Blonde Roux
I use a blonde roux for Shrimp Etouffee, the process for which takes just enough time to make you feel like you're channeling the spirit of New Orleans, without the standing interminably behind the stove. It's really easy, almost foolproof!
A roux consists of just two ingredients: all-purpose flour and a fat. You can use vegetable oil, butter, bacon drippings, lard, etc. In the photos above, I used unsalted butter.
Over medium heat, let the fat warm and begin to shimmer or bubble. Add the flour.
Using a whisk or silicone spatula, combine the flour into the fat to make a thick paste. Don't worry; the paste will quickly break down into a saucy liquid.
Stirring constantly, keep the roux moving around the pan to prevent burning. Once the paste begins taking on color, make sure you don't leave pan.
Eyes on the Roux!
Although I've included the time in the photos above, it's very important that you watch the roux and not the clock! Every stove is different, and it's better to gauge completion by the color of the roux rather than what the clock says.
Your roux is actually ready to use for the etouffee in the second photo. I usually push the roux up to the "brown" stage (the last photo), but know you can stop at the caramel-y blonde stage (third photo) and feel good about your efforts.
Don't hesitate to tweak the heat down if the roux starts to take on spotty coloring. It's better to have to cook it just a bit longer (if you turned it down too low) than have it burn.
And that's your roux! Now you're ready to continue the recipe, as easy as any soup!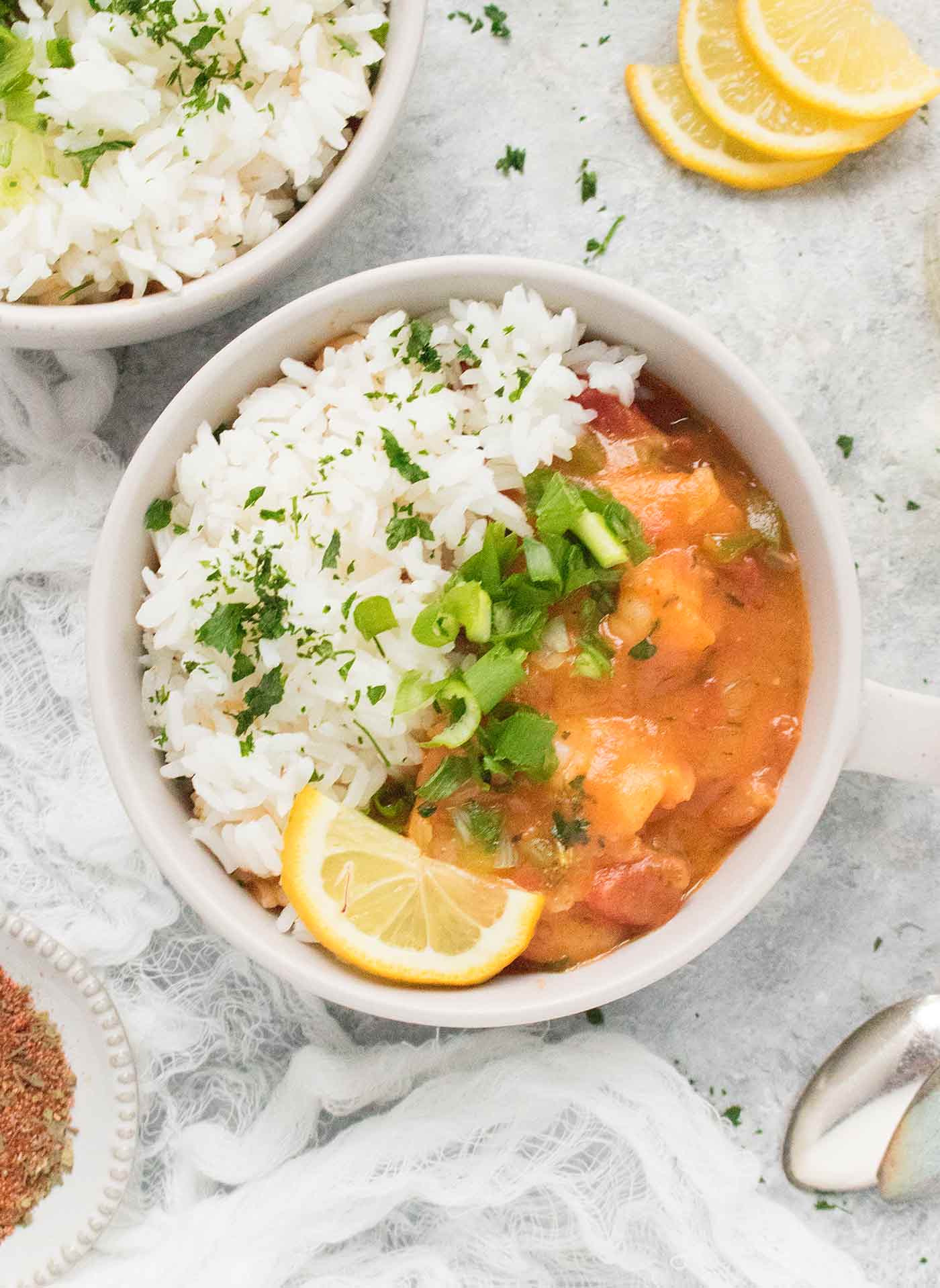 If you have a favorite Southern hot sauce, you can add a few shakes right in there. That's not my jam, but it's perfectly traditional!
Serve with plenty of fragrant, fluffy jasmine rice, and celebrate the savory goodness of New Orleans cooking.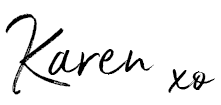 More Mardi Gras meals to enjoy:
Print Recipe
Shrimp Etouffee
This delightful Creole dish is easy to make – even with the roux – and is rich and savory. The perfect meal for Mardi Gras or snowy winter evenings.
Ingredients
4

tablespoons

butter

1/4

cup

all-purpose flour

1

small onion,

diced

1

small green bell pepper,

diced

2

ribs,

celery, diced

kosher salt

2-3

cups

chicken or shrimp broth

15

ounces

diced tomatoes

(with the juices)

1

tablespoon

Creole seasoning

1

pound

shrimp

2

green onions,

thinly sliced

Flat-leaf parsley,

minced, for garnish

4

cups

cooked rice,

for serving
Instructions
Heat the butter in a large saute pan or skillet over medium. Stir in the flour to form the roux. Stir with a flexible rubber spatula for 8 to 10 minutes, until the roux begins taking on a light caramel color. Keep the roux moving around the pan, so it doesn't burn. Adjust the heat down, if necessary, to prevent scorching.

When the caramel color is reached, add the onions, peppers, celery, and 1 teaspoon kosher salt. Add a pour or two of the broth to loosen the vegetable mixture.

Sprinkle the Creole seasoning over the vegetables and mix well. Stir in the tomatoes with their juices.

Add another cup of broth. The mixture should be thick and slightly soupy. Add more broth, if necessary.

Let the etouffee come to an active simmer, then add the shrimp. Cook for about 10 minutes, or until the shrimp are opaque and pink. Garnish with green onions and parsley.

Serve over rice.
Nutrition
Nutritional information, if shown, is provided as a courtesy only, and is not to be taken as medical information or advice. The nutritional values of your preparation of this recipe are impacted by several factors, including, but not limited to, the ingredient brands you use, any substitutions or measurement changes you make, and measuring accuracy.