Gorgeous and fire-engine-red, Sheet Pan Roasted Red Pepper Tomato Soup has super-charged flavor, thanks to tasty roasted vegetables that gently caramelize in the oven. Healthy, beautiful, delicious — everything you want in a soup! {Vegan, dairy-free, gluten-free option}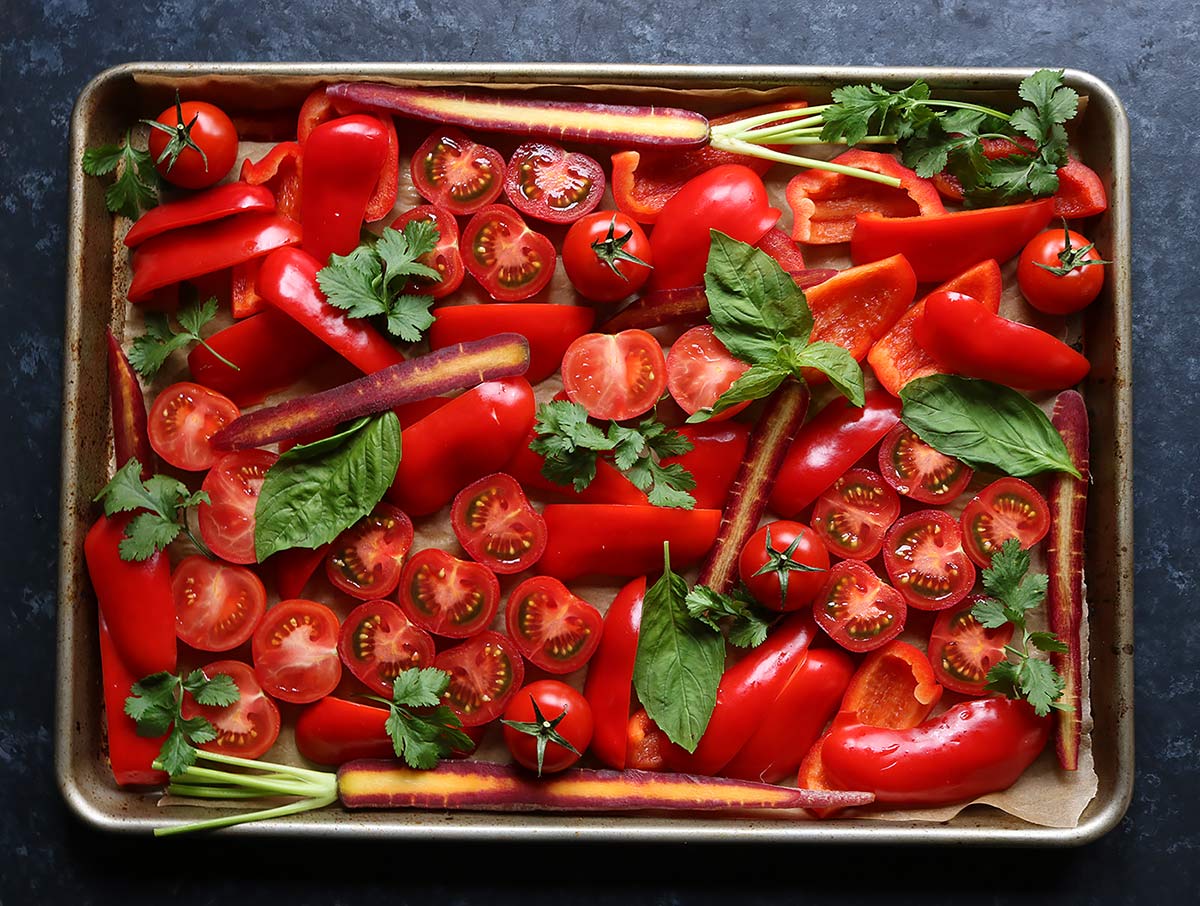 My favorite garden color is red. Yeah, it's not green. I mean, I love green, and waiting for spring makes me crave green until I'm ready to jump right out of my skin. But the vegetable gardener in me is actually head-over-heels in love with rrrred. Tomatoes and bell peppers, they're the pride of my garden. Look at that color! ^^^
I spread out the veggies for today's soup in the pan, stepped back, and said, "whooooaaa," right out loud, to no one in the room but me, myself, and I, and grabbed the camera. If the shot of that pan doesn't scream "delicious soup is on the way!" nothing will.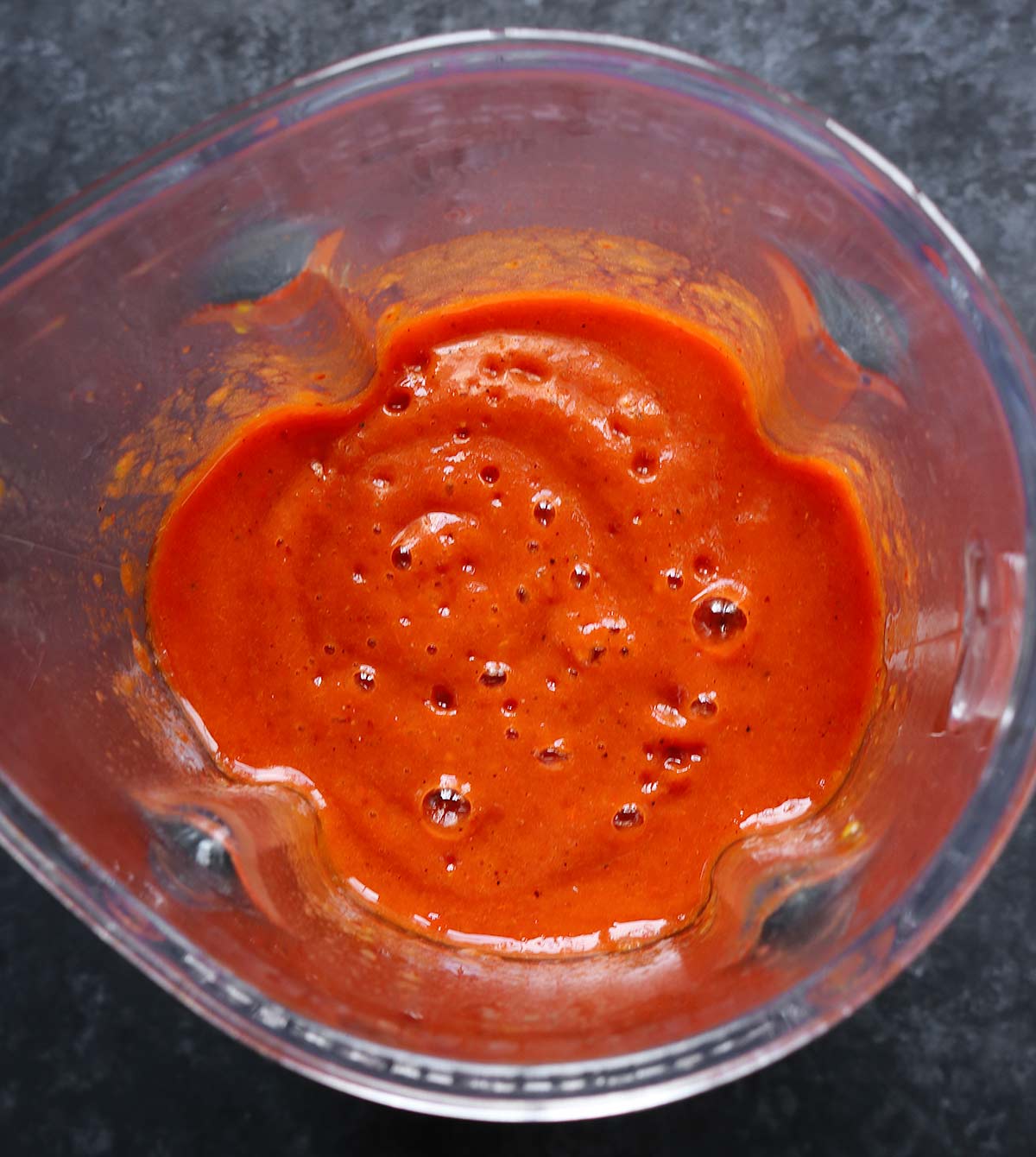 This sheet pan soup is another it's-so-easy-I-can't-believe-it-counts-as-homemade-soup soup. Do a rough chop on the vegetables — I'm a gardener, but I'm totally okay with people calling a tomato a vegetable. That's a topic for botanists to obsess over.
I grow tomatoes, and then I eat them. Tomayto, tomahto, fruit, veg, whatevs, just giiiimmeeee 🙂 — layer them on the pan, and roast for a nice long stretch, while you do life.
Then, run everything, along with some broth and herbs, in the blender until smooooooth. Heat through. And … soup!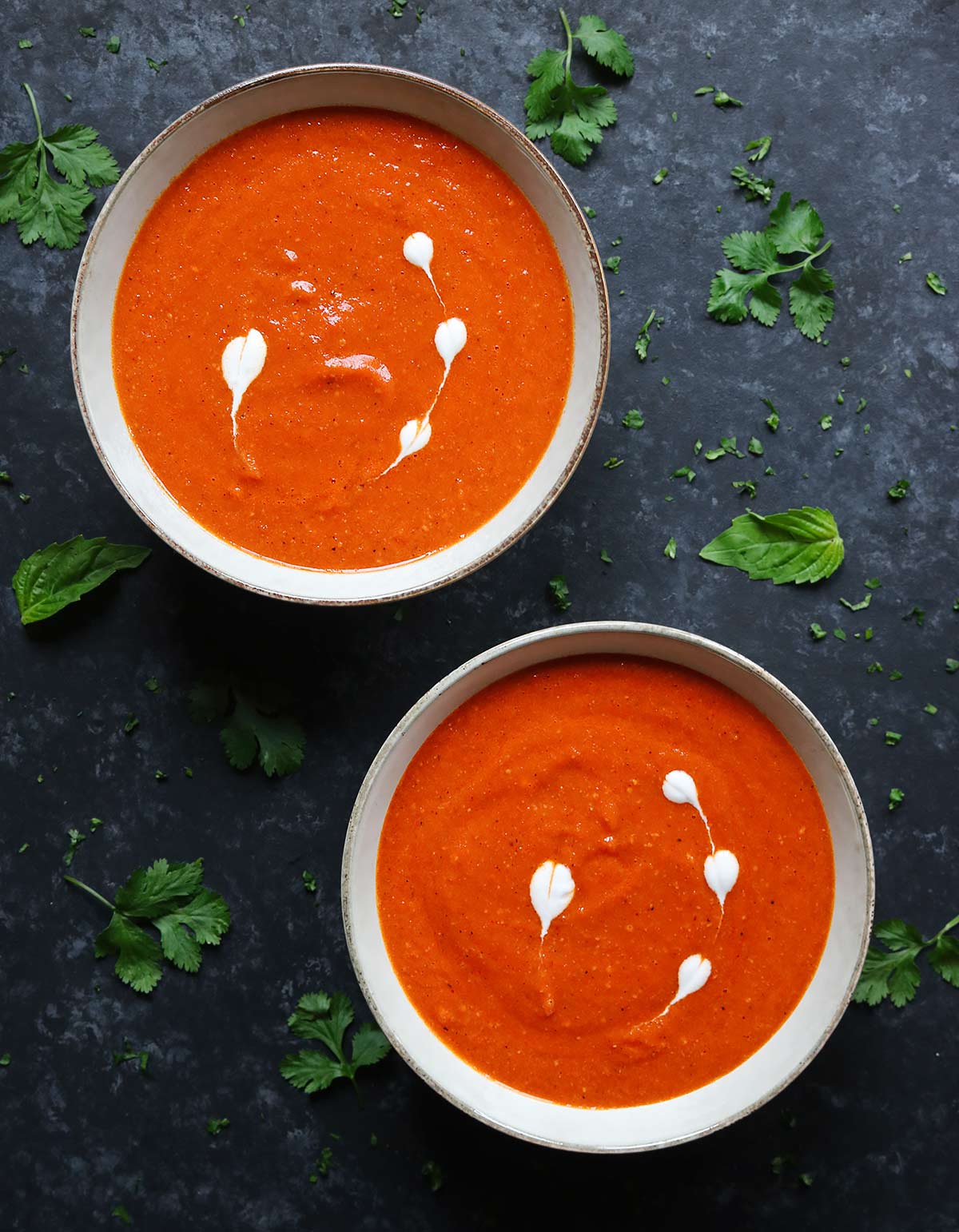 If you have a few extra minutes, make the optional paprika roux, which takes this soup right over the tippy top of smoky, creamy deliciousness. You make a super simple roux, add smoked paprika and your creamy milk of choice — I have a deep love of creamy cashew milk — and boom! smoky, fire-roasted veggie flavors in the bowl and then in your tummy.
Vegan, yet creamy, full-flavored and substantial, sheet pan roasted red pepper tomato soup is soup everyone will love, vegetarian and carnivore. If you need a gluten-free solution, skip the roux, or replace the flour with chickpea flour.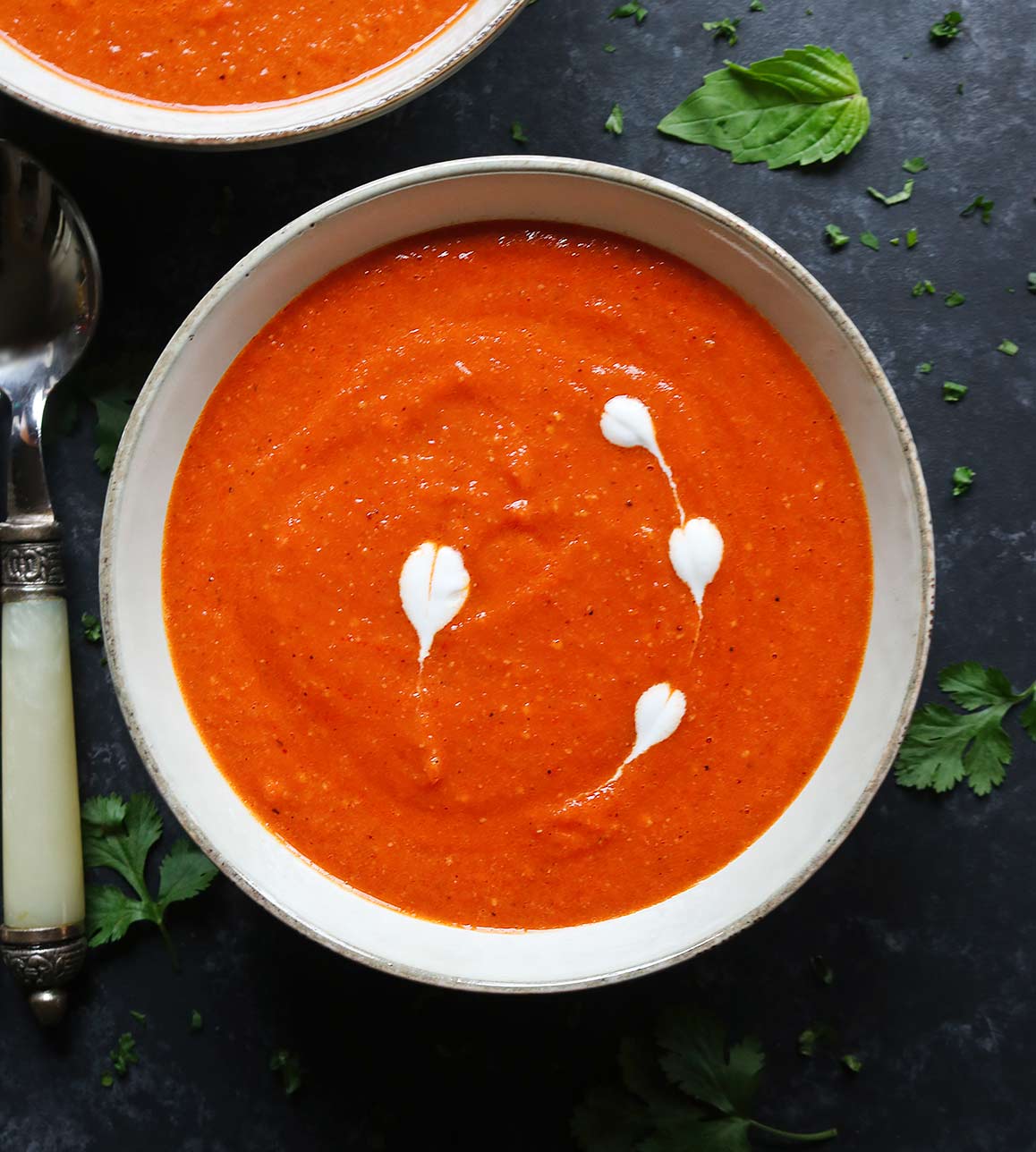 If you're in a hurry, no worries, this sheet pan roasted red pepper tomato soup is soooo good all by itself. The soup in the bowl photos was made with the roux, but check out the blender photo at the top, sans roux — so thick and rrrrred and yummy!
A quick word about seasonality: tasty bell peppers are available all year 'round, so you should be good there. Tomatoes are more difficult. Grocery store tomatoes are never my favorite, but in general, cherry tomatoes are the far tastier winter option than standard tomatoes.
I did luck out and find a package of vine-ripened, greenhouse-grown Campari tomatoes (a golf ball sized tomato, pictured in the pan photo), which were surprisingly tasty, even for fresh eating. If you're really having trouble sourcing tomatoes, buy canned whole tomatoes (reserve the juice for the blender). They'll work, too!
Karen xo
Print Recipe
Sheet Pan Roasted Red Pepper Tomato Soup
Servings:
4
generous servings
Ingredients
1 to 1 1/4

lb

red bell peppers

4-5, seeded, sliced into quarters

16

ounces

small tomatoes

sliced in half

1/2

red onion

cut into thin wedges

2

carrots

roughly chopped

1/2

teaspoon

kosher salt

1

tablespoon

chopped fresh basil leaves

2

cups

veggie broth
optional: paprika roux
2

tablespoons

avocado or olive oil

or butter, if not vegan

1

tablespoon

flour

1/2

teaspoon

smoked paprika

1/2

teaspoon

kosher salt

1/4

cup

cashew milk

or almond or soy milk

1

cup

veggie broth
Instructions
Preheat oven to 450°F. Line a rimmed baking sheet with foil or parchment paper.

Place the veggies in a single layer on the baking sheet and roast for 30 to 40 minutes, or until the pepper skins take on a nice char. Remove from oven.

Let vegetables rest on the sheet, until cool enough to handle.

Peel the skin off of the peppers. Don't worry about any hard-to-peel areas, just remove the bubbled-up charred skin.

Scrape the veggies into a blender, making sure to include all the juices. Add the veggie broth to the jar, along with the basil and a big pinch of kosher salt. Puree until smooth. You'll have about a quart.
Optional paprika roux:
Heat the oil or butter in a soup pot over medium heat until melted. Stir in the flour and paprika to create a fragrant paste. Add the cashew milk a little at a time, stirring to combine. Whisk in the broth until the roux is loose and smooth.
Finish the soup
With or without the roux, add the soup from the blender to the pot (whisking thoroughly with the roux, if using) and heat through. Taste for salt.
Nutrition
Nutritional information, if shown, is provided as a courtesy only, and is not to be taken as medical information or advice. The nutritional values of your preparation of this recipe are impacted by several factors, including, but not limited to, the ingredient brands you use, any substitutions or measurement changes you make, and measuring accuracy.
Pin Sheet Pan Roasted Red Pepper Tomato Soup recipe for later:
Pinterest fans, if you'd like to save this recipe for later, use these images (or any image above) to pin to your boards (they're small here, but thanks to the magic of the interwebs, they'll be full size when you pin them). Thanks for sharing, and most of all, thank you so much for reading this post! Blogging wouldn't be any fun without you!