A super healthy soup that's easy to make, for when the deep heart of winter chills us to the bone. Kimchi Ramen Noodle Soup is full of mouth-watering, health-supporting ingredients like kimchi, miso, mushrooms, and dark leafy greens. Vegan, dairy-free. (Updated August 2021)
I don't know what it is about this winter, but I've been all about the light, easy-to-pull-together soups (even if they're not necessarily fast — such as anything with delicious, roasted, caramelized-in-the-oven veggies). Vegetable-strong, dairy-free, with lots of miso (my latest soup ingredient love).
It's great to have a roster of healthy soups to turn to, especially when, like this past week, the yearly sucker-punch of a cold hits, and knocks me for such a loop that anything more difficult than getting the mail — theoretically easy, but still requires the cold-brain-boggling combination of putting on one's coat, getting one's feet into the correct shoes (a matching pair at that), plodding down the driveway without stumbling headlong into traffic aaannnd doing it all in reverse before the sun sets and the coyotes that have recently moved into the 'burbs start eyeballing my sad self — seems improbable.
So it's definitely time to share my recipe for Kimchi Ramen Noodle Soup, which is sooo easy it feels like cheating. But it's totally not.
And even if it were, I'd never stop.
Because the combination of mushrooms and miso and ginger and kimchi is so tasty it should, I don't know, become, like, the 6th mother sauce of the indispensable line-up of French mother sauces.
And the fact that it all swirls around twirly fun ramen noodles is just major bonus points.
Can You Use Instant Ramen Noodles?
There's nothing like fresh ramen, but, yes, the cheap instant packages work great, too — I used them in the photos here and in the accompanying video.
Just remove and discard the icky seasoning packet and prepare just the noodles. There's plenty of flavor in the soup!
Is Kimchi Good in Ramen?
Yes, yes, omg, yes. I don't think I've given enough props to kimchi lately. I should've been singing its awesomeness to the heavens above all along.
Kimchi is year-round fermented goodness, but I especially love it in the winter because it's filled with summer veggies that, by January, I'm already desperately missing.
And it also has that enchanting sneaks-up-on-you heat thing going on that warms within, even through its cooling crunch.
And when added to ramen soup … mmmhmmmhmmm. Kimchi's unique tang and spiciness blends perfectly with the other major flavor players of this soup — miso and ginger — to create a flavor combination that is instantly craveable.
Truth be told, I love adding a big dollop of kimchi to just about any soup, including creamier soups like Mulligatawny. I know that sounds counter-intuitive, but the sharp flavor of the kimchi is tamed by the lovely coconut broth. It's delicious — you should try it!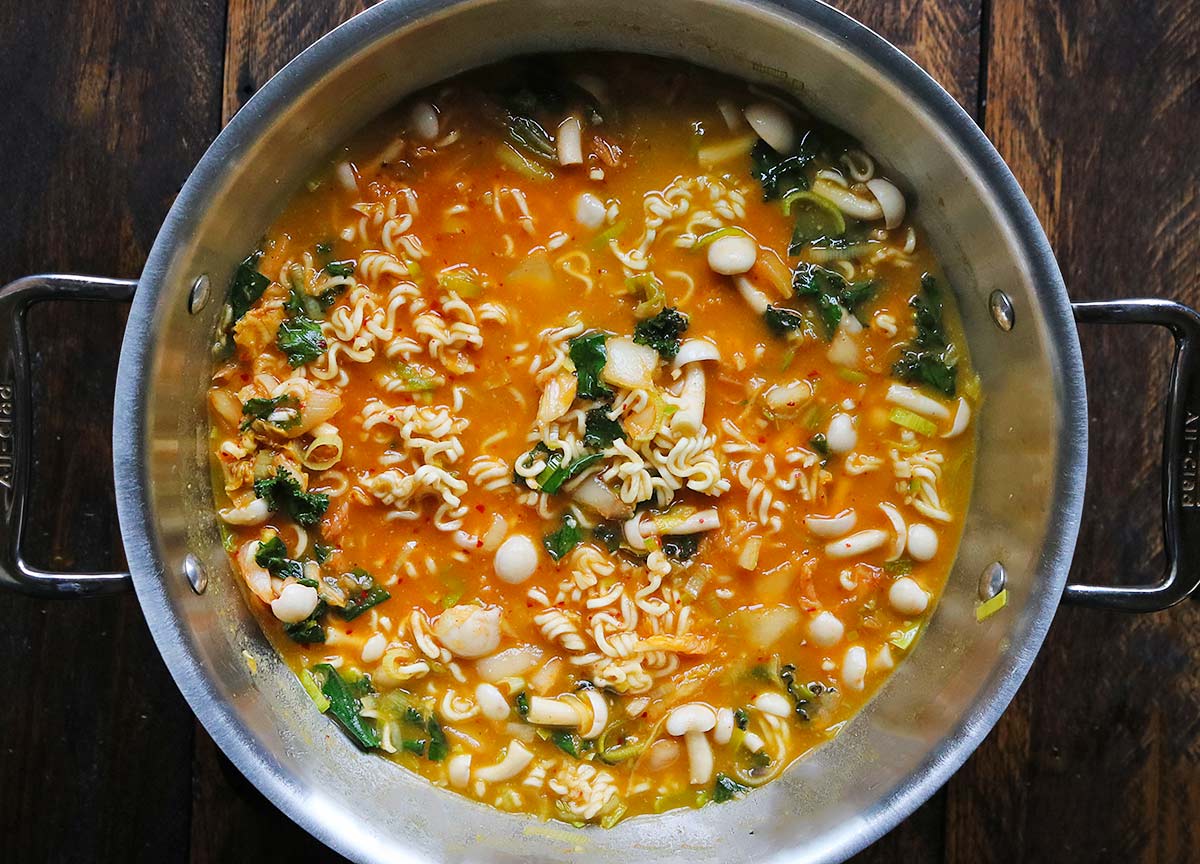 This healthy kimchi ramen noodle soup recipe is intended to be vegetarian (it's also vegan as written), although feel free to add shrimp, or even umami-ful fish sauce, as you please.
If you're a strict vegetarian/vegan, do read the miso labels, as some are made with bonito (shrimp or fish flakes). Also check your kimchi (which sometimes has shrimp or fish sauce) and soy sauce.
The dreaded stomach bug is making the rounds in my city, so if you're looking for more light, health-restoring soups, try these, too:
Flu-Recovery Onion & Shredded Egg Soup
Cold-Fighting Couscous Chicken Soup
Stay healthy, friends!
Karen xo
More Asian-inspired soups to explore:
Print Recipe
Kimchi Ramen Noodle Soup
Ingredients
1

tablespoon

coconut oil

1

tablespoon

finely minced ginger

or ginger paste

1

teaspoon

Thai red curry paste

optional

1

small leek

sliced and cut into half moons (white and light green parts only)

2

cups

dark green leafy veggies

such as kale or spinach, stems removed, roughly chopped

1

cup

mushrooms

slice if large

3

cups

vegetable broth

1

tablespoon

soy sauce

3

ounces

ramen noodles

if using instant, discard flavor packet

2

tablespoons

miso

sweet/mild/white

1

cup

chopped vegetable kimchee

1

tablespoon

kimchi juice

1

teaspoon

toasted sesame oil
Instructions
Heat the oil in a large pot over medium until shimmering.

Add the ginger and curry paste (if using) and stir until fragrant (just 30 seconds so).

Add the leeks, greens, and mushrooms, and saute until the greens have wilted slightly.

Pour in the broth and soy sauce and raise heat to medium-high. Bring the soup to an active simmer and add the ramen noodles (if using dried, break apart the brick -- the noodles will cooperate more readily with a soup spoon if shorter).

When the noodles are tender (use package directions as a guide, although they might take a skosh longer to cook because the soup will not be boiling), reduce heat to low.

Place the miso in a small bowl, and add two to three tablespoons of the soup liquid. Stir until the miso dissolves into the liquid, then pour into the soup.

Add the kimchee, juice, and sesame oil, and stir well. Taste, and adjust for salt. If your kimchi is particularly strong or sharp, a light sprinkle of sugar over the soup will tame it right down.
Nutrition
Nutritional information, if shown, is provided as a courtesy only, and is not to be taken as medical information or advice. The nutritional values of your preparation of this recipe are impacted by several factors, including, but not limited to, the ingredient brands you use, any substitutions or measurement changes you make, and measuring accuracy.
Pin Kimchi Ramen Noodle Soup recipe for later: