Tender boiled potatoes, smooshed flat and then roasted in the oven until their edges are just perfect, these crispy smashed potatoes are an irresistible side — or snack or appetizer! — and when topped with a creamy, herbaceous vegan tzatziki sauce, they're just like a mini two-bite, sour cream-loaded baked potato (only better because, crispy edges!).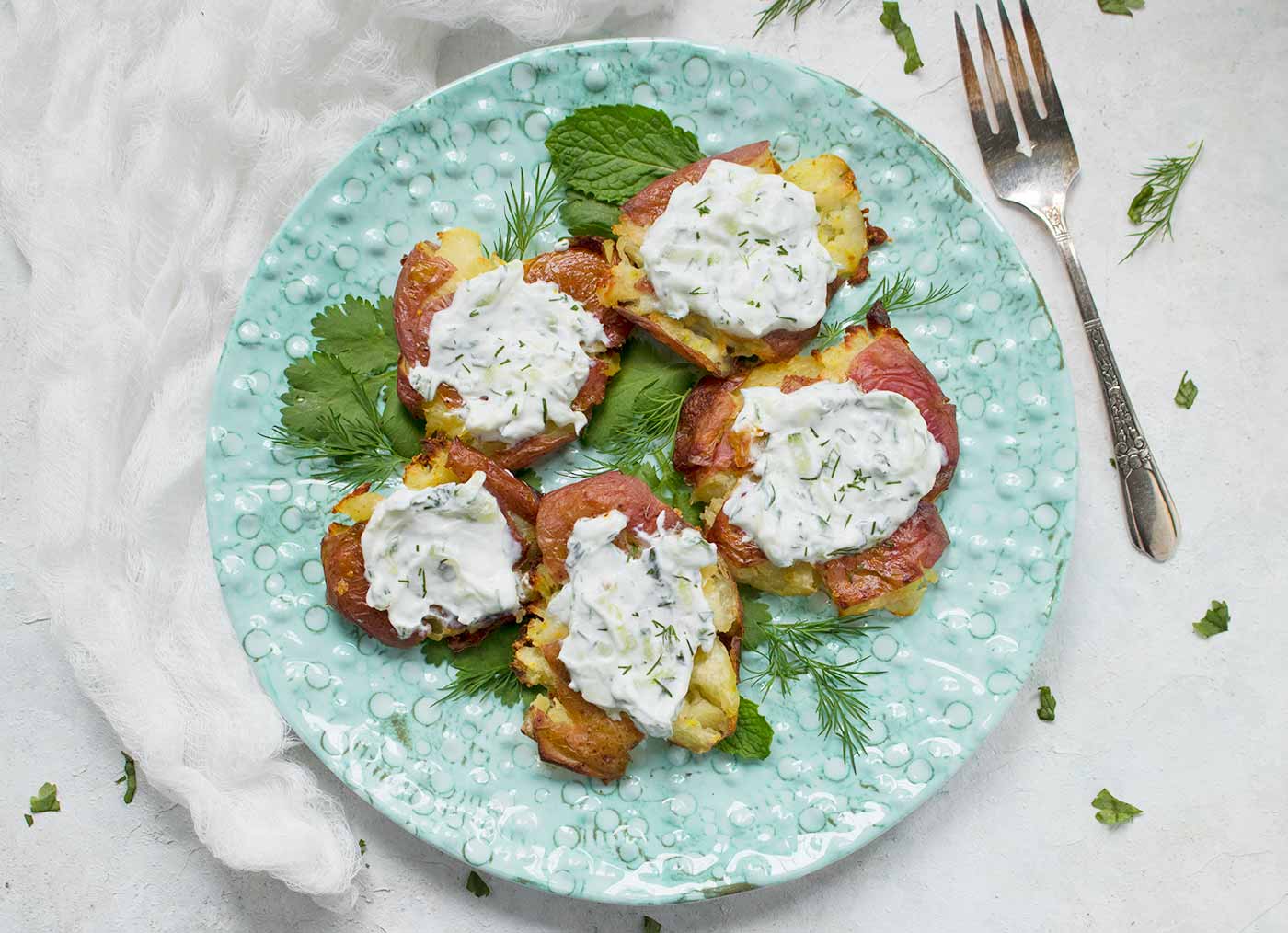 Meet one of my go-to side dishes for summer veggie burgers, in place of goopy potato salads: crispy smashed potatoes! Think of them like mini loaded baked potatoes, only 10X better, because they're portable, and portion control is ever so much better easier you can eat your fill, without feeling like you still have a chunk of baked potato to work through on your plate, lol. And, yo, they're crispy!
I've made these for years and eventually realized that they've taken the place of both baked potatoes and French fries in da house. So much easier to make, and far less mess!
When I first photographed this recipe, I wanted to sell you on serving them with my dairy-free tzatziki, which is why most of the photos show the potatoes topped with it.
The pairing is quite delicious, and perfect for a party where your guests might have certain dietary restrictions, but you still want to serve something special and unique that everyone will love.
But please know that you can make the potatoes without the sauce shown, and either eat them plain or with ketchup or sriracha — or whatever sauce you love dipping your fries into!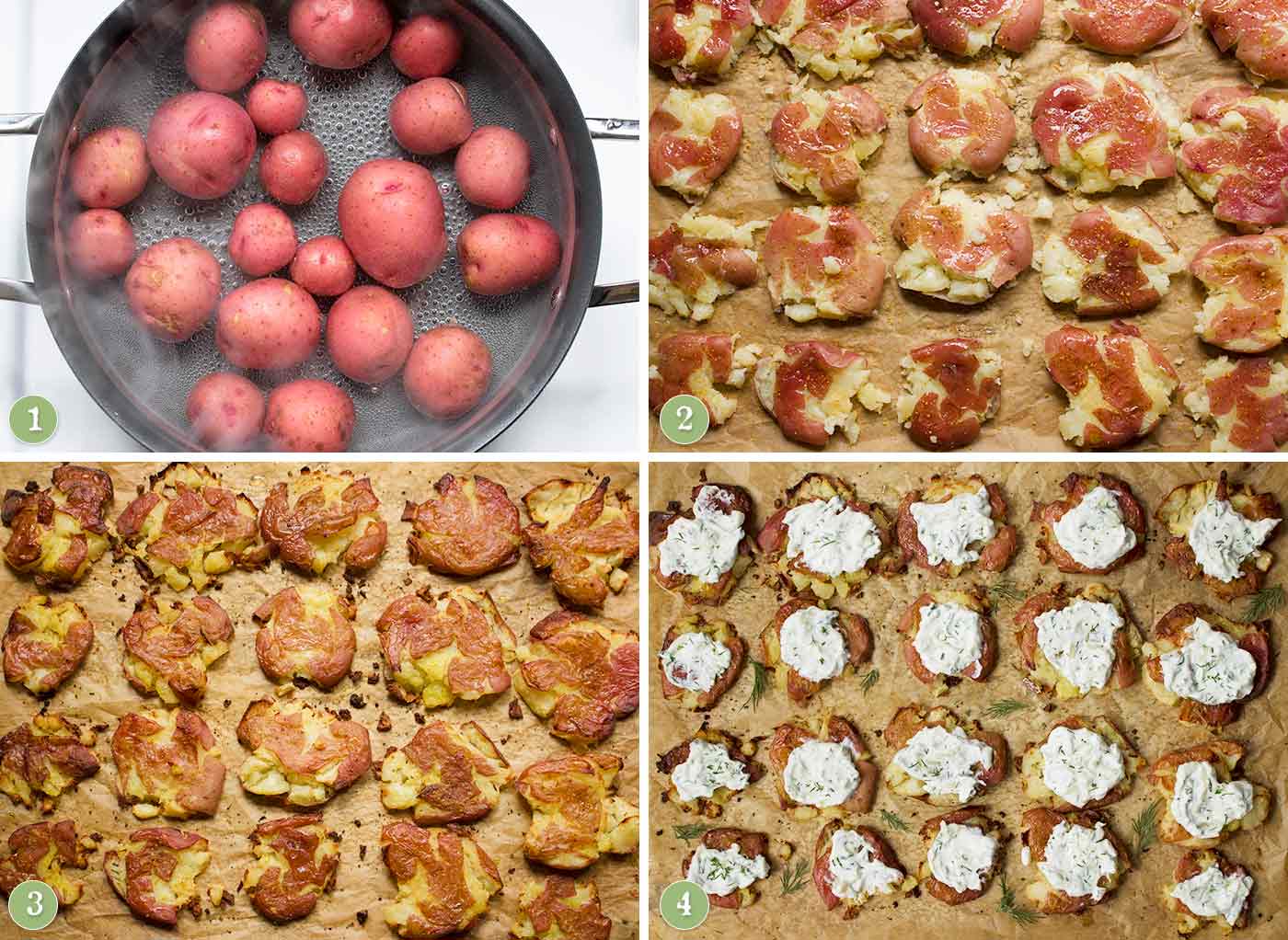 Another advantage of crispy mashed potatoes over baked potatoes is that, since the small potatoes are smashed flat, the oven roasting almost guarantees even cooking and doneness — no surprises when you test the potatoes, only to discover some are cooked through, while others aren't (womp-womp).
Tips for How to Make Crispy Smashed Potatoes
My grocery store now sells sweet little bags of baby potatoes, with the option of new reds, yukons, or a mix of new reds, yukons and purple. Delightful! I love the Yukons the most, but the mix is great for company, as the colors are so beautiful on the plate.
Boil the potatoes until tender, about 15 minutes. Check them for doneness by spearing one with a paring knife. If knife goes in easily, they're ready. Boiling softens the potatoes so you can smash them flat.
Load up the boiled potatoes on a lined baking sheet. Optional: if you like thin, extra crispy potatoes, slice each potato in half (carefully, they're hot!), and place them flat side down on the baking sheet. The baby potatoes in the photos here were left whole, but lately, I've really enjoyed the results using halves. Plus, it stretches out your potato stash, which, in March of 2020, when toilet paper is better than gold, this is a very good thing (fewer trips to the grocery store).
Using a potato masher or a large-tined, sturdy fork, press straight down on the potatoes, taking care not break the potato apart. Lift the utensil gently and slowly, so that you can easily scootch any stray potato pieces together, should it come apart. Then rotate the masher 90° and press again to complete the flattening.
Brush the smashed potatoes with a little olive oil and season with salt and pepper. Roast in the oven until the flesh is golden with crispy — but not burnt — edges.
Let cool slightly, then top with a dipping sauce, such as herbaceous and creamy vegan tzatziki sauce. Use a thin spatula to transfer to a platter, and serve immediately.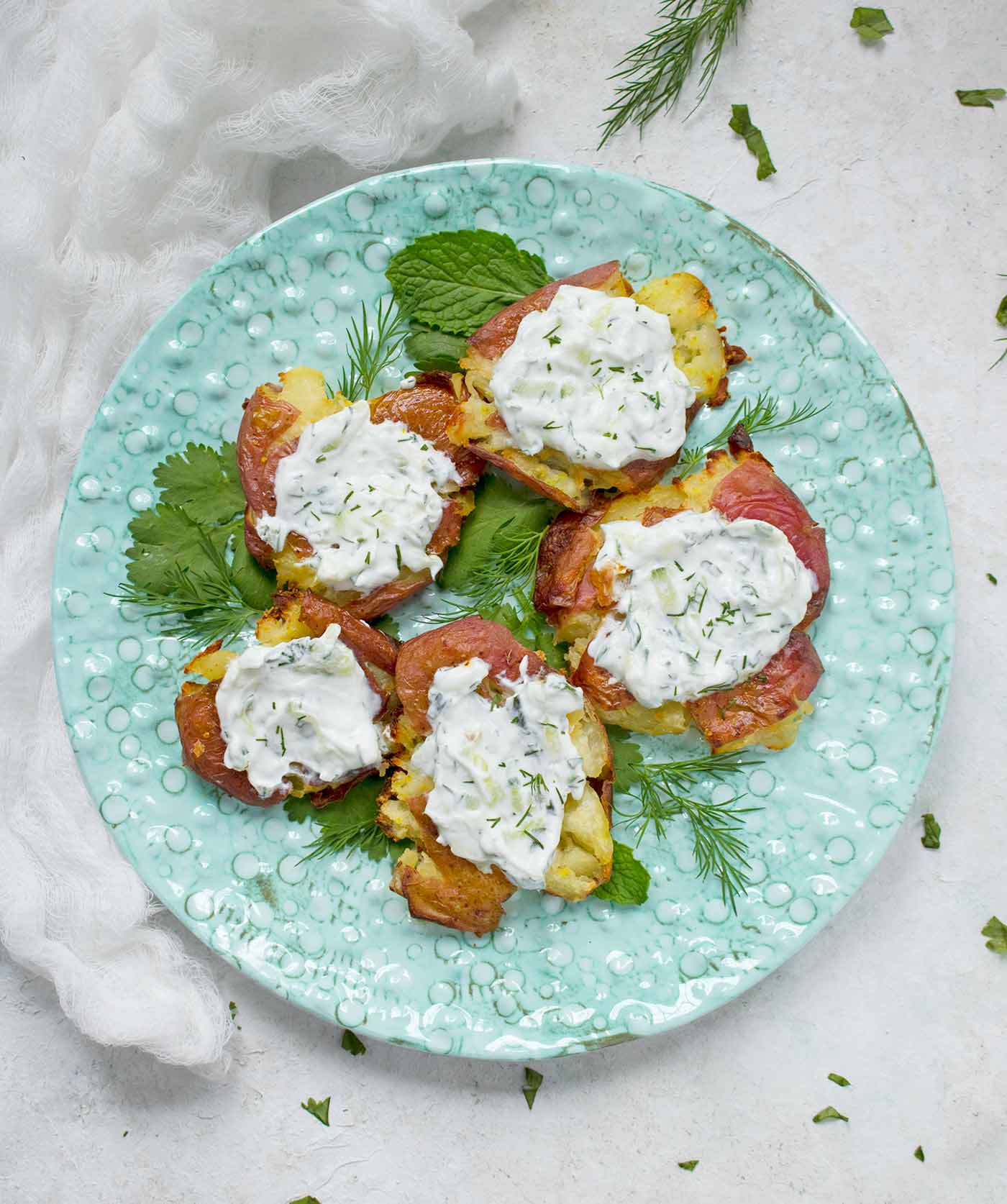 Crispy smashed potatoes also make craveworthy appetizers for summer parties and cookouts. They're even make-ahead-able: boil and smash the potatoes ahead of time and carefully store them on a sheet in the fridge. Then roast them up just before serving.
I feel really good about serving them, because they're baked, not fried, and you can control the oil that you spread on top. Plus, I just can't recommend those crispy edges highly enough, framing the tender insides.
Make them all year round — they go great with soup, stews, and veggie burgers!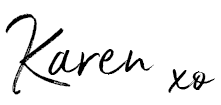 More potato recipes to try:
Print Recipe
Crispy Smashed Potatoes
Tender boiled potatoes, smooshed flat and then roasted in the oven until their edges are just perfect, these crispy smashed potatoes are an irresistible side — or snack or appetizer! — topped with creamy, herbaceous vegan tzatziki sauce, just like a mini, two-bite, sour cream loaded baked potato (only better because crispy edges!).
Ingredients
12

baby potatoes

, well-scrubbed. New potatoes or fingerlings are terrific (figure 3 to 4 potatoes person)

Olive oil

Freshly ground black pepper

Coarse sea salt
Instructions
Boil or steam the potatoes until a fork or knife easily pierces a potato all the way through (15 to 30 minutes, depending on the size of the potatoes) .Towards the end of the cooking time, preheat the oven to 450°.

Transfer potatoes to a parchment paper lined baking sheet.* Use a potato masher or a large-tined fork to gently flatten the potato. Turn the masher or fork 90° and press again. Scoot stray potato pieces back to their pile. (The baking process will bind the pieces together in a tender-crispy little disk.)

Brush each potato with olive oil. Sprinkle with black pepper, salt and rosemary (or your herb of choice).

Bake in the preheated oven for 20-30 minutes, until crispy, but not darkly browned. Serve immediately with your favorite dipping sauce.
Notes
* For thinner, crispier potatoes: after boiling, slice each potato in half, and place it flat side down before smashing. This creates the perfect bite-sized potato crisp. They'll need slightly less time in the oven than for whole potatoes – just keep an eye on the edges for burning.
Nutrition
Nutritional information, if shown, is provided as a courtesy only, and is not to be taken as medical information or advice. The nutritional values of your preparation of this recipe are impacted by several factors, including, but not limited to, the ingredient brands you use, any substitutions or measurement changes you make, and measuring accuracy.