Don't let summer's tomato bounty slip away without enjoying this special treat of Marinated Cherry Tomatoes. Tomatoes infused with vinegar, olive oil, and fresh herbs are so tasty when spread on crusty bread, tossed into salads, or spooned over pasta!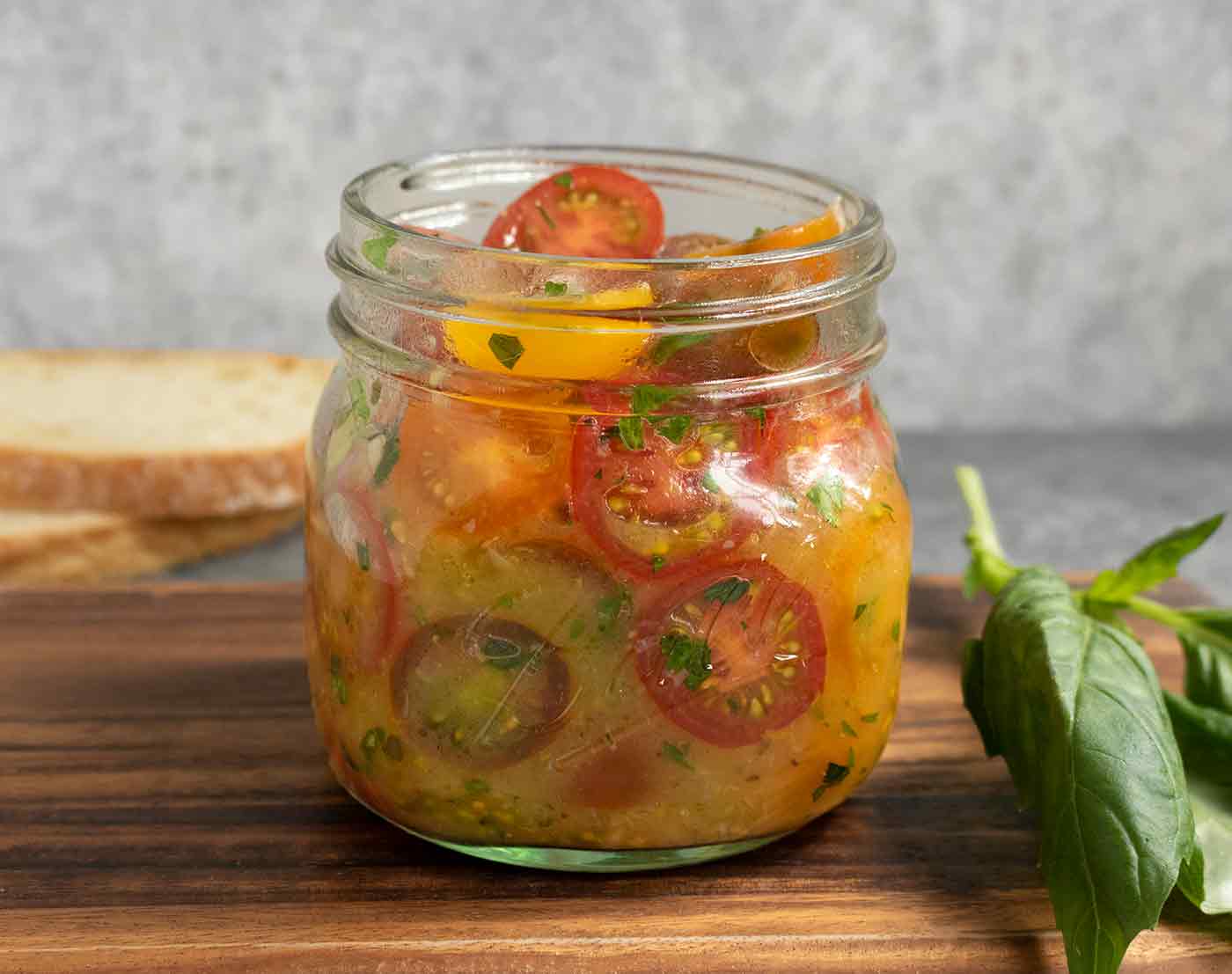 The Marinade
I'd like to spend a little time talking about the marinade, to clear up some misinformation that makes its rounds on the interwebs.
So, you have three basic options when recreating the marinade I used for these tomatoes. Each has its advantages and disadvantages. Let's go through them!
Olive Oil & Vinegar
Bottled Vinaigrette
Combo of Olive Oil & Bottled Vinaigrette
Whichever method you choose (discussed below), don't forget to enhance the flavors with herbs, shallots, and garlic!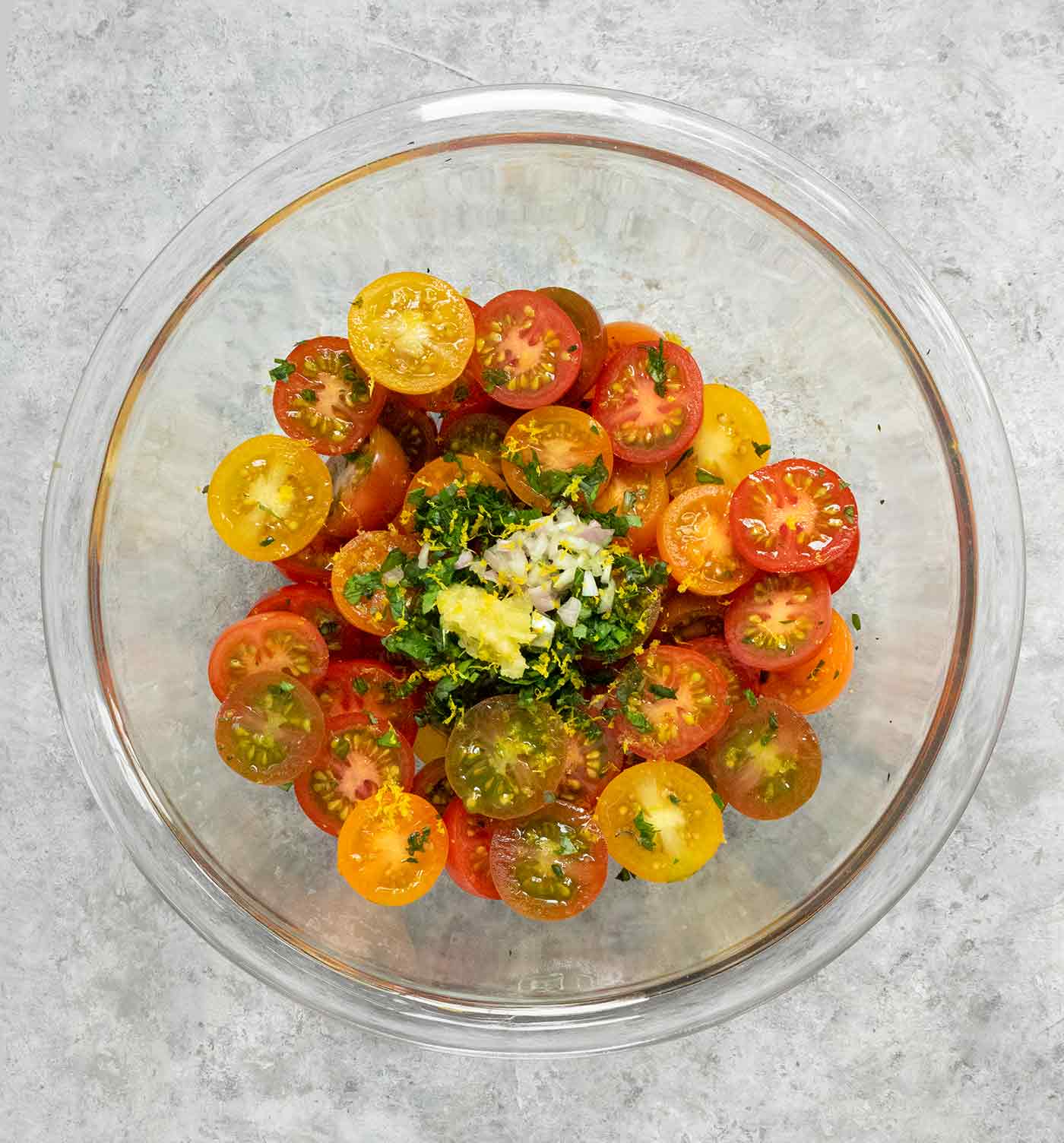 1. Olive Oil & Vinegar
This is naturally a popular option because most people have both in their pantries already. Plus there's the big appeal of no preservatives and knowing what's in your marinade. I, too, think this is a great option, depending on your usage. Because here's the issue with oil and vinegar:
Oil and vinegar will never emulsify. You can shake until your arms fall off, but oil and vinegar will never meld without outside help.
When you whisk or blend oil and vinegar, it looks, at first, like it's fully smooth. But what actually has happened is that the vinegar has split into very small droplets, which are dispersed throughout the oil, giving the appearance of being blended.
If you let the mixture sit, however, the vinegar will eventually redistribute itself into larger pools until it separates from the oil and floats on top.
Oil and vinegar need a third-party emulsifier in order to fully blend. In the home pantry, common (and effective) emulsifiers include mustard, egg yolks, and mayo.
None of these, however, are right for your cherry tomato marinade. Salad dressing manufacturers use a different category of commercial emulsifiers that work without drastically changing the color or consistency of a dressing.
Fun fact: vinegar itself is not actually the problem, but rather water is. Bottled vinegar is about 95% water, and it's that water component that causes oil to separate from the vinegar.
So, if you're actually creating something like a cherry tomato salad with an oil and vinegar dressing that you're serving right away, it's fine.
But if you're leaving the tomatoes to soak in the mixture overnight or longer, that separation is going to occur, and vinegar is going to collect, full strength, amongst the tomatoes. It's just going to be a weird result.
Sliced cherry tomatoes are fragile, so if you shake the finished jar to smooth out the oil and vinegar, you're going to damage the tomatoes.
It's just not optimal, even though some recipe websites ignore that that will happen. (It reminds of how some food blogs instruct on caramelizing onions: if a website tells you that you can caramelize onions in just 8 minutes, run screaming.)
Also, remember that extra virgin olive oil solidifies in the refrigerator. While this isn't a bad thing, you'll need to let the marinated tomatoes come up to room temperature so that you can spoon them and the dressing out of the jar. Let the jar sit in a bowl of warm water for 10 minutes and you'll be golden.
2. Bottled Vinaigrette
This is the fast and easy way to marinated cherry tomatoes! Most grocery stores carry a stunningly large selection of dressings, both refrigerated in the produce section and shelf-stable-until-opened in the store aisles.
Look for a more-or-less clear or translucent vinaigrette that has not separated in the bottle (signifying sufficient emulsion). You can use this straight-up as your marinade.
3. Combo of Olive Oil & Bottled Vinaigrette
This is the solution that I always turn to for clear(ish) marinades. Commercial emulsifiers are very effective, and they can take on some extra work.
Here's what I do: I measure out a cup of vinaigrette into a bowl and whisk in a little bit of water to lighten it. Then I add a quarter cup of really good extra virgin olive oil and whisk thoroughly.
This result should stay blended. The goal here is to lighten the store-bought vinaigrette and to let a particularly tasty olive oil shine through.
The ratio of olive oil to dressing also prevents or reduces the solidification of the olive oil in the fridge.
Frequently Asked Questions
What kind of oil should I use for my Marinated Cherry Tomatoes?
The answer depends in part on how fast you plan to use up your tomatoes. If they'll be used on the same day, the sky's the limit.
But if they'll need refrigeration, you need to weigh the fact that some oils solidify in cold temperatures. And that would include lovely extra virgin olive oils.
EVOOs solidify in the fridge because many still contain the waxy by-products of the refining process (don't worry, they're completely edible!). Some EVOO producers filter out that wax before bottling (so that it's chillable), but there's really no way for you to know who does that without prior research.
Most commercial salad dressings use canola oil and/or sunflower oil because they don't solidify in the refrigerator, and those are options for you as well. Other non-solidifying oils include grapeseed, peanut, soybean, and walnut.
If you do go the EVOO-in-the-fridge route, be sure to factor in time to let the jar warm up and the oil to liquefy before trying to spoon out the tomatoes.
What kind of container should I use?
There's no particular benefit of one type of material over another — e.g., glass over plastic — rather it's more a matter of roominess.
First, make sure the opening is wide enough to spoon your tomatoes in and out of. I use wide-mouth canning jars because I always have extras sitting around.
Second, consider the depth of the container for the purpose of covering the tomatoes with the marinade. A too shallow bowl, for example, will cause tomatoes to poke up out of the marinade.
A bowl is definitely handy for mixing the ingredients together, but I would move them to a more vertically-oriented container for maximum coverage.
Canning jars, washed pickle or spaghetti sauce jars, reusable plastic storage containers … they all work! Glass or clear plastic is nice so you can see the contents.
Can I use dried herbs instead of fresh?
Absolutely! At the height of herb growing season, they're fresh and fragrant and beautiful, and I highly recommend hunting some down.
But of course, not all herbs are available at all times, so dried is perfectly fine. Just be sure to reduce the quantities, as dried herbs are more intense than fresh. So, 1 tablespoon of minced fresh basil converts to about 1 teaspoon of dried basil.
Can this be canned?
I have not tried to can these marinated tomatoes for shelf-stable storage, so I won't advise one way or the other.
But one of the reasons I haven't tried it is because, in my opinion, the charm of the concoction is that the tomatoes remain quite fresh and raw. Canning would cook the tomatoes and create a different result. Still delish, I'm sure, but not quite summer fresh.
How long will marinated tomatoes last in the refrigerator?
Marinated cherry tomatoes packed in oil and vinegar will keep in the fridge for 5 to 7 days. It's not so much that the contents go "bad," but rather that the cherry tomatoes start to break down in the acid environment and become a bit mushy.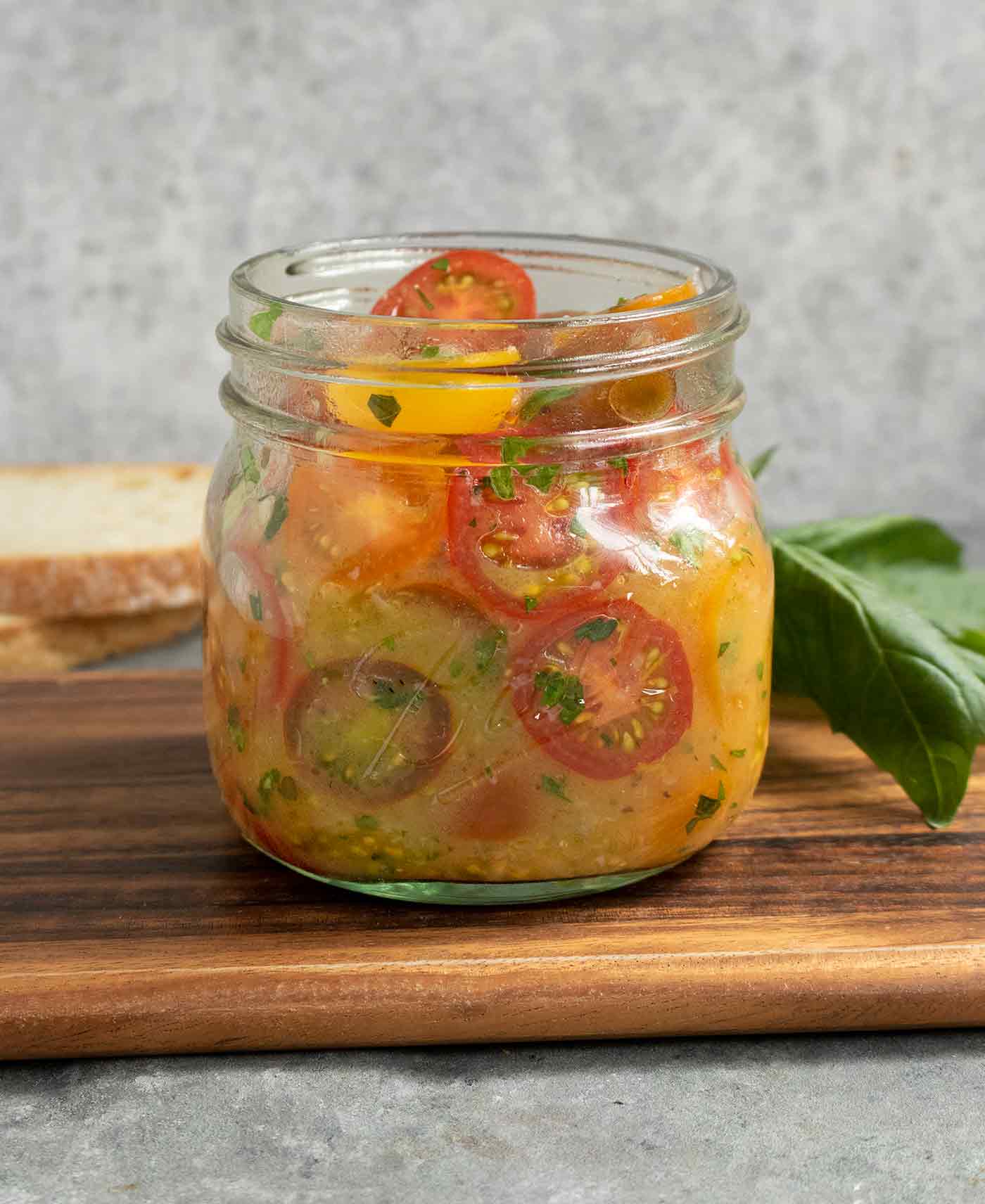 What can I use these tomatoes with?
Oh, my! So many lovely things.
My very, very favorite use — and the reason I made these tomatoes in the first place — is to spoon them over fresh burrata on fried bread.
Any open-faced sandwich situation is aces, really. Mashed avocado toast springs immediately to mind. Even cottage cheese.
Let them warm to room temperature and spoon them over hot spaghetti or pasta. Or cold pasta, for an easy BLT Pasta Salad.
Add chopped cucumbers, red bell peppers, and fresh mozzarella for a delicious veggie salad. Or spoon them over a big, green chef's salad.
However you put them to work, it's a delicious way to cling to the last of summer's finest produce.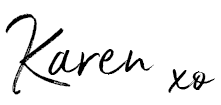 More Cherry Tomato Recipes to Love:
Print Recipe
Marinated Cherry Tomatoes
Use up every last beautiful summer cherry tomato in this beautiful condiment that can be used on bruschetta, salads, pasta – and even straight out of the jar, if you're a true blue tomato lover!
Ingredients
1

cup

oil and vinegar vinaigrette

(see notes)

1/4

extra virgin olive oil

3 to 4

fresh basil leaves

minced

1

clove

garlic

minced

1

teaspoon

minced shallot

(about 1/2 of a shallot)

30

cherry tomatoes

sliced in half (about 24 oz) (see notes)
Instructions
Pour the vinaigrette, 1 tablespoon of water, and the extra virgin olive oil into a mixing bowl and whisk until emulsified (you can also do this in a well-sealed jar and shake instead of whisk).

Mix in the basic, garlic and shallots.

Pour a small amount of the marinade into your chosen jar or container.

Spoon half of the tomato halves into the jar and then cover those tomatoes with the marinade. Spoon additional tomatoes into the jar, until they reach about a 1/2″ away from the top rim.

Carefully pour additional marinade into the jar to cover the tomatoes. If any of the tomatoes need repositioning, you can use a chopstick to move them around in the jar.

Tighten the lid and let sit on the counter for an hour. They'll be okay to use at this point, but they'll develop even more flavor after 4 hours or more – but you'll need to store them in the refrigerator.

If the olive oil solidifies in the fridge, let the jar warm up on the counter, or set the jar in a warm bowl of water to speed the process a bit.

The tomatoes will last 5 to 7 days in the fridge, but are best used within 2 to 3 (the tomatoes begin to get mushy in the acid environment after several days, although they're still good).
Notes
Vinaigrette: choose a clear/translucent vinaigrette that has remained emulsified on the shelf and not separated into layers of vinegar and oil. Cherry tomatoes: 24 ounces of cherry tomatoes sliced in half will fill a pint jar. Double the quantity for a quart jar. You can also quarter the tomatoes, which will allow a tighter pack.
Nutritional information, if shown, is provided as a courtesy only, and is not to be taken as medical information or advice. The nutritional values of your preparation of this recipe are impacted by several factors, including, but not limited to, the ingredient brands you use, any substitutions or measurement changes you make, and measuring accuracy.