One of the best after-effects of a big pot of soup is leftover soup! There's no more delightful lunch on a chilly afternoon than hovering over a bowl of homemade soup that you pulled out of the fridge and reheated in mere minutes. Not surprisingly, I go through a lot of soup, so I'm here to share ideas for livening up your leftover soup so that it's never, ever boring.
In my personal life, I get a lot of questions from people who are curious about food blogging — the what's and the why's and so forth. Including, what do you do with all the food you make?
The answer is no doubt different per blogger. Some of the big blogs have staff who create, make, photograph, and video their recipes in luxurious rented spaces. I don't know what they do with their food, lol.
But most of us bloggers are solo operators working out of our homes, and we eat what we make.
I create my own recipes. I make test batches to ensure that the recipes actually work. And then I make a final batch for photographing.
However you slice it, that adds up to a whole lotta soup! As a bonafide soup fanatic, I happily eat all of the soup I make — nothing is wasted around here.
It also means that I have a ton of personal experience fancying up leftover soup. Sometimes it's just small touches: adding an interesting topping, for example. Or loosening up a soup that over-thickened in the fridge with some milk instead of water. Or adding a splash of soy sauce. These little tweaks keep things new and interesting!
And it's past time that I shared my tips for sprucing up leftover soup. With soup season coming on strong this year, thanks to early snows and frigid temps, I predict a whole lot of soup going on!
Texture
Tweaking the texture of leftover soup practically makes it into a whole, new soup, whether chunking it up with other ingredients or smoothing it out.
Add leftover proteins
A very convenient thing about having leftover soup on hand is that there's a sensible place for leftover, fully-cooked proteins from other meals to find a delicious home.
Beef, chicken, turkey, pork, tofu, shrimp, beans — any of these can be chopped small (where necessary) and added to a bowl of leftover soup for extra heft and flavor (and no waste!).
Add pasta or rice
Just like leftover proteins, extra cooked pasta or rice is a lovely addition to most soups, and can help stretch leftovers across several meals. I usually keep those convenient packages of precooked rice in the house, just for this purpose.
I also keep frugal ramen noodles in the house. They're quick-cooking, and I'm not embarrassed to admit liking the twirly fun of the noodles (just toss the seasoning packet).
Stir in a little milk
This is another fantastic way to transform leftovers with very little effort. Almost all soups can be made creamy (or creamier, lol), including brothy soups (think, miso soup with coconut milk).
While dairy doesn't necessarily add a ton of flavor — especially at the quantity you'd be adding to a single bow of soup — its contribution here is texture.
I don't mean to make you gag at the term mouthfeel, but that's what it's called in the culinary world. Cream has a richness that adds a smooth texture and brings out all of the comforting qualities we crave in a hearty bowl of soup.
Just a splash or tablespoon of whole milk, half-and-half, or heavy cream fundamentally transforms a soup.
If you're feeling a little extra, you can swirl in a dollop of sour cream. The creamy tang is really something special.
For a vegan, dairy-free, or Asian-leaning soup, use creamy coconut milk. So delish!
Blend it up
For a really unique twist, send the leftovers through a blender with a little bit of stock, water, or milk. Sometimes a smooth velvety, soup is exactly you what need that day!
This works particularly well with vegetable, rice, and pasta soups. Take care with meat soups as it might be a little challenging for certain blenders.
Flavorings
It doesn't take much to brighten a soup's flavors and breathe new life into the week's leftovers. You probably have most of these options in your pantry already!
Stir in a little sauce
No matter how much you loved the original batch, there's absolutely nothing wrong with sending your leftovers in a slightly different direction with extra flavorings.
I have a particular fondness for Korean BBQ sauce, but also think teriyaki sauce, soy sauce, Worcestershire sauce, sriracha, gochujang, Frank's hot sauce, American BBQ sauce. Even Dijon mustard (mustard in beef soups is :chef's kiss:).
Just a little spoonful adds a lively zest to leftovers!
Add a little ginger or lemongrass
I would be completely remiss if I didn't specifically call out ginger and/or lemongrass. I keep both in paste form in the fridge — you can usually find tubes of paste in the produce section at the grocery store — and just a squeeze into the bowl brightens and jazzes up many leftover soups (try chicken soup!).
Add vinegar
What on earth? Well, IYKYK. I first learned about vinegar in soup as a kid. Back then — yeah, I'm old, lol — the red-and-white labeled cans were our only options at the store. And also … they were all concentrated soups that you had to cook with an extra can of water to make them edible.
My favorite (if you could call it that) was vegetable soup. Mom would add one teaspoon of apple cider vinegar, and my young taste buds thought the entire world had been transformed into something magical.
I was, after all, a kid who loved pickles — and could drink the vinegary dill pickle juice straight out of the jar — so this whole vinegar-in-soup thing made perfect sense.
And that was Young SoupInclined's first experience with the awesome flavor-boosting effects of acid in soup.
So today, no matter how delicious a soup was right off the stove, I almost always add just a splash of vinegar to my leftover soup for a little kick of extra flavor.
My favorite is balsamic vinegar because it's also ever-so-slightly sweet. Note that its deep burgundy color can muddy a soup, if you mind that sort of thing (I don't), but otherwise is very companionable for most soups.
Apple cider vinegar is great in vegetable and meat soups. But plain white vinegar is nothing to shake a stick at either.
Add lemon juice
Like vinegar, lemon juice is an acid that kicks up flavor. Of course, a fresh lemon is best, but I always keep a bottle of real lemon juice in the fridge just in case.
Bottled lemon juice is usually found in the juice aisle (not in produce). Just a little splash will do it.
Toppings
I adore soup toppings on both fresh and leftover soups. You see them often in my photographs, not just to make them pretty and interesting, but also because that's how I actually eat them.
I had covid last month, and I ate so.much.canned.chicken.soup because that's all I had the energy to cook for days on end. But you know what? It was a-okay, because one night, I would top the soup with oyster crackers. The next, tortilla strips and salsa. And the next, chili crisp.
Mighty good eatin', as they say! Try these ideas on your next bowl, and see what you think.
Top with something crunchy
A not-insignificant part of overall soup enjoyment is, as mentioned above, texture related. While brothy soups definitely have their place in the lineup, the world would be a very boring place if a bowl of liquid were our only option.
Soup of any kind — brothy, creamy, chunky, stewy — takes a different turn when topped with something crunchy. Here are just a few ideas (plus links to see some of them in action here on SoupAddict):
Top with shredded cheese
Some soups are an automatic fit for shredded cheese — e.g., Taco Soup, Ravioli Soup, BBQ Black Bean Soup — but this cheese fanatic is here to say that cheese goes great on just about all soups.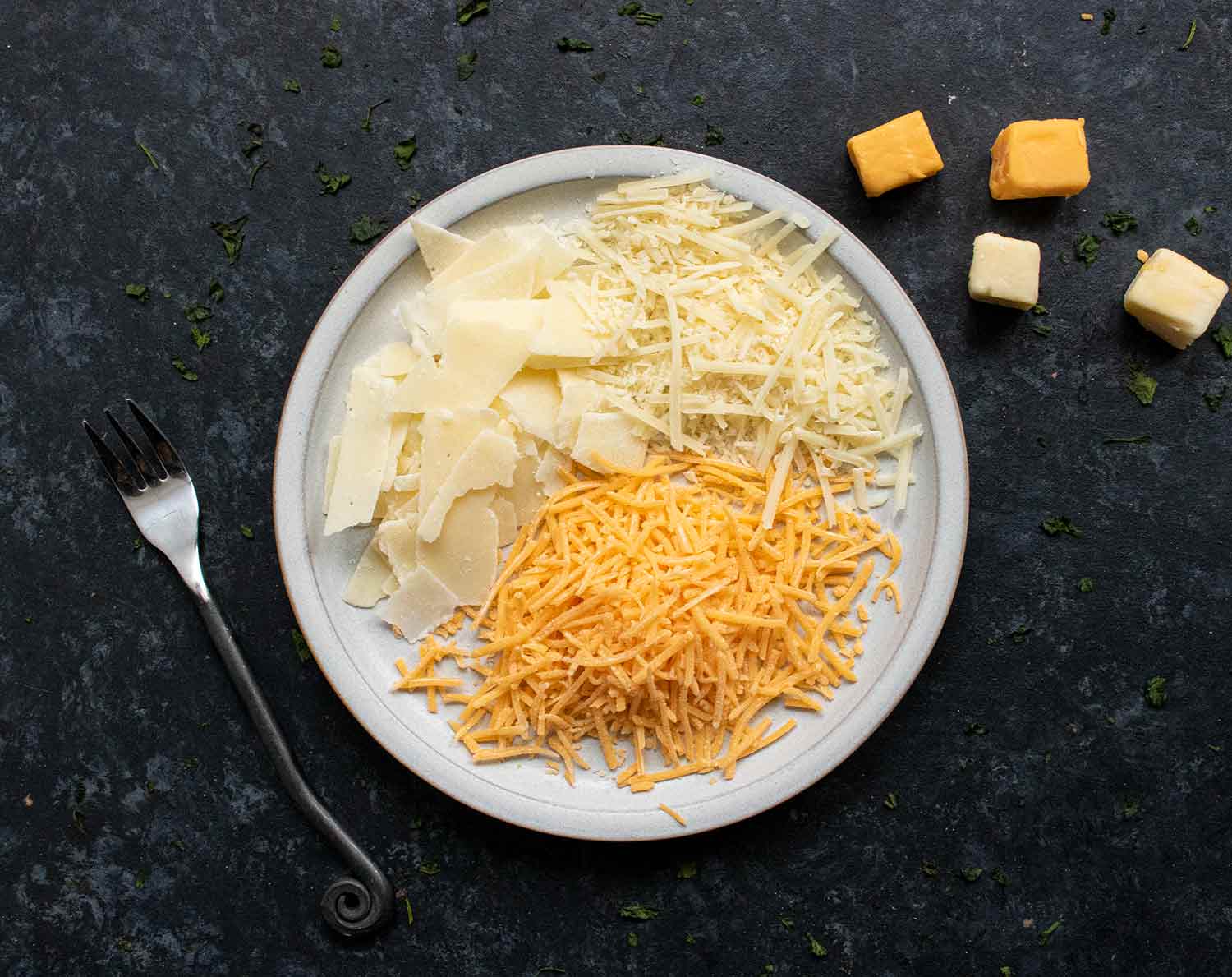 Whether you go with shredded sharp cheddar or crumbled feta or melty fontina, that savory-salty hit of cheesy goodness livens up any lunch-at-your-desk soup! (Shredded Gruyere on chicken noodle soup. Yes!)
Add kimchi or chili crisp
If you love either of these condiments, then you're probably a put-them-on-everything kind of fan. Like me. Lol. A forkful of kimchi on an Asian-leaning or vegetable soup is pure heaven.
And chili crisp! Stay with me here, but chili crisp is absolutely amazing on creamy soups (see my Carrot Gazpacho). Especially chicken soup.
My local Kroger deli used to sell a Thai Coconut Chicken Noodle soup that was already a fast-to-the-table favorite of mine. But with a spoonful of chili crisp. OMG. I still mourn the discontinuation of that soup, as the combo with chili crisp was a frequent WFH lunch.
Top with a fried or poached egg
The richness of egg yolk is a welcome addition to many soups, especially beef or vegetable soups. Break open that yolk and … oh my goodness.
I have two tutorials here on SoupAddict for cooking eggs: fried eggs and poached eggs in cute little pouches. Check them out, and try the deliciousness that is a cooked egg on soup, like this Shakshuka Soup and Autumn Vegetable Bread Soup.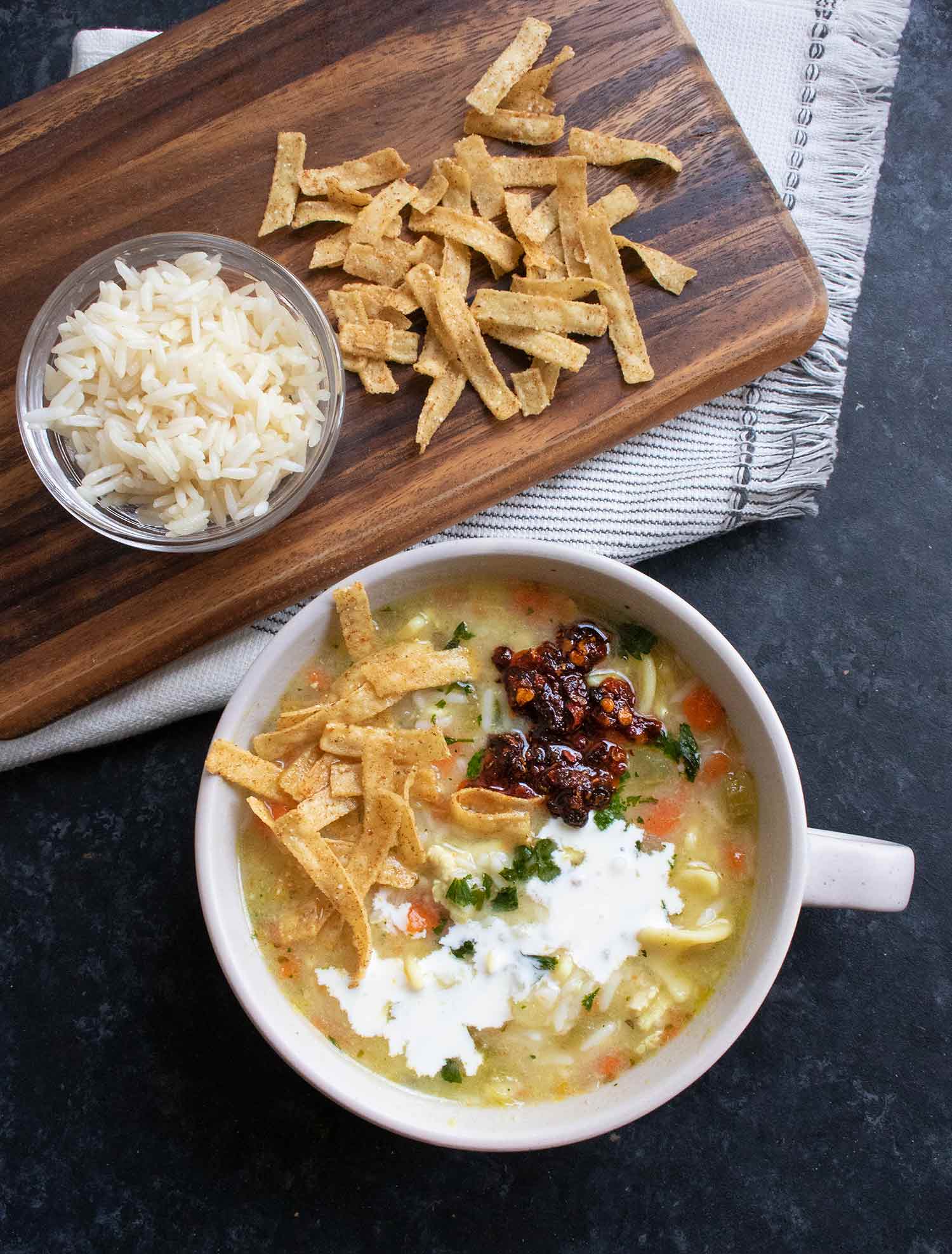 The photo above is an actual picture of one of my lunches: leftover chicken noodle soup with a splash of cream and leftover jasmine rice, topped with seasoned tortilla strips and chili crisp. So good!
I'm always a fan of making too much soup rather than too little, so leftover soup of some kind or other is almost always in my refrigerator. I work from home, so a quick bowl of soup livened up with a few ingredients really makes the day!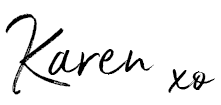 Soups that make outstanding leftovers:
Make double batches!